New Wood Applications in Architecture
A four metre high cobra has recently appeared at the Inffeldgasse Campus of Graz University of Technology. The cobra is an architectural experiment by researchers at the TU Graz to demonstrate the versatility of wood as a construction material in a highly impressive manner. Building the sculpture would not have been possible without the use of adhesive technology.
A renewable raw material: Austria has a rich supply of wood — a valuable resource that can be used in a multitude of ways. Researchers at Graz University of Technology are convinced that it still has great potential as a construction material. "The cobra at the Campus is an architectural experiment. We want to demonstrate just how much can be achieved by using wood as a material," explained the project leader, Albert Wiltsche, from the Institute of Architecture and Media, describing the background to the snake sculpture. From works of art to houses and industrial buildings: "Its range of utilisation is infinitely great, and includes various applications in architecture."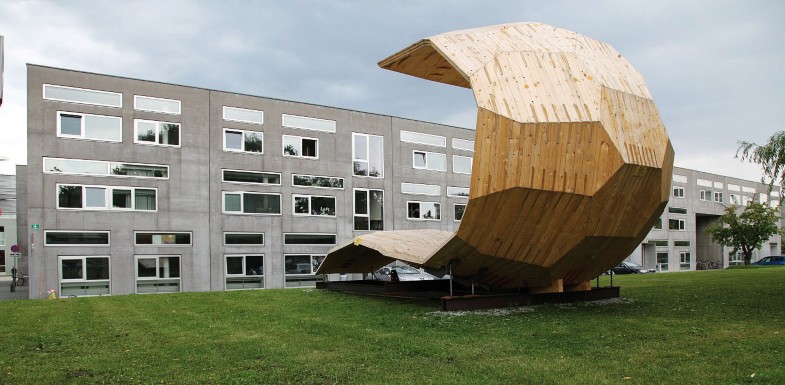 Gluing instead of screwing
"Gluing instead of screwing" was the basic principle behind this project. A special adhesive is used to hold the plywood panels together, and the individual steps have to be precisely coordinated. The necessary tests were carried out at the nearby Building Construction Centre of Graz University of Technology under the scientific leadership of Thomas Bogensberger. The Institute for Timber Engineering and Wood Technology located there is seen internationally as the "cradle" for the use of this type of plywood. Therefore, the research scientists now want to use this material, which they have played a key role in developing, for architectural applications. Other advantages of this innovation include shorter construction periods and therefore lower costs.
The research activities are part of the scientific focus on the topic of "Sustainability" at Graz University of Technology. Research in the field of sustainability — including sustainable construction — is a key area of interdisciplinary scientific activity at the university.
For further information, please contact: Ass. Prof. Mag. rer. nat. Dr. techn. Albert Wiltsche, Institute of Architecture and Media, http://wiltsche@tugraz.at
Copyright information
© Springer Fachmedien Wiesbaden 2012