Access options
Buy single article
Instant access to the full article PDF.
US$ 39.95
Tax calculation will be finalised during checkout.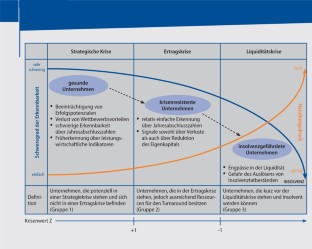 Literatur
Altman, E. I./Sabato, G./Wilson, N. (2010): The value of non-financial information in small and medium-sized enterprise risk management, in: The Journal of Credit Risk, 6, S. 1–33.

Ansoff, I. H./Sullivan, P. A. (1993): Optimizing profitability in turbulent environment: A formula for strategic success, in: Long Range Planning, 26 (5), S. 11–23.

Bennewitz, A./Kasterich, A. (2004): Krisenfrüherkennung und Krisenbewältigung im mittelständischen Firmenkundengeschäft aus der Sicht von Kreditinstituten, in: Schmeisser, W./Bretz, M./Kessler, J./Krimphove, D. (Hrsg.): Handbuch Krisen- und Insolvenzmanagement: Wie mittelständische Unternehmen die Wende schaffen, Stuttgart, S. 3–22.

Brouthers, K. D./Roozen, F. A. (1999): Is it time to start thinking about strategic accounting?, in: Long Range Planning, 32 (3), S. 311–322.

Exler, M./Situm, M. (2013): Früherkennung von Unternehmenskrisen: Systematische Einteilung von Krisenfrüherkennungsindikatoren zu den unterschiedlichen Krisenphasen eines Unternehmens, in: Krisen-, Sanierungs- und Insolvenzberatung, 9 (4), S. 161–166.

Du Jardin, J. P. (2009): Bankruptcy prediction models: How to choose the most relevant variables?, in: Bankers, Markets & Investors, 98 (1–2), S. 39–46.

Grunert, J./Norden, L./Weber, M. (2005): The role of non-financial factors in internal credit ratings, in: Journal of Banking & Finance, 29, S. 509–531.

Krystek, U./Modenhauer, R. (2007): Handbuch Krisen- und Restrukturierungsmanagement: Generelle Konzepte, Spezialprobleme, Praxisberichte, Stuttgart.

Müller-Stewens, G. (2007): Früherkennungssysteme. in: Köhler, R./Küpper, H.-U./Pfingsten, A. (Hrsg): Handwörterbuch der Betriebswirtschaft, 6. Aufl., Stuttgart, S. 558–570.

Schwarzecker, J./Spandl, F. (1993): Kennzahlen — Krisenmanagement mit Stufenplan zu Sanierung, Wien.

Situm, M. (2013): Business failure prediction models based on expert knowledge, in: Czech Journal of Social Sciences, Business and Economics, 2 (4), S. 28–45.
About this article
Cite this article
Situm, M. Potenzielle Unternehmenskrisen früher erkennen. Control Manag Rev 58, 60–68 (2014). https://doi.org/10.1365/s12176-014-1052-y