Abstract
Plant polyphenols are naturally occurring secondary plant metabolites, synthesized in response to environmental stress factors. As anti-oxidants and free-radical scavengers they serve as essential components of the human diet. Among polyphenols well studied representatives are the trans-resveratrol and trans-piceid molecules, the latter being the glycoside of trans-resveratrol. trans-Resveratrol is known to have anti-inflammatory, anti-tumor, cardio- and vasoprotective effects which help in the prevention of chronic cardiovascular and tumorous diseases.
In the present study, 42 Hungarian wines were analyzed using LC-DAD detection. The wines were from Villány and Eger wine regions representing three wineries from 2003 to 2007 vintage years. The trans-resveratrol amount in the processed wines ranged from 0.75 to 10.4 mg mL−1 and for trans-piceid from 0.1 to 3.7 mg mL−1.
Access options
Buy single article
Instant access to the full article PDF.
USD 39.95
Price includes VAT (USA)
Tax calculation will be finalised during checkout.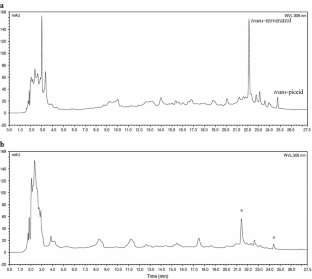 References
1.

Mazza G, Kay CD, Cottrell T, Holub BJ (2002) J Agric Food Chem 50:7731–7737. doi:10.1021/jf020690l

2.

Alonso-Salces RM, Ndjoko K, Queiroz EF, Ioset JR, Hostettmann K, Berrueta LA, Gallo B, Vicente F (2004) J Chromatogr A 1046:89–100. doi:10.1016/j.chroma.2004.06.077

3.

Vinas P, Lopez-Erroz C, Marin-Hernandez JJ, Hernandez-Cordoba M (2000) J Chromatogr A 871:85–93. doi:10.1016/S0021-9673(99)01087-0

4.

Afanas'ev IB, Ostrakhovitch EA, Mikhal'chik EV, Ibragimova GA, Korkina LG (2001) Biochem Pharmacol 61:677–684. doi:10.1016/50006-2952(01)00526

5.

Valko M, Rhodes CJ, Moncol J, Izakovic M, Mazur M (2006) Chem Biol Interact 160(1):1–40. doi:10.1016/j.cbi.2005.12.009

6.

Vucevic D, Radosavljevic T, Zunic S, Dordevic-Denic G, Pesic BC, Radak D (2005) Med Pregl 58(9–10):472–477. doi:10.2298/MPNS0510472v

7.

Tsang C, Higgins S, Duthie GG, Duthie SJ, Howie M, Mullen W, Lean ME, Crozier A (2005) Br J Nutr 93(2):233–240. doi:10.1079/BJN20041311

8.

Gordana R, Herwig OG, Ludwig-Müller J (2005) Nutr Res 25(2):143–155

9.

Pastrana-Bonilla E, Akoh CC, Sellappan S, Krewer G (2003) J Agric Food Chem 51(18):5497–5503. doi:10.1021/jf030113c

10.

Sroka Z, Fecka I, Cisowski W (2005) Z Naturforsch C Biosci 60(11–12):826–832

11.

Yi W, Fischer W, Akoh CC (2005) J Agric Food Chem 53(22):8804–8812. doi:10.1021/jf0515328

12.

Lin JK, Tsai SH (1999) Proc Nat Sci Counc ROC (B) 23(3):99–106

13.

Wu JM, Wang ZR, Hsieh TC, Bruder JL, Zou JG, Huang YZ (2001) Int J Mol Med 8(1):3–17

14.

Dell'Agli M, Busciala A, Bosiso E (2004) Cardiovas Res 63:593–602. doi:10.1021/jf048497+

15.

de Rodriguez-Bernaldo Quiro A, Lopez-Hernandez J, Ferraces-Casais P, Lage-Yusty MA (2007) J Sep Sci 30:1262–1266. doi:10.1002/jssc.200600489

16.

Presta MA, Bruyneel B, Zanella R, Kool J, Krabbe JG, Lingeman H (2009) Chromatographia 69:167–173. doi:1365/S10337-009.M32-X

17.

Cai L, Koziel JA, Dharmadhikari M, van Hans Leeuwen J (2009) J Chromatogr A 1216(2):281–287. doi:10.1016/j.chroma.2008.11.050

18.

Vinas P, Campillo N, Hernández-Pérez M, Hernández-Córdoba M (2008) Anal Chim Acta 611:119–125. doi:10.1016/j.aca.2008.01.072

19.

Szabó Z, Ohmacht R, Huck CW, Stögl WM, Bonn GK (2005) J Sep Sci 28:313–319. doi:10.1002/jssc.200401876

20.

Mark L, Pour Nikfardjam MS, Avar P, Ohmacht R (2005) J Chromatogr Sci 43:445–451

21.

Jeandet P, Bessis R, Sbaghi M, Meunier P, Trollat P (2004) Am J Enol Vitic 46(1):1–4

22.

Stervbo U, Vang O, Bonnesen C (2007) Food Chem 101:449–457. doi:10.1111/j.1365-2184.2006.00406
Acknowledgments
This work was supported by the grant KM1 046476 from the Hungarian National Science Foundation (OTKA) and by PTE AOK KA 34039-11/2009.
About this article
Cite this article
Montsko, G., Ohmacht, R. & Mark, L. trans-Resveratrol and trans-Piceid Content of Hungarian Wines. Chroma 71, 121–124 (2010). https://doi.org/10.1365/s10337-010-1518-9
Received:

Revised:

Accepted:

Published:

Issue Date:
Keywords
Column liquid chromatography

Red wine

Polyphenols

t-Resveratrol and t-piceid