Abstract
In this study, an LC method for the simultaneous determination of six bioactive compounds from Angelica tenuissima, namely chlorogenic acid, ferulic acid, Z-ligustilide, nodakenin, decursin and decursinol angelate was developed and validated. Chromatographic analysis was carried out on a C18 column with a mobile phase consisting of 0.1% formic acid, methanol and acetonitrile at a flow rate of 0.8 mL min−1 and the effluent from the column was monitored by UV detector at 325 nm. The excellent linear behavior was observed over the investigated concentration range for reported compounds. The intra- and inter-day precision over the concentration range of compounds were lower than 1.7% (as relative standard deviation), and accuracy was between 97.2 and 106.0%. These results showed that the developed method is accurate, reproducible, and consequently applicable for the quantitation of bioactive components from the ethanolic extract of Angelica tenuissima Nakai.
This is a preview of subscription content, log in to check access.
Access options
Buy single article
Instant access to the full article PDF.
US$ 39.95
Price includes VAT for USA
Subscribe to journal
Immediate online access to all issues from 2019. Subscription will auto renew annually.
US$ 199
This is the net price. Taxes to be calculated in checkout.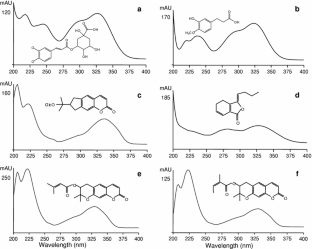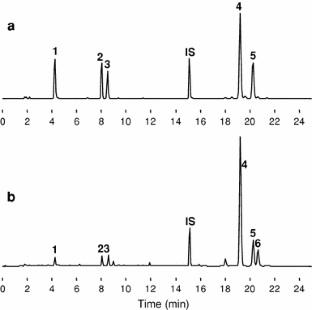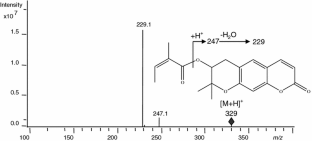 References
1.

Kim HS, Chi HJ (1989) Korean J Pharmacogn 20:13–20

2.

Ka MH, Choi EH, Chun HS, Lee KG (2005) J Agric Food Chem 53:4124–4129. doi:10.1021/jf047932x

3.

Sarker SD, Nahar L (2004) Curr Med Chem 11:1479–1500. doi:10.2174/0929867043365189

4.

Johnston KL, Clifford MN, Morgan LM (2003) Am J Clin Nutr 78:728–733

5.

Shimoda H, Seki E, Aitani M (2006) BMC Complement Altern Med 6:9. doi:10.1186/1472-6882-6-9

6.

Graf E (1992) Free Radic Biol Med 13:435–448. doi:10.1016/0891-5849(92)90184-I

7.

Kim DH, Kim DY, Kim YC, Jung JW, Lee SJ, Yoon BH, Cheong JH, Kim YS, Kang SK, Ko KH, Ryu JH (2007) Life Sci 80:1944–1950. doi:10.1016/j.lfs.2007.02.023

8.

Kang SY, Kim YC (2007) Arch Pharm Res 30:1368–1373

9.

Kuang X, Yao Y, Du JR, Liu YX, Wang CY, Qian ZM (2006) Brain Res 1102:145–153. doi:10.1016/j.brainres.2006.04.110

10.

Kuang X, Du JR, Liu YX, Zhang GY, Peng HY (2008) Pharmacol Biochem Behav 88:213–221. doi:10.1016/j.pbb.2007.08.006

11.

Lee S, Lee YS, Jung SH, Shin KH, Kim BK, Kang SS (2003) Arch Pharm Res 26:727–730

12.

Guo J, Jiang C, Wang Z, Lee HJ, Hu H, Malewick B, Lee HJ, Lee JH, Baek NI, Jeong JH, Kim DK, Kang KS, Kim SH, Lu J (2007) Mol Cancer Ther 6(3):907–917. doi:10.1158/1535-7163.MCT-06-0231

13.

Lee JP, Chang SY, Park SY (2004) Nat Prod Sci 10(6):262–267

14.

Lu GH, Chan K, Liang YZ, Leung K, Chan CL, Jiang ZH, Zhao ZZ (2005) J Chromatogr A 1073:383–392. doi:10.1016/j.chroma.2004.11.080

15.

Avula B, Joshi VC, Reddy NVL, Choi YW, Khan IA (2007) Planta Med 73:1509–1516. doi:10.1055/s-2007-990260

16.

Ahn MJ, Lee MK, Kim YC, Sung SH (2008) J Pharm Biomed Anal 46:258–266. doi:10.1016/j.jpba.2007.09.020

17.

Piao XL, Park JH, Cui J, Kim DH, Yoo HH (2007) J Pharm Biomed Anal 44:1163–1167. doi:10.1016/j.jpba.2007.04.006

18.

Li F, Cao QE, Ding Z (2007) J Chromatogr Sci 45:354–359

19.

Urakova IN, PoZharitskaya ON, Shikov AN, Kosman VM, Makarov VG (2008) J Sep Sci 31:237–241. doi:10.1002/jssc.200700472

20.

Cao YH, Wang Y, Yuan Q (2004) Chromatographia 59:135–140. doi:10.1365/s10337-003-0138-z

21.

Li X, Zhang Y, Yuan Z (2002) Chromatographia 55:453–456. doi:10.1007/BF02492276
Acknowledgment
This work was supported in part by grants from Korea Food and Drug Administration and in part by Seoul Research and Business Development Program.
About this article
Cite this article
Islam, M.N., Nam, J., Lee, J. et al. A Validated LC Method for Simultaneous Determination of Phenolic, Coumarin and Phthalide Compounds in the Ethanolic Extract of Angelica tenuissima . Chroma 70, 1079 (2009). https://doi.org/10.1365/s10337-009-1263-0
Received:

Revised:

Accepted:

Published:
Keywords
Column liquid chromatography

Phenolic acids

Coumarins and phthalides

Angelica tenuissima