Abstract
The fragmentation behaviors of progesterone derivatives were studied by high-performance liquid chromatography electrospray ionization tandem mass spectrometry. Under tandem MS conditions, most of the fragments were formed by the cleavage of peripheral groups. Analyses of the fragmentation pathways revealed that the presence of substituents of a progesterone derivative could be deduced from characteristic losses. Characteristic cleavages of 28 and 58 Da were observed from ring cleavages with compounds containing two specific double bonds in the progesterone backbone. In addition, UV spectra were acquired to support MS-based analysis. The presence of nine impurities in crude flurogestone acetate samples were characterized, followed by their tentative assignments based on mass spectral fragmentation patterns.
Access options
Buy single article
Instant access to the full article PDF.
USD 39.95
Price excludes VAT (USA)
Tax calculation will be finalised during checkout.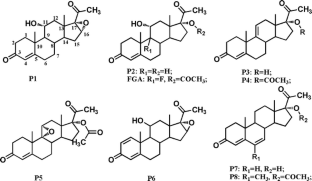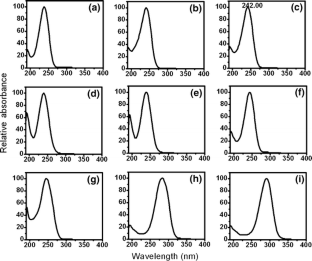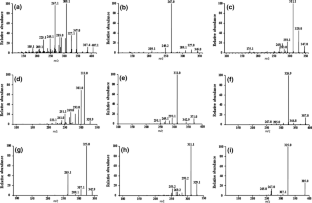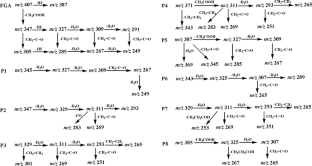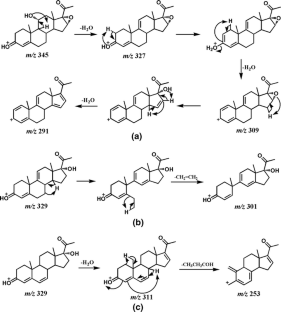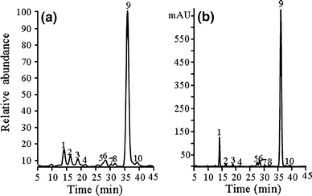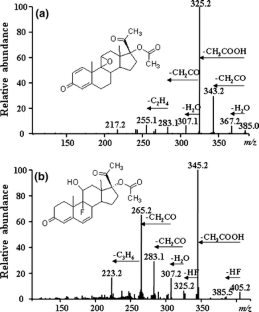 References
LaBella FS, Templeton JF, Sashi Kumar VP, Bose D (1989) Trends Pharmacol Sci 10:11–14. doi:10.1016/0165-6147(89)90094-1

Souque A, Fagart J, Couette B, Davioud E, Sobrio F, Marquet A et al (1995) Endocrinology 136:5651–5658. doi:10.1210/en.136.12.5651

Cabeza M, Gutierrez E, Miranda R, Heuze I, Bratoeff E, Flores G et al (1999) Steroids 64:413–421. doi:10.1016/S0039-128X(99)00018-5

Azcoitia I, Leonelli E, Magnaghi V, Veiga S, Garcia-Segura LM, Melcangi RC (2003) Neurobiol Aging 24:853–860. doi:10.1016/S0197-4580(02)00234-8

Zaretskii ZV (1976) Mass spectrometry of steroids. Wiley, New York

Williams TM, Kind AJ, Houghton E, Hill DW (1999) J Mass Spectrom 34:206–216. doi:10.1002/(SICI)1096-9888(199903)34:3<206::AID-JMS785>3.0.CO;2-1

Kuuranne T, Vahermo M, Leinonen A, Kostianen R (2000) J Am Soc Mass Spectrom 11:722–730. doi:10.1016/S1044-0305(00)00135-5

Guan F, Soma LR, Luo Y, Uboh CE, Peterman S (2006) J Am Soc Mass Spectrom 17:477–489. doi:10.1016/j.jasms.2005.11.021

Thevis M, Bommerich U, Opfermann G, Schanzer W (2005) J Mass Spectrom 40:494–502. doi:10.1002/jms.820

Kang MJ, Lisurek M, Bernhardt R, Hartmann RW (2004) Rapid Commun Mass Spectrom 18:2795–2800. doi:10.1002/rcm.1694

Gordon I (1997) Controlled reproduction in sheep and goats. CAB International, New York

Hou S, Hindle M, Byron PR (2005) J Pharm Biomed Anal 39:196–205. doi:10.1016/j.jpba.2005.03.026

Grostic MF, Rinehart KL Jr (1968) J Org Chem 33:1740–1746. doi:10.1021/jo01269a008

Karliner J, Budzikiewicz H, Djerassi C (1966) J Org Chem 31:710–713. doi:10.1021/jo01341a015

Meyerson S, Leitch LC (1964) J Am Chem Soc 86:2555–2558. doi:10.1021/ja01067a005
Acknowledgments
This work was supported by the grants from National Basic Research Program (973) of Ministry of Science and Technology of the PR China (No. 2005CB523402). Thanks Dr. Song Y. for measuring the high-resolution MS data.
Electronic supplementary material
Below is the link to the electronic supplementary material.
About this article
Cite this article
Zhang, Y., Wang, Z., Ma, Z. et al. Characterization of Progesterone Derivatives by LC-DAD-ESI/MSn and Its Application to the Identification of Impurities in Flurogestone Acetate. Chroma 68, 903–909 (2008). https://doi.org/10.1365/s10337-008-0838-5
Received:

Revised:

Accepted:

Published:

Issue Date:

DOI: https://doi.org/10.1365/s10337-008-0838-5
Keywords
Column liquid chromatography

Tandem mass spectrometry

Progesterone derivatives

Flurogestone acetate

Impurities