Abstract
A rapid, sensitive and specific method to quantify pregabalin in human plasma using metaxalone as the internal standard is described. Sample preparation involved simple protein precipitation by using acetronitrile as solvent. The extract was analyzed by high-performance liquid chromatography coupled to electrospray tandem mass spectrometry (LC-MS–MS). Chromatography was performed isocratically on Thermo Hypurity C18 5 μm analytical column, (50 mm × 4.6 mm i.d.). The assay of pegabalin was linear calibration curve over the range 10.000–10000.000 ng mL−1. The lower limit of quantification was 10.000 ng mL−1 in plasma. The method was successfully applied to the bioequivalence study of pregabalin capsules (150.0 mg) administered as a single oral dose.
Access options
Buy single article
Instant access to the full article PDF.
USD 39.95
Price excludes VAT (USA)
Tax calculation will be finalised during checkout.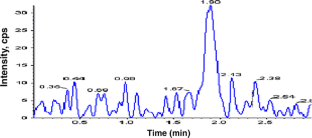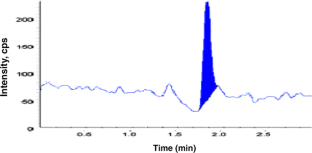 References
Wikipedia, the free encyclopedia (2007)

Johannessen SI, Tomson T (2006) Clin Pharm 45(11):1061–1075

LYRICA study group (2006) Int J Clin Pract 60(9):1060–1072

Hindmarch I, Trick L, Ridout F (2005) Psychopharm (Berl) 83(2):133–143

Pfizer Inc. FDA Approves Lyrica (Pregabalin) for Treatment of Neuropathic Pain (2006)

Frampton JE, Foster RH (2005) Drugs 65(1):119–120

Freynhagen R, Strojek K, Griesing T, Whalen E, Balkenohl M (2005) Pain 115(3):254–263

Fehrenbacher JC, Taylor CP, Vasko MR (2003) Pain 105(1–2):133–141

Vermeij TAC, Edelbroek PM (2004) J Chromatogr B 810(2):297–303

Berry D, Millington C (2005) Therapeutic Drug Monitoring 27(4):451–456

Jadhav AS, Pathare DB, Shingare MS (2007) Chromatographia 65(3–4):253–256

Lovdahi MJ, Hurley TR, Tobias B (2002) J Pharm Biomed Anal 28(5):917–924

Zhang Y, Pablo J, Tang D (2005) CPSA Digest, Poster Session Abstract: WP-7

Sarah Osgood, Jeremy McFadden, Julie Poe, Cheryl Li, Lisa Buchholz. In: Proceedings of the 54th ASMS conference on mass spectrometry and allied topics

US Department of Health and Human Services, Food and Drug Administration (2001) Guidance for industry bio analytical method validation

Overholser BR, Kays MB, Sowinski KM (2003) J Chromatogr B Analyt Technol Biomed Life Sci 798(1):150–180

Liang H, Kays MB, Sowinski KM (2002) J Chromatogr B Analyt Technol Biomed Life Sci 772(1):50–68

Fernandez H, Ruperez FJ, Barbas C (2003) J Pharm Biomed Anal 31(3):450–525

Radhakrishna T, Sreenivas Rao D, Om Reddy G (2002) J Pharm Biomed Anal 29(4):593–607

Nemutlu E, Kir S (2003) J Pharm Biomed Anal 31(3):499–506
About this article
Cite this article
Vaidya, V.V., Yetal, S.M., Roy, S.M.N. et al. LC-MS–MS Determination of Pregabalin in Human Plasma. Chroma 66, 925–928 (2007). https://doi.org/10.1365/s10337-007-0430-4
Received:

Revised:

Accepted:

Published:

Issue Date:

DOI: https://doi.org/10.1365/s10337-007-0430-4
Keywords