Abstract
Isocratic reversed phase high performance liquid chromatographic (HPLC) method using RP C18 column was developed for simultaneous determination of the curcuminoids. Mobile phase consisted of acetonitrile:0.1% trifluro-acetic acid (50:50) and flow rate was 1.5 mL min−1 and elution was monitored at 420 nm. Validation in selected conditions showed that the chosen method is sensitive, selective, precise and reproducible with linear response of detector for the simultaneous determination of curcumin (C), demethoxycurcumin (DMC) and bis-demethoxycurcumin (BDMC). The limits of detection were 27.99, 31.91 and 21.81 ng mL−1 for C, DMC and BDMC, respectively. Limits of quantitation for C, DMC and BDMC, were 84.84, 96.72 and 66.10 ng mL−1, respectively. Linear range was form 100 to 600 ng mL−1. The mean ± SD percent recoveries of curcuminoids were 99.87 ± 0.34, 100.09 ± 0.48 and 100.10 ± 0.60% of C, DMC and BDMC, respectively. Further, the method was used for quantitation of curcuminoids from turmeric rhizome.
Access options
Buy single article
Instant access to the full article PDF.
USD 39.95
Price excludes VAT (USA)
Tax calculation will be finalised during checkout.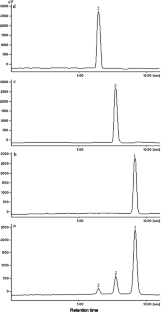 References
Kapoor LD (1990) Handbook of ayurvedic medicinal plants. CRC Press, Boca Raton, pp 149–150

Nadkarni KM (1976) Indian materia medica. Popular Prakashan, Bombay, pp 418–419

Bakhru HK (1997) Herbs that heal: natural remedies for good health. Orient Paperbacks, New Delhi, pp 164–166

WHO (1994) Monographs on selected medicinal plants, Rhizoma Curcumae longae, pp 115–124

Srinivasan KR (1953) J Pharm Pharmacol 5:448–457

Shrimal RC, Dhawan BN (1973) J Pharm Pharmacol 25:447–452

Toda S, Miyase T, Arichi H, Tanizawa H, Takino Y (1985) Chem Pharm Bull 33:1725–1728

Lim GP, Chu T, Yang F et al (2001) J Neurosci 21:8370–8377

Ringman JM, Frautschy SA, Cole GM, Masterman DL, Cummings JL (2005) Curr Alzheimer Res 2:131–136

Lutomski J, Kedzia B, Debska W (1974) Planta Med 26:9–19

Kuttan R, Bhanumathy P, Nirmala K, George MC (1985) Cancer Lett 29:197–202

Arun N, Nalini N (2002) Plant Foods Hum Nutr 57:41–52

Sindhu GS, Singh AK, Thaloor D (1998) Wound Repair Regen 6:167–177

Gopinath D, Ahmed MR, Gomathi K, Chitra K, Sehgal PK, Jayakumar R (2004) Biomaterials 25:1911–1917

Antony S, Kuttan R, Kuttan G (1999) Immunol Invest 28:291–303

Skommer J, Wlodkowic D, Pelkonen J (2006) Exp Hematol 34:463–474

Ammon HP, Wahl MA (1991) Planta Med 57:1–7

Aggarwal BB, Kumar A, Bharti AC (2003) Anticancer Res 23:363–398

Chattopadhyay I, Biswas K, Bandyopadhyay U, Banerjee RK (2004) Curr Sci 87:44–53

Duvoix A, Blasius R, Delhalle S, Schnekenburger M, Morceau F, Henry E, Dicato M, Diederich M (2004) Cancer Lett 223:1–10

Joe B, Vijaykumar M, Lokesh BR (2004) Crit Rev Food Sci Nutr 44:97–111

Sharma RA, Gescher AJ, Steward WP (2005) Eur J Cancer 41:1955–1968

Tonnesen HH, Grislingaas AL, Karlson J (1991) Z Lebensm Unters Forsch 193:548–550

Rasmussen HB, Christensen SB, Kvist LP, Karazmi A (2000) Planta Med 6:396–398

Ansari MJ, Ahmad S, Kohli K, Ali J, Khar RK (2005) J Pharm Biomed Anal 39:132–138

Heath DD, Pruitt MA, Brenner DE, Rock CL (2003) J Chromatogr B 783:287–295

Pak Y, Patek R, Mayersohn M (2003) J Chromatogr B 796:339–346

Tonnesen HH, Karlson J (1986) Z Lebensm Unters Forsch 182:215–218

Taylor SJ, McDowell J (1992) Chromatographia 34:73–77

Jayaprakasha GK, Rao LJM, Sakariah KK (2002) J Agric Food Chem 50:3668–3672

Peret-Almeida L, Cherubino APF, Alves RJ, Dufosse L, Gloria MBA (2005) Food Res Int 38:1039–1044

Sun X, Gao C, Cao W, Yang X, Wang E (2002) J Chromatogr A 962:117–125

Yuan K, Weng Q, Zhang H, Xiong J, Xu G (2005) J Pharm Biomed Anal 38:133–138

Patel K, Krishna G, Sokoloski E, Ito Y (2000) J Liq Chromatogr Relat Technol 23:2209–2218

Marsin SM, Ahmed UK, Smith RM (1993) J Chromatogr Sci 31: 20–25

Khurana A, Ho CT (1998) J Liq Chromatogr 11:2295–2304

Xie Y, Jiang ZH, Zhou H, Cai X, Wong YF, Liu ZQ, Bian ZX, Xu HX, Liu L (2007) J Pharm Biomed Anal 43:204–212

ICH (2005) Topic Q2 (R1) Validation of Analytical Procedures Text and Methodology, Step 4
Acknowledgement
Authors are thankful to UGC, New Delhi, India for providing financial assistance. Authors are also thankful to Fluka, Switzerland; Dr. Ann Li, National University of Taiwan, Taiwan; Sami Chemicals, Bangalore, India (Sabinsa Corporation, USA) for providing gift sample of curcuminoids, C, DMC and BDMC, respectively.
About this article
Cite this article
Jadhav, BK., Mahadik, KR. & Paradkar, AR. Development and Validation of Improved Reversed Phase-HPLC Method for Simultaneous Determination of Curcumin, Demethoxycurcumin and Bis-Demethoxycurcumin. Chroma 65, 483–488 (2007). https://doi.org/10.1365/s10337-006-0164-8
Received:

Revised:

Accepted:

Published:

Issue Date:

DOI: https://doi.org/10.1365/s10337-006-0164-8
Keywords
Column liquid chromatography

Reversed phase-HPLC

Turmeric rhizome extract

Curcumin, demethoxycurcumin, and bis-demethoxycurcumin