Abstract
Simultaneous distillation–extraction (SDE) is routinely used by analysts for sample preparation prior to gas chromatography analysis. In this work, a new process design and operation for microwave assisted simultaneous distillation–solvent extraction (MW-SDE) of volatile compounds was developed. Using the proposed method, isolation, extraction and concentration of volatile compounds can be carried out in a single step. To demonstrate its feasibility, MW-SDE was compared with the conventional technique, SDE, for gas chromatography-mass spectrometry (GC-MS) analysis of volatile compounds in a fresh aromatic herb, Zygophyllum album L., a wild salty desert herb belonging to the family Zygophyllaceae. SDE method required a long time (3 h) to isolate the volatile compounds, and large amounts of organic solvent (200 mL of hexane) for further extraction, while MW-SDE needed shorter time (only 30 min) to prepare the sample, and less amount of organic solvent (10 mL of hexane). These results show that MW-SDE–GC-MS is a simple, rapid and solvent-less method for the determination of volatile compounds from aromatic plants.
Access options
Buy single article
Instant access to the full article PDF.
US$ 39.95
Tax calculation will be finalised during checkout.
Subscribe to journal
Immediate online access to all issues from 2019. Subscription will auto renew annually.
US$ 119
Tax calculation will be finalised during checkout.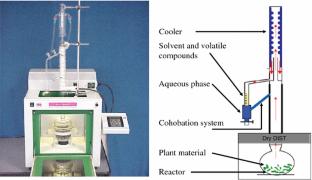 References
1.

Likens ST, Nickerson GB (1964) Am Soc Brew Chem Proc 1:5–13

2.

Pollien P, Chaintreau A (1997) Anal Chem 69:3285–3292

3.

Martinez D, Borrul F, Calull M (1998) J Chromatogr A 827:105–112

4.

Vinatoru M (2001) Ultrason Sonochem 8:303–313

5.

Pare JRJ, Belanger JMR (1997) Instrumental methods in food analysis. Elsevier, Amsterdam

6.

Hankemeier T, Hooijschuur E, Vreuls RJJ, Brinkman UAT, Visser T J. (1998) High Resolut Chromatogr 21:341–346

7.

Reverchon E (1997) J Supercrit Fluids 10:1–38

8.

Rimbau V, Cerdan C, Vila R, Iglesias J (1999) Phytother Res 13:128–132

9.

Hasanean HA, Elshanaway MA, Bishay DW (1989) Bull Pharm Sci 1:117–121

10.

Safir O, Fkih-Tetouani S, De Tommasi N, Aquino R (1998) J Nat Prod 61:130–134

11.

Hasanean HA, Desoky EK (1992) Phytochem 31:3293

12.

Jouahiri JT, Lazrek HB, Seddik A, Jana M (1999) J Ethnopharmacol 64:211–217

13.

Elgamal MHA, Shaker KH, Pollman K, Seifert K (1995) Phytochem 40:1233–1236

14.

Ibrahim N, Mostafa S, Saeed A, Maklad Y (1997) Egypt J Pharm Sci 1:23–25

15.

Skim F, Lazrek HB, Elamri H, Kaaya A, Jana M (1998) Phytother Res 12:592–594

16.

Pollman K, Gagel S, Elgamal MHA, Shaker KH, Seifert K (1997) Phytochem 44:485

17.

Ahmad VU, Uddin GS, Ali MS (1993) Phytochem 33:453

18.

Shaltout KH, Sheded MG, El-Kady HF, Al-Sodany YM (2003) J Arid Environ 53:331–345

19.

Abd El-Ghani MM, Amer WM (2003) J Arid Environ 55:607–628

20.

Atta AH, Mouneir SM (2004) J Ethnopharmacol 92:303–339

21.

Fahmy GM, Ouf SA (1999) J Arid Environ 41:257

22.

DryDIST®, Milestone srl, Bergamo, Italy; http://www.milestonesrl.com

23.

Adams RP (1995) Identification of essential oil components by gaz chromatography-mass spectroscopy. Allured Publishing Corporation, Carol Stream

24.

Arctander S (1994) Perfume and flavor chemicals. Allured Publishing Corporation, Carol Stream

25.

Bernard J (2001) Sciences et Vie 214:68
About this article
Cite this article
Ferhat, M.A., Tigrine-Kordjani, N., Chemat, S. et al. Rapid Extraction of Volatile Compounds Using a New Simultaneous Microwave Distillation: Solvent Extraction Device. Chroma 65, 217–222 (2007). https://doi.org/10.1365/s10337-006-0130-5
Received:

Revised:

Accepted:

Published:

Issue Date:
Keywords
Gas chromatography-mass spectrometry

Microwave extraction

Simultaneous distillation extraction

Volatile compounds

Zygophyllum album L.