Abstract
Background
Laparoscopic anatomical Segment 8 (S8) resection is a highly challenging hepatectomy. Augmented reality navigation (ARN), which could be combined with indocyanine green (ICG) fluorescence imaging, has been applied in various complex liver resections and may also be applied in laparoscopic anatomical S8 resection. However, no study has explored how to apply ARN plus ICG fluorescence imaging (ARN–FI) in laparoscopic anatomical S8 resection, or explored its accuracy.
Patients and Methods
This study is a post hoc analysis that included 31 patients undergoing laparoscopic anatomical S8 resection from the clinical NaLLRFI trial, and the resected liver volume was measured in each patient. The perioperative parameters of safety and feasibility, as well as the accuracy analysis outcomes were compared.
Results
There were 16 patients in the ARN–FI group and 15 patients underwent conventional laparoscopic hepatectomy without ARN or fluorescence imaging (non-ARN–FI group). There was no significant difference in baseline characteristics between the two groups. Compared with the non-ARN–FI group, the ARN–FI group had lower intraoperative bleeding (median 125 vs. 300 mL, P = 0.003). No significant difference was observed in other postoperative short-term outcomes. Accuracy analysis indicated that the actual resected liver volume (ARLV) in the ARN–FI group was more accurate.
Conclusions
ARN–FI was associated with less intraoperative bleeding and more accurate resection volume. These techniques may address existing challenges and provide rational guidance for laparoscopic anatomical S8 resection.
Access options
Buy single article
Instant access to the full article PDF.
USD 39.95
Price excludes VAT (USA)
Tax calculation will be finalised during checkout.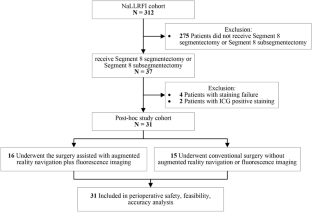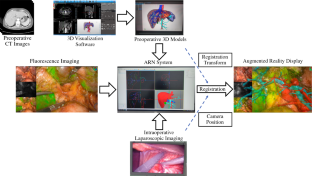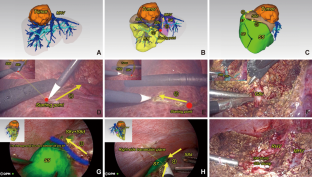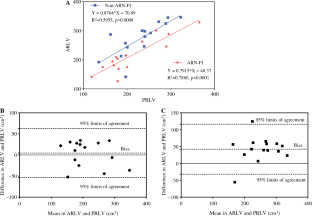 References
Abu Hilal M, Aldrighetti L, Dagher I, et al. The Southampton consensus guidelines for laparoscopic liver surgery: from indication to implementation. Ann Surg. 2018;268(1):11–8.

Wakabayashi G, Cherqui D, Geller DA, et al. Recommendations for laparoscopic liver resection: a report from the second international consensus conference held in Morioka. Ann Surg. 2015;261(4):619–29.

Hasegawa Y, Wakabayashi G, Nitta H, et al. A novel model for prediction of pure laparoscopic liver resection surgical difficulty. Surg Endosc. 2017;31(12):5356–63.

Buell JF, Cherqui D, Geller DA, et al. The international position on laparoscopic liver surgery: the Louisville statement, 2008. Ann Surg. 2009;250(5):825–30.

Billingsley KG, Jarnagin WR, Fong Y, Blumgart LH. Segment-oriented hepatic resection in the management of malignant neoplasms of the liver. J Am Coll Surg. 1998;187(5):471–81.

Ichida H, Imamura H, Yoshioka R, et al. Re-evaluation of the Couinaud classification for segmental anatomy of the right liver, with particular attention to the relevance of cranio-caudal boundaries. Surgery. 2021;169(2):333–40.

Ishizawa T, Gumbs AA, Kokudo N, Gayet B. Laparoscopic segmentectomy of the liver: from segment I to VIII. Ann Surg. 2012;256(6):959–64.

Makuuchi M, Hashikura Y, Kawasaki S, Tan D, Kosuge T, Takayama T. Personal experience of right anterior segmentectomy (segments V and VIII) for hepatic malignancies. Surgery. 1993;114(1):52–8.

You N, Wu K, Li J, Zheng L. Laparoscopic liver resection of segment 8 via a hepatic parenchymal transection-first approach guided by the middle hepatic vein. BMC Gastroenterol. 2022;22(1):224.

Ome Y, Honda G, Doi M, Muto J, Seyama Y. Laparoscopic anatomic liver resection of segment 8 using intrahepatic Glissonean approach. J Am Coll Surg. 2020;230(3):e13–20.

Zeng X, Zhu W, Lin W, Tian J, Yang J, Fang C. Laparoscopic anatomical extended right posterior sectionectomy using virtual liver segment projection navigation and indocyanine green fluorescence imaging. Ann Surg Oncol. 2023;30(1):375–6.

Zhang P, Luo H, Zhu W, et al. Real-time navigation for laparoscopic hepatectomy using image fusion of preoperative 3D surgical plan and intraoperative indocyanine green fluorescence imaging. Surg Endosc. 2020;34(8):3449–59.

Luo H, Yin D, Zhang S, et al. Augmented reality navigation for liver resection with a stereoscopic laparoscope. Comput Methods Programs Biomed. 2020;187:105099.

Chen R, Wang Z, Zhu W, et al. Laparoscopic in situ anatomical mesohepatectomy for solitary massive HCC using combined intrafascial and extrafascial approaches with indocyanine green navigation (with Video). Ann Surg Oncol. 2022;29(3):2034–40.

Wang X, Teh CSC, Ishizawa T, et al. Consensus guidelines for the use of fluorescence imaging in hepatobiliary surgery. Ann Surg. 2021;274(1):97–106.

Fang CH, Tao HS, Yang J, et al. Impact of three-dimensional reconstruction technique in the operation planning of centrally located hepatocellular carcinoma. J Am Coll Surg. 2015;220(1):28–37.

Cho JY, Han HS, Choi Y, et al. Association of remnant liver ischemia with early recurrence and poor survival after liver resection in patients with hepatocellular carcinoma. JAMA Surg. 2017;152(4):386–92.

Yang J, Tao HS, Cai W, et al. Accuracy of actual resected liver volume in anatomical liver resections guided by 3-dimensional parenchymal staining using fusion indocyanine green fluorescence imaging. J Surg Oncol. 2018;118(7):1081–7.

Cai W, Fan Y, Hu H, Xiang N, Fang C, Jia F. Postoperative liver volume was accurately predicted by a medical image three dimensional visualization system in hepatectomy for liver cancer. Surg Oncol. 2017;26(2):188–94.

Agha R, Abdall-Razak A, Crossley E, Dowlut N, Iosifidis C, Mathew G. STROCSS 2019 guideline: strengthening the reporting of cohort studies in surgery. Int J Surg. 2019;72:156–65.

Kishi Y, Hasegawa K, Kaneko J, et al. Resection of segment VIII for hepatocellular carcinoma. Br J Surg. 2012;99(8):1105–12.

Cherqui D. Laparoscopic liver resection: a new paradigm in the management of hepatocellular carcinoma? J Hepatol. 2015;63(3):540–2.

Moris D, Vernadakis S. Laparoscopic hepatectomy for hepatocellular carcinoma: the opportunities, the challenges, and the limitations. Ann Surg. 2018;268(1):e16.

Berardi G, Wakabayashi G, Igarashi K, et al. Full laparoscopic anatomical segment 8 resection for hepatocellular carcinoma using the Glissonian approach with indocyanine green dye fluorescence. Ann Surg Oncol. 2019;26(8):2577–8.

Anselmo A, Sensi B, Bacchiocchi G, Siragusa L, Tisone G. All the routes for laparoscopic liver segment VIII resection: a comprehensive review of surgical techniques. Front Oncol. 2022;12:864867.

Monden K, Alconchel F, Berardi G, et al. Landmarks and techniques to perform minimally invasive liver surgery: a systematic review with a focus on hepatic outflow. J Hepatobiliary Pancreat Sci. 2022;29(1):66–81.

Shindoh J, Mise Y, Satou S, Sugawara Y, Kokudo N. The intersegmental plane of the liver is not always flat–tricks for anatomical liver resection. Ann Surg. 2010;251(5):917–22.

Inoue Y, Arita J, Sakamoto T, et al. Anatomical liver resections guided by 3-dimensional parenchymal staining using fusion indocyanine green fluorescence imaging. Ann Surg. 2015;262(1):105–11.

Cho A, Okazumi S, Takayama W, et al. Anatomy of the right anterosuperior area (segment 8) of the liver: evaluation with helical CT during arterial portography. Radiology. 2000;214(2):491–5.

Mise Y, Satou S, Shindoh J, et al. Three-dimensional volumetry in 107 normal livers reveals clinically relevant inter-segment variation in size. HPB (Oxford). 2014;16(5):439–47.

Xu Y, Chen M, Meng X, et al. Laparoscopic anatomical liver resection guided by real-time indocyanine green fluorescence imaging: experience and lessons learned from the initial series in a single center. Surg Endosc. 2020;34(10):4683–91.

Takasaki K. Glissonean pedicle transection method for hepatic resection: a new concept of liver segmentation. J Hepatobiliary Pancreat Surg. 1998;5(3):286–91.

Wakabayashi G, Cherqui D, Geller DA, et al. The Tokyo 2020 terminology of liver anatomy and resections: updates of the Brisbane 2000 system. J Hepatobiliary Pancreat Sci. 2022;29(1):6–15.
Acknowledgment
This study was supported by the National Natural Science Foundation of China (Grant No. 82272132); China Postdoctoral Science Foundation (Grant No. 2022M721514); President's Fund of Zhujiang Hospital (Grant No. yzjj2022qn31); Basic and Applied Basic Research Foundation of Guangdong Province (Grant No. 2021A1515011869); the Science and Technology Plan Project of Guangdong Province (Grant No. 2021A1414020003); Regional Joint Fund of Guangdong (Guangdong-Hong Kong-Macao Research Team Project) (Grant No. 2021B1515130003).
Ethics declarations
Disclosures
The authors declare that they have no conflict of interest.
Additional information
Publisher's Note
Springer Nature remains neutral with regard to jurisdictional claims in published maps and institutional affiliations.
Supplementary Information
Below is the link to the electronic supplementary material.
Supplementary file2 (MP4 71498 kb)
Rights and permissions
Springer Nature or its licensor (e.g. a society or other partner) holds exclusive rights to this article under a publishing agreement with the author(s) or other rightsholder(s); author self-archiving of the accepted manuscript version of this article is solely governed by the terms of such publishing agreement and applicable law.
About this article
Cite this article
Tao, H., Wang, Z., Zeng, X. et al. Augmented Reality Navigation Plus Indocyanine Green Fluorescence Imaging Can Accurately Guide Laparoscopic Anatomical Segment 8 Resection. Ann Surg Oncol 30, 7373–7383 (2023). https://doi.org/10.1245/s10434-023-14126-7
Received:

Accepted:

Published:

Issue Date:

DOI: https://doi.org/10.1245/s10434-023-14126-7
Keywords