Abstract
Background
The Adjuvant S-1 for Cholangiocarcinoma Trial (JCOG1202, [ASCOT]) was a multicenter, randomized controlled trial aimed at investigating the efficacy and safety of adjuvant chemotherapy (AC) with S-1 for resected biliary tract cancer (BTC). This trial reported that overall survival was prolonged with AC compared with observation.
Methods
With the aim of increasing enrollment, the present survey biannually recorded the number of patients eligible for enrollment into ASCOT and reasons for ineligibility among patients who had undergone surgery for BTC from April 2015 to September 2017 at 36 institutions participating in ASCOT.
Results
Of 2039 patients who underwent surgery for BTC, 211 (10.3%) were already enrolled, 166 (8.1%) were eligible but had not been enrolled, and 1662 (81.5%) were ineligible. Among ineligible patients, the predominant reasons for ineligibility were patient refusal (n = 332, 20.0%), pathologic stage (pT1N0; n = 248, 14.9%), age (≥ 81 years; n = 196, 11.8%), and prolonged postoperative complications (n = 176, 10.6%).
Conclusions
Patients undergoing surgery for BTC are a heterogeneous cohort comprising patients with earlier pathologic stage, advanced age, and prolonged postoperative complications. These factors should be considered during the design of future clinical trials of perioperative treatments for resectable BTC.
Access options
Buy single article
Instant access to the full article PDF.
USD 39.95
Price excludes VAT (USA)
Tax calculation will be finalised during checkout.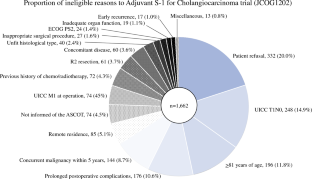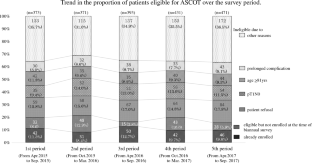 References
Ishihara S, Horiguchi A, Miyakawa S, Endo I, Miyazaki M, Takada T. Biliary tract cancer registry in Japan from 2008 to 2013. J Hepatobiliary Pancreat Sci. 2016;23(3):149–57.

Ebata T, Hirano S, Konishi M, et al. Randomized clinical trial of adjuvant gemcitabine chemotherapy versus observation in resected bile duct cancer. Br J Surg. 2018;105(3):192–202.

Primrose JN, Fox RP, Palmer DH, et al. Capecitabine compared with observation in resected biliary tract cancer (BILCAP): a randomised, controlled, multicentre, phase 3 study. Lancet Oncol. 2019;20(5):663–73.

Komaya K, Ebata T, Yokoyama Y, et al. Recurrence after curative-intent resection of perihilar cholangiocarcinoma: analysis of a large cohort with a close postoperative follow-up approach. Surgery. 2018;163(4):732–8.

Komaya K, Ebata T, Shirai K, et al. Recurrence after resection with curative intent for distal cholangiocarcinoma. Br J Surg. 2017;104(4):426–33.

Cancer Statistics. Cancer Information Service NCC, Japan. National Cancer Registry, Ministry of Health, Labour and Welfare. 2022; https://ganjoho.jp/reg_stat/statistics/data/dl/index.html#a14. Accessed 9 June 2022.

Edeline J, Bonnetain F, Phelip JM, et al. 2017, Gemox versus surveillance following surgery of localized biliary tract cancer: results of the PRODIGE 12-ACCORD 18 (UNICANCER GI) phase III trial. 35(4_suppl): 225.

Nakachi K, Konishi M, Ikeda M, et al. A randomized phase III trial of adjuvant S-1 therapy vs. observation alone in resected biliary tract cancer. Jpn J Clin Oncol. 2018;48(4):392–5.

Stein A, Arnold D, Bridgewater J, et al. Adjuvant chemotherapy with gemcitabine and cisplatin compared to observation after curative intent resection of cholangiocarcinoma and muscle invasive gallbladder carcinoma (ACTICCA-1 trial) - a randomized, multidisciplinary, multinational phase III trial. BMC Cancer. 2015;15:564.

Nakachi K, Ikeda M, Konishi M, et al. Adjuvant S-1 compared with observation in resected biliary tract cancer (JCOG1202, ASCOT): a multicentre, open-label, randomised, controlled, phase 3 trial. The Lancet. 2023;401(10372):195–203.

Karim S, Xu Y, Kong S, Abdel-Rahman O, Quan ML, Cheung WY. Generalisability of common oncology clinical trial eligibility criteria in the real world. Clin Oncol (R Coll Radiol). 2019;31(9):e160–6.

Jin S, Pazdur R, Sridhara R. Re-evaluating eligibility criteria for oncology clinical trials: analysis of investigational new drug applications in 2015. J Clin Oncol. 2017;35(33):3745–52.

Simon MS, Brown DR, Du W, LoRusso P, Kellogg CM. Accrual to breast cancer clinical trials at a university-affiliated hospital in metropolitan Detroit. Am J Clin Oncol. 1999;22(1):42–6.

Kokudo N, Hasegawa K, Makuuchi M. Control arm for surgery alone is needed but difficult to obtain in randomized trials for adjuvant chemotherapy after liver resection for colorectal metastases. J Clin Oncol. 2007;25(10):1299–300.

Sobin LH, Gospodarowicz MK, Wittekind C, 2010 International Union against C. TNM Classification of Malignant Tumours. Wiley-Blackwell, UK

Kanda Y. Investigation of the freely available easy-to-use software "EZR" for medical statistics. Bone Marrow Transplant. 2013;48(3):452–8.

Melisko ME, Hassin F, Metzroth L, et al. Patient and physician attitudes toward breast cancer clinical trials: developing interventions based on understanding barriers. Clin Breast Cancer. 2005;6(1):45–54.

Guerra CE, Kelly S, Redlinger C, Hernandez P, Glanz K. Pancreatic cancer clinical treatment trials accrual: a closer look at participation rates. Am J Clin Oncol. 2021;44(6):227–31.

Sakamoto Y, Kokudo N, Matsuyama Y, et al. Proposal of a new staging system for intrahepatic cholangiocarcinoma: analysis of surgical patients from a nationwide survey of the Liver Cancer Study Group of Japan. Cancer. 2016;122(1):61–70.

Shaib Y, El-Serag HB. The epidemiology of cholangiocarcinoma. Semin Liver Dis. 2004;24(2):115–25.

Castro FA, Koshiol J, Hsing AW, Devesa SS. Biliary tract cancer incidence in the United States-Demographic and temporal variations by anatomic site. Int J Cancer. 2013;133(7):1664–71.

Hurria A, Levit LA, Dale W, et al. Improving the evidence base for treating older adults with cancer: american society of clinical oncology statement. J Clin Oncol. 2015;33(32):3826–33.

Pallis AG, Fortpied C, Wedding U, et al. EORTC elderly task force position paper: approach to the older cancer patient. Eur J Cancer. 2010;46(9):1502–13.

Soto-Perez-De-Celis E, Lichtman SM. Considerations for clinical trial design in older adults with cancer. Expert Opin Investig Drugs. 2017;26(10):1099–102.

Louwman WJ, Janssen-Heijnen ML, Houterman S, et al. Less extensive treatment and inferior prognosis for breast cancer patient with comorbidity: a population-based study. Eur J Cancer. 2005;41(5):779–85.

Kenjo A, Miyata H, Gotoh M, et al. Risk stratification of 7,732 hepatectomy cases in 2011 from the National Clinical Database for Japan. J Am Coll Surg. 2014;218(3):412–22.

Liu H, Cen X, Suo T, et al. Trends and hospital variations in surgical outcomes for cholangiocarcinoma in New York State. World J Surg. 2017;41(2):525–37.

Mueller M, Breuer E, Mizuno T, et al. Perihilar cholangiocarcinoma-novel benchmark values for surgical and oncological outcomes from 24 expert centers. Ann Surg. 2021;274(5):780–8.

Merkow RP, Bilimoria KY, Tomlinson JS, et al. Postoperative complications reduce adjuvant chemotherapy use in resectable pancreatic cancer. Ann Surg. 2014;260(2):372–7.

Nakanishi K, Kanda M, Ito S, et al. Delay in initiation of postoperative adjuvant chemotherapy with S-1 monotherapy and prognosis for gastric cancer patients: analysis of a multi-institutional dataset. Gastric Cancer. 2019;22(6):1215–25.

Japan Clinical Oncology Group. JCOG1920: A phase III trial of neoadjuvant Gemcitabine + Cisplatin + S-1 (GCS) vs. surgery first for resectable biliary tract cancer (NABICAT). 2021; https://jrct.niph.go.jp/en-latest-detail/jRCTs031200388. Accessed 1 September 2021.
Acknowledgement
All authors deeply appreciate the participating institutions for kindly replying to the survey. Participating institutions in Japan (in decreasing latitude) were: Sapporo-Kosei General Hospital, Hokkaido University Graduate School of Medicine, Teine-Keijinkai Hospital, Tohoku University Graduate School of Medicine, Tochigi Cancer Center, Jichi Medical University, Saitama Cancer Center, National Cancer Center Hospital East, Chiba Cancer Center, Chiba University Graduate School of Medicine, National Cancer Center Hospital, Kyorin University Faculty of Medicine, National Center for Global Health and Medicine, Tokyo Women's Medical University, Cancer Institute Hospital of Japanese Foundation for Cancer Research, Teikyo University School of Medicine, Tokai University School of Medicine, Kanagawa Cancer Center, Kitasato University School of Medicine, Yokohama City University Medical Center, St. Marianna University School of Medicine, Niigata Cancer Center Hospital, Toyama University Hospital, Kanazawa University School of Medicine, Shizuoka Cancer Center, Aichi Cancer Center Hospital, Kinki University Faculty of Medicine, Osaka International Cancer Institute, Osaka National Hospital, Kansai Medical University Hirakata Hospital, Kobe University Graduate School of Medicine, Hyogo Cancer Center, National Hospital Organization Shikoku Cancer Center, Kochi Health Sciences Center, National Kyushu Cancer Center, and Kyushu University Hospital.
Funding
This study was supported by the National Cancer Center Research and Development Fund (23-A-22, 26-A-4, 29-A-3) and by the Practical Research for Innovative Cancer Control from the Japan Agency for Medical Research and Development, AMED (16ck0106079h0003, 17ck0106350h0001), Health and Labour Sciences Research Expenses for Commission, and Applied Research for Innovative Treatment of Cancer from the Ministry of Health, Labour, and Welfare (H26-076).
Ethics declarations
Disclosure
Masafumi Ikeda; honoraria, AstraZeneca, AbbVie, Abbott Japan, Bayer, Bristol-Myers Squibb, Chiome Bioscience, Chugai, EA Pharma, Eisai, Eli Lilly Japan, Fujifilm Toyama Chemical, Delta-Fly Pharma, Incyte Biosciences Japan, Invitae, J-Pharma, Merus N.V., Merck biopharma, MSD, Nippon Kayaku, Novartis, NIHON SERVIER, Otsuka, Ono, Pfizer, Syneos Health, Takeda, Taiho, Taisho Pharmaceutical, Teijin, Yakult Makoto Ueno; honoraria and research funding, Taiho Pharmaceutical, AstraZeneca, Yakult Honsha, MSD, Nihon Servier, Ono Pharmaceutical, Incyte, CHUGAI PHARMACEUTICAL, Boehringer Ingelheim, J-pharma, Daiichi Sankyo, Eisai, Takeda Pharmaceutical, Merck Biopharma, Astellas Pharma, DFP, Novartis Takuji Okusaka; honoraria, consulting and advisory role, and research funding, Taiho Pharmaceutical, AstraZeneca, Syneos Health, EP clude, Eisai, MSD, Insight Japan, Nihon Servier, Dainippon Sumitomo Pharma, Bristol-Myers, FUJIFILM Toyama Chemical, Ono Pharmaceutical, Yakult Honsha, Johnson & Johnson, Daiichi Sankyo, Chugai Pharmaceutical, Nippon Shinyaku, Eli Lilly Japan, Pfizer Japan, Novartis Pharma. Akiko Todaka; honoraria, Ono Pharmaceutical, Yakult Honsha, Taiho Pharmaceutical, and Nihon Servier. Sohei Satoi; research funding, Nihon Servier. Junji Furuse; honoraria and research funding, Ono Pharmaceutical, Chugai Pharma, Incyte Biosciences Japan, Eisai, Eli Lilly Japan, Astra Zeneca, Yakult Honsha, Servier Japan, MSD, Novartis Pharma, Takeda, Bayer, Taiho Pharmaceutical, EA Pharma, Teijin pharma, Daiichi Sankyo, Terumo, Astellas, Sanofy, J-Pharma, Sumitomo Dainippon, Taiho Pharmaceutical, Delta-Fly-Pharma. Shin Kobayashi; none to declare. Kohei Nakachi; none to declare. Akira Tomokuni; none to declare. Masaru Konishi; none to declare
Additional information
Publisher's Note
Springer Nature remains neutral with regard to jurisdictional claims in published maps and institutional affiliations.
The original online version of this article was revised; The authors′ affiliations were corrected.
Rights and permissions
Springer Nature or its licensor (e.g. a society or other partner) holds exclusive rights to this article under a publishing agreement with the author(s) or other rightsholder(s); author self-archiving of the accepted manuscript version of this article is solely governed by the terms of such publishing agreement and applicable law.
About this article
Cite this article
Kobayashi, S., Ikeda, M., Nakachi, K. et al. A Multicenter Survey on Eligibility for a Randomized Phase III Trial of Adjuvant Chemotherapy for Resected Biliary Tract Cancer (JCOG1202, ASCOT). Ann Surg Oncol 30, 7331–7337 (2023). https://doi.org/10.1245/s10434-023-13913-6
Received:

Accepted:

Published:

Issue Date:

DOI: https://doi.org/10.1245/s10434-023-13913-6
Keywords