This is a preview of subscription content,
to check access.
Access this article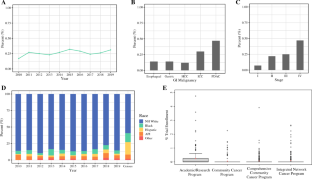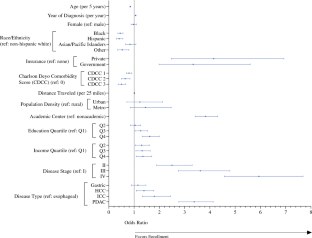 References
Siegel RL, Miller KD, Wagle NS, Jemal A. Cancer statistics, 2023. CA Cancer J Clin. 2023;73(1):17–48. https://doi.org/10.3322/caac.21763.

Bilimoria KY, Stewart AK, Winchester DP, Ko CY. The national cancer data base: a powerful initiative to improve cancer care in the United States. Ann Surg Oncol. 2008;15(3):683–90. https://doi.org/10.1245/s10434-007-9747-3.

United States Census Bureau. QuickFacts. Available at: https://www.census.gov/quickfacts/fact/table/US/PST045222. Accessed 17 Jan 2023.

Clinical Trials in Cancer. Institute of Medicine (US) Forum on Drug Discovery, Development, and Translation. In: Transforming Clinical Research in the United States: Challenges and Opportunities: Workshop Summary. Washington, DC: National Academies Press; 2010.

Zaorsky NG, Zhang Y, Walter V, Tchelebi LT, Chinchilli VM, Gusani NJ. Clinical trial accrual at initial course of therapy for cancer and Its impact on survival. J Natl Compr Canc Netw. 2019;17(11):1309–16. https://doi.org/10.6004/jnccn.2019.7321.

Fayanju OM, Ren Y, Thomas SM, et al. A case-control study examining disparities in clinical trial participation among breast surgical oncology patients. JNCI Cancer Spectr. 2019;4(2):103. https://doi.org/10.1093/jncics/pkz103.

Vickers SM, Fouad MN. An overview of EMPaCT and fundamental issues affecting minority participation in cancer clinical trials: enhancing minority participation in clinical trials (EMPaCT): laying the groundwork for improving minority clinical trial accrual. Cancer. 2014;120(07):1087–90. https://doi.org/10.1002/cncr.28569.
Acknowledgment
The NCDB is a joint project of the Commission on Cancer (CoC) of the American College of Surgeons and the American Cancer Society. The CoC's NCDB, and the hospitals participating in the CoCs NCDB, are the source of the de-identified data used herein; they have not verified and are not responsible for the statistical validity of the data analysis or the conclusions derived by the authors.
Institutional Review Board
Pro00111050 was deemed exempt by the Duke University Health System Institutional Review Board.
Funding
K. Rhodin is supported by NIH 1R38AI140297.
Ethics declarations
Disclosures
Vignesh Raman, Elishama Kanu, Austin Eckhoff, Daniel P. Nussbaum, Michael E. Lidsky, and Dan G. Blazer III have no disclosures to declare.
Additional information
Publisher's Note
Springer Nature remains neutral with regard to jurisdictional claims in published maps and institutional affiliations.
About this article
Cite this article
Rhodin, K.E., Raman, V., Kanu, E. et al. Trends and Disparities in Clinical Trial Enrollment as Part of First-Line Treatment for Upper Gastrointestinal and Hepatopancreatobiliary Malignancies. Ann Surg Oncol 30, 5323–5326 (2023). https://doi.org/10.1245/s10434-023-13641-x
Received:

Accepted:

Published:

Issue Date:

DOI: https://doi.org/10.1245/s10434-023-13641-x