Abstract
Background
Regional lymph node micrometastases from Merkel cell carcinoma (MCC) can be treated with completion lymph node dissection (CLND) and/or radiation therapy (RT). It is unclear how these options compare in terms of survival benefits for patients.
Patients and Methods
This retrospective cohort study used data from years 2012–2019 of the National Cancer Database. Patients with MCC and clinically negative, but pathologically positive, lymph node metastases who received RT to and/or CLND of the regional lymph node basin were included. Inverse probability weight balancing was performed using covariates followed by Cox proportional hazards modeling for survival analysis.
Results
A total of 962 patients were included [median (interquartile range) age, 74 (67–80) years, 662 (68.8%) male patients, 926 (96.3%) white patients]. The majority (63%, n = 606) had a CLND only, while 18% (n = 173) had RT only, and 19% (n = 183) had both CLND and RT. From 2016 to 2019, usage of RT only increased from 10% to 31.8%. Multivariate analysis demonstrated that treatment modality was not associated with survival [RT versus CLND, hazard ratio (HR) 0.842, 95% confidence interval (CI) 0.621–1.142, p = 0.269, RT+CLND versus CLND, HR 1.029, 95% CI 0.775–1.367, p = 0.844]. This persisted after balancing weights (RT versus CLND, HR 0.837, 95% CI 0.614–1.142, p = 0.262, RT+CLND versus CLND, HR 1.085, 95% CI 0.801–1.470, p = 0.599).
Conclusions
The usage of RT for nodal micrometastasis in MCC is increasing as compared with CLND. This strategy appears to be safe, with no significant difference in survival outcomes.
This is a preview of subscription content,
to check access.
Access this article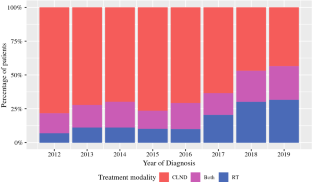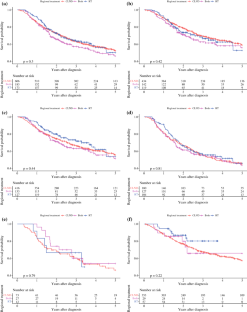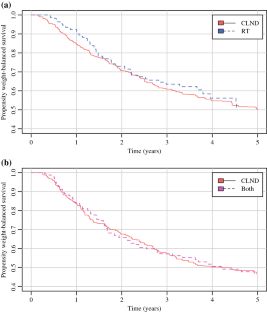 References
Liang E, Brower JV, Rice SR, Buehler DG, Saha S, Kimple RJ. Merkel cell carcinoma analysis of outcomes: a 30-year experience. PLoS One. 2015;10(6):e0129476.

Paulson KG, Park SY, Vandeven NA, et al. Merkel cell carcinoma: current US incidence and projected increases based on changing demographics. J Am Acad Dermatol. 2018;78(3):457-463.e452.

National Comprehensive Cancer Network. Merkel Cell Carcinoma Clinical Practice Guidelines in Oncology. 2022.

Leonard JH, Ramsay JR, Kearsley JH, Birrell GW. Radiation sensitivity of Merkel cell carcinoma cell lines. Int J Radiat Oncol Biol Phys. 1995;32(5):1401–7.

Meeuwissen JA, Bourne RG, Kearsley JH. The importance of postoperative radiation therapy in the treatment of Merkel cell carcinoma. Int J Radiat Oncol Biol Phys. 1995;31(2):325–31.

Senchenkov A, Barnes SA, Moran SL. Predictors of survival and recurrence in the surgical treatment of Merkel cell carcinoma of the extremities. J Surg Oncol. 2007;95(3):229–34.

Jouary T, Leyral C, Dreno B, et al. Adjuvant prophylactic regional radiotherapy versus observation in stage I Merkel cell carcinoma: a multicentric prospective randomized study. Ann Oncol. 2012;23(4):1074–80.

Fang LC, Lemos B, Douglas J, Iyer J, Nghiem P. Radiation monotherapy as regional treatment for lymph node-positive Merkel cell carcinoma. Cancer. 2010;116(7):1783–90.

Cramer JD, Suresh K, Sridharan S. Completion lymph node dissection for Merkel cell carcinoma. Am J Surg. 2020;220(4):982–6.

Perez MC, Oliver DE, Weitman ES, et al. Management of sentinel lymph node metastasis in Merkel cell carcinoma: completion lymphadenectomy, radiation, or both? Ann Surg Oncol. 2019;26(2):379–85.

Lee JS, Durham AB, Bichakjian CK, et al. Completion lymph node dissection or radiation therapy for sentinel node metastasis in Merkel cell carcinoma. Ann Surg Oncol. 2019;26(2):386–94.

Andruska N, Mahapatra L, Brenneman RJ, et al. Regional lymph node irradiation in locally advanced Merkel cell carcinoma reduces regional and distant relapse and improves disease-specific survival. Radiother Oncol. 2021;155:246–53.

Faries MB, Thompson JF, Cochran AJ, et al. Completion dissection or observation for sentinel-node metastasis in melanoma. N Engl J Med. 2017;376(23):2211–22.

Bilimoria KY, Stewart AK, Winchester DP, Ko CY. The national cancer data base: a powerful initiative to improve cancer care in the united states. Ann Surg Oncol. 2008;15(3):683–90.

Chattopadhyay A, Hase CH, Zubizarreta JR. Balancing vs modeling approaches to weighting in practice. Stat Med. 2020;39(24):3227–54.

Bernal JL, Cummins S, Gasparrini A. Interrupted time series regression for the evaluation of public health interventions: a tutorial. Int J Epidemiol. 2017;46(1):348–55.

Postlewait LM, Farley CR, Seamens AM, et al. Morbidity and outcomes following axillary lymphadenectomy for melanoma: weighing the risk of surgery in the era of MSLT-II. Ann Surg Oncol. 2018;25(2):465–70.

Sarnaik AA, Puleo CA, Zager JS, Sondak VK. Limiting the morbidity of inguinal lymphadenectomy for metastatic melanoma. Cancer Control. 2009;16(3):240–7.

Leiter U, Stadler R, Mauch C, et al. Final analysis of DeCOG-SLT trial: no survival benefit for complete lymph node dissection in patients with melanoma with positive sentinel node. J Clin Oncol. 2019;37(32):3000–8.

Nacchiero E, Maruccia M, Robusto F, Elia R, De Cosmo A, Giudice G. Prevention of secondary lymphedema after complete lymph node dissection in melanoma patients: the Role of preventive multiple lymphatic-venous anastomosis in observational era. Medicina. 2022;58(1):117.

Kwan W, Jackson J, Weir LM, Dingee C, McGregor G, Olivotto IA. Chronic arm morbidity after curative breast cancer treatment: prevalence and impact on quality of life. J Clin Oncol. 2002;20(20):4242–8.

Starritt EC, Joseph D, McKinnon JG, Lo SK, de Wilt JH, Thompson JF. Lymphedema after complete axillary node dissection for melanoma: assessment using a new, objective definition. Ann Surg. 2004;240(5):866–74.

Johnson AR, Kimball S, Epstein S, Recht A, Lin SJ, Lee BT, Singhal D. Lymphedema Incidence after axillary lymph node dissection: quantifying the impact of radiation and the lymphatic microsurgical preventive healing approach. Ann Plast Surg. 2019;82(4S):S234–41.

Shaitelman SF, Chiang YJ, Griffin KD, et al. Radiation therapy targets and the risk of breast cancer-related lymphedema: a systematic review and network meta-analysis. Breast Cancer Res Treat. 2017;162(2):201–15.

Mathew J, Barthelmes L, Neminathan S, Crawford D. Comparative study of lymphoedema with axillary node dissection versus axillary node sampling with radiotherapy in patients undergoing breast conservation surgery. Eur J Surg Oncol. 2006;32(7):729–32.

Donker M, van Tienhoven G, Straver ME, et al. Radiotherapy or surgery of the axilla after a positive sentinel node in breast cancer (EORTC 10981–22023 AMAROS): a randomised, multicentre, open-label, phase 3 non-inferiority trial. Lancet Oncol. 2014;15(12):1303–10.
Additional information
Publisher's Note
Springer Nature remains neutral with regard to jurisdictional claims in published maps and institutional affiliations.
Supplementary Information
Below is the link to the electronic supplementary material.
Rights and permissions
Springer Nature or its licensor (e.g. a society or other partner) holds exclusive rights to this article under a publishing agreement with the author(s) or other rightsholder(s); author self-archiving of the accepted manuscript version of this article is solely governed by the terms of such publishing agreement and applicable law.
About this article
Cite this article
Ma, K.L., Sharon, C.E., Tortorello, G.N. et al. Radiation, Lymph Node Dissection, or Both: Management of Lymph Node Micrometastases from Merkel Cell Carcinoma. Ann Surg Oncol 30, 4345–4355 (2023). https://doi.org/10.1245/s10434-023-13437-z
Received:

Accepted:

Published:

Issue Date:

DOI: https://doi.org/10.1245/s10434-023-13437-z