Abstract
Background
Regional lymph node metastasis in extremity and trunk soft tissue sarcoma (ETSTS) is rare with no standardized management. We sought to determine management patterns for regional lymph node metastasis in ETSTS.
Methods
A survey regarding the management of ETSTS lymph node metastasis was distributed to the membership of the Musculoskeletal Tumor Society (MSTS) and the Society of Surgical Oncology (SSO) in January 2022. The survey queried the type of training (surgical oncology, orthopedic oncology), details of their practice setting, and management decisions of hypothetical ETSTS scenarios that involved potential or confirmed lymph node metastasis.
Results
The survey was distributed to 349 MSTS members (open rate of 63%, completion rate 21%) and 3026 SSO members (open rate of 55%, completion rate 4.7%) and was completed by 214 respondents, of whom 73 (34.1%) and 141 (65.9%) were orthopedic oncology and surgical oncology fellowship-trained, respectively. The majority of respondents practiced in an academic setting (n = 171, 79.9%) and treat >10 extremity sarcoma cases annually (n = 138, 62.2%). In scenarios with confirmed nodal disease for clear cell and epithelioid sarcoma, surgical oncologists were inclined to perform lymphadenectomy, while orthopedic oncologists were inclined to offer targeted lymph node excision with adjuvant radiation (p < 0.001). There was heterogeneity of responses regarding the management of nodal disease regardless of training background.
Conclusion
Self-reported management of nodal disease in ETSTS was variable among respondent groups with differences and similarities based on training background. These data highlight the variability of practice for nodal disease management and the need for consensus-based guidelines.
Access options
Buy single article
Instant access to the full article PDF.
USD 39.95
Price excludes VAT (USA)
Tax calculation will be finalised during checkout.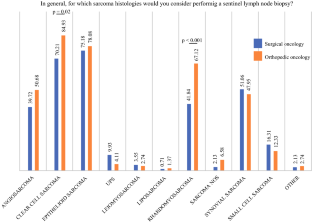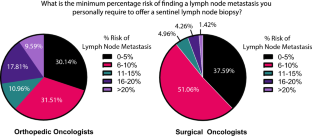 References
Keung EZ, Chiang YJ, Voss RK, et al. Defining the incidence and clinical significance of lymph node metastasis in soft tissue sarcoma. Eur J Surg Oncol. 2018;44(1):170–7.

Coindre J-M, Terrier P, Bui NB, et al. Prognostic factors in adult patients with locally controlled soft tissue sarcoma. A study of 546 patients from the French Federation of Cancer Centers Sarcoma Group. J Clin Oncol. 1996;14(3):869–77.

Fong Y, Coit DG, Woodruff JM, Brennan MF. Lymph node metastasis from soft tissue sarcoma in adults. Analysis of data from a prospective database of 1772 sarcoma patients. Ann Surg. 1993;217(1):72–7.

Trovik C, Bauer H, Alvegård T, et al. Surgical margins, local recurrence and metastasis in soft tissue sarcomas: 559 surgically-treated patients from the Scandinavian Sarcoma Group Register. Eur J Cancer. 2000;36(6):710–6.

Riad S, Griffin AM, Liberman B, et al. Lymph node metastasis in soft tissue sarcoma in an extremity. Clin Orthop Relat Res. 2004;426:129–34.

Sawamura C, Matsumoto S, Shimoji T, Ae K, Okawa A. Lymphadenectomy and histologic subtype affect overall survival of soft tissue sarcoma patients with nodal metastases. Clin Orthop Relat Res. 2013;471(3):926–31.

Johannesmeyer D, Smith V, Cole DJ, Esnaola NF, Camp ER. The impact of lymph node disease in extremity soft-tissue sarcomas: a population-based analysis. Am J Surg. 2013;206(3):289–95.

Mazeron JJ, Suit HD. Lymph nodes as sites of metastases from sarcomas of soft tissue. Cancer. 1987;60(8):1800–8.

Daigeler A, Kuhnen C, Moritz R, et al. Lymph node metastases in soft tissue sarcomas—a single center analysis of 1597 patients. Langenbeck's Arch Surg. 2009;394(2):321–9.

Emori M, Tsuchie H, Nagasawa H, et al. Early lymph node metastasis may predict poor prognosis in soft tissue sarcoma. Int J Surg Oncol. 2019;2019:6708474.

Skinner KA, Eilber FR. Soft tissue sarcoma nodal metastases: biologic significance and therapeutic considerations. Surg Oncol Clin N Am. 1996;5(1):121–7.

Behranwala KA, A'Hern R, Omar AM, Thomas JM. Prognosis of lymph node metastasis in soft tissue sarcoma. Ann Surg Oncol. 2004;11(7):714–9.

Heudel PE, Cousin P, Lurkin A, et al. Territorial inequalities in management and conformity to clinical guidelines for sarcoma patients: an exhaustive population-based cohort analysis in the Rhône-Alpes region. Int J Clin Oncol. 2014;19(4):744–52.

Sherman KL, Kinnier CV, Farina DA, et al. Examination of national lymph node evaluation practices for adult extremity soft tissue sarcoma. J Surg Oncol. 2014;110(6):682–8.

Sherman KL, Wayne JD, Chung J, et al. Assessment of multimodality therapy use for extremity sarcoma in the United States. J Surg Oncol. 2014;109(5):395–404.

Rosenthal J, Cardona K, Sayyid SK, et al. Nodal metastases of soft tissue sarcomas: risk factors, imaging findings, and implications. Skelet Radiol. 2020;49(2):221–9.

Witt RG, Baldini EH, Raut CP. Screening populations at high risk for soft tissue sarcoma and surveillance following soft tissue sarcoma resection. J Surg Oncol. 2019;120(5):882–90.

Maduekwe UN, Hornicek FJ, Springfield DS, et al. Role of sentinel lymph node biopsy in the staging of synovial, epithelioid, and clear cell sarcomas. Ann Surg Oncol. 2009;16(5):1356–63.

Institute of Medicine (US) Committee on Standards for Developing Trustworthy Clinical Practice Guidelines, Graham R, Mancher M, Miller Wolman D. Clinical practice guidelines we can trust. Washington, DC: National Academies Press (US); 2011.

Witt RG, Cope B, Erstad DJ, et al. Sentinel lymph node biopsy and formal lymphadenectomy for soft tissue sarcoma: a single center experience of 86 consecutive cases. Ann Surg Oncol. 2022;29(11):7092–100.

Al-Refaie WB, Andtbacka RH, Ensor J, et al. Lymphadenectomy for isolated lymph node metastasis from extremity soft-tissue sarcomas. Cancer. 2008;112(8):1821–6.

Fisher SB, Chiang Y-J, Feig BW, et al. Comparative performance of the 7th and 8th editions of the American Joint Committee on cancer staging systems for soft tissue Sarcoma of the trunk and extremities. Ann Surg Oncol. 2018;25(5):1126–32.

Basile G, Mattei JC, Alshaygy I, et al. Curability of patients with lymph node metastases from extremity soft-tissue sarcoma. Cancer. 2020;126(23):5098–108.

Witt RG, Roland CL, Keung EZ. ASO author reflections: lymph node disease in soft tissue sarcoma: a problematic clinical dilemma. Ann Surg Oncol. 2022;29(11):7101.

Andreou D, Boldt H, Werner M, Hamann C, Pink D, Tunn PU. Sentinel node biopsy in soft tissue sarcoma subtypes with a high propensity for regional lymphatic spread–results of a large prospective trial. Ann Oncol. 2013;24(5):1400–5.

Brady AC, Picado O, Tashiro J, Sola JE, Perez EA. Lymph node sampling and survival in child and adolescent extremity soft-tissue sarcoma. J Surg Res. 2019;241:205–14.

Wright S, Armeson K, Hill EG, et al. The role of sentinel lymph node biopsy in select sarcoma patients: a meta-analysis. Am J Surg. 2012;204(4):428–33.

Parida L, Morrisson GT, Shammas A, et al. Role of lymphoscintigraphy and sentinel lymph node biopsy in the management of pediatric melanoma and sarcoma. Pediatr Surg Int. 2012;28(6):571–8.

von Mehren M, Kane JM, Bui MM, et al. NCCN guidelines insights: soft tissue sarcoma, version 1.2021: featured updates to the NCCN guidelines. J Natl Compr Cancer Netw. 2020;18(12):1604–12.

Amer KM, Thomson JE, Congiusta D, et al. Epidemiology, incidence, and survival of rhabdomyosarcoma subtypes: SEER and ICES database analysis. J Orthop Res. 2019;37(10):2226–30.

Egas-Bejar D, Huh WW. Rhabdomyosarcoma in adolescent and young adult patients: current perspectives. Adolesc Health Med Ther. 2014;5:115.

Keung EZ, Chiang Y-J, Cormier JN, et al. Treatment at low-volume hospitals is associated with reduced short-term and long-term outcomes for patients with retroperitoneal sarcoma. Cancer. 2018;124(23):4495–503.

Blay J-Y, Honore C, Stoeckle E, et al. Surgery in reference centers improves survival of sarcoma patients: a nationwide study. Ann Oncol. 2019;30(7):1143–53.

Lazarides AL, Kerr DL, Nussbaum DP, et al. Soft tissue sarcoma of the extremities: what is the value of treating at high-volume centers? Clin Orthop Relat Res. 2019;477(4):718–27.

Shannon AB, Straker RJ, Song Y, Kelz RR, Miura JT, Karakousis GC. Patient characteristics, outcomes, and trends in extremity sarcoma management by surgeon specialty. Surgery. 2021;170(4):1168–74.
Funding
Kelly Hunt is a member of the Medical Advisory Board for Armada Health and AstraZeneca, and has received research funding, paid to her institution, from Cairn Surgical, Eli Lilly & Co., and Lumicell. Russell Witt is supported by the National Institutes of Health (T32 CA 009599) and an MD Anderson Cancer Center support grant (P30 CA016672).
Ethics declarations
Disclosures
Rachel K. Voss, Yi-Ju Chiang, Sa Nguyen, Christopher P. Scally, Patrick P. Lin, Keila E. Torres, Bryan S. Moon, Robert L. Satcher, Justin E. Bird, Barry W. Feig, Valerae O. Lewis, Christina L. Roland, and Emily Z. Keung have no disclosures to declare.
Additional information
Publisher's Note
Springer Nature remains neutral with regard to jurisdictional claims in published maps and institutional affiliations.
Supplementary Information
Below is the link to the electronic supplementary material.
Rights and permissions
Springer Nature or its licensor (e.g. a society or other partner) holds exclusive rights to this article under a publishing agreement with the author(s) or other rightsholder(s); author self-archiving of the accepted manuscript version of this article is solely governed by the terms of such publishing agreement and applicable law.
About this article
Cite this article
Witt, R.G., Voss, R.K., Chiang, YJ. et al. Practice Pattern Variability in the Management of Regional Lymph Node Metastasis in Extremity and Trunk Soft Tissue Sarcoma: A Survey of the Society of Surgical Oncology and Musculoskeletal Tumor Society Membership. Ann Surg Oncol (2023). https://doi.org/10.1245/s10434-023-13142-x
Received:

Accepted:

Published:

DOI: https://doi.org/10.1245/s10434-023-13142-x