Abstract
Background
Emergency department (ED) overuse is a large contributor to healthcare spending in the USA. We examined the rate of and risk factors for ED visits following outpatient breast cancer surgery.
Patients and Methods
Using linked data from the Surveillance, Epidemiology, and End Results (SEER) program and Medicare, we identified women who underwent curative breast cancer surgery between 2003 and 2015. Our outcome of interest was ED visits within 30 days of surgery. Multivariate regression was used to evaluate the odds of ED visit while controlling for clinical and socioeconomic variables. Secondary analyses assessed admission from the ED as well as costs.
Results
Of the 78,060 included patients, 5.1% returned to the ED, of which only 29.8% required hospital admission. Rate of ED visits increased with patient age. A higher percentage of Black patients returned to the ED compared with white patients (7.0% versus 5.0%, p < 0.001). Patients with higher income were less likely to visit the ED compared with those with lower income (OR 0.76, p < 0.001). Predictors of ED visits included: being unmarried (OR 1.18, p < 0.001), having stage 2 (OR 1.20, p < 0.001) or stage 3 cancer (OR 1.38, p < 0.001), and those with Charlson comorbidity score of 1 (OR 1.39, p < 0.001) or ≥ 2 (OR 2.29, p < 0.001).
Conclusion
While a substantial number of patients return to the ED following outpatient breast surgery, most do not require hospital admission, which indicates that a large proportion of these visits could have been avoided. We identified several clinical and socioeconomic predictors of postoperative ED visits, which will aid in the development of patient risk profiling tools.
Access options
Buy single article
Instant access to the full article PDF.
USD 39.95
Price excludes VAT (USA)
Tax calculation will be finalised during checkout.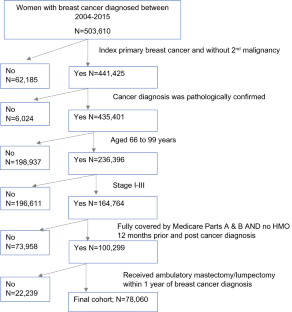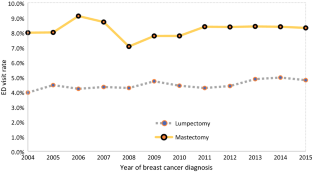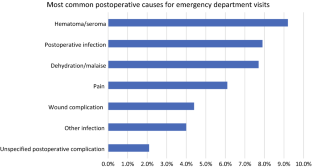 References
Weiss AJ, Jiang HJ. Overview of Clinical Conditions With Frequent and Costly Hospital Readmissions by Payer, 2018: Statistical Brief #278. In: Healthcare Cost and Utilization Project (HCUP) Statistical Briefs. Rockville (MD)2021.

Moore BJ, Liang L. Costs of Emergency Department Visits in the United States, 2017: Statistical Brief #268. In: Healthcare Cost and Utilization Project (HCUP) Statistical Briefs. Rockville (MD)2020.

Zuckerman RB, Sheingold SH, Epstein AM. The hospital readmissions reduction program. N Engl J Med. 2016;375(5):494.

American Cancer Society. Breast Cancer Facts & Figures 2019-2020. Atlanta: American Cancer Society, Inc. 2019. In.

American Cancer Society. Cancer Facts & Figures 2022. Atlanta: American Cancer Society; 2022.

Sun SX, Leung AN, Dillon PW, Hollenbeak CS. Length of stay and readmissions in mastectomy patients. Breast J. 2015;21(5):526–32.

Chow I, Hanwright PJ, Hansen NM, et al. Predictors of 30-day readmission after mastectomy: a multi-institutional analysis of 21,271 patients. Breast Dis. 2015;35(4):221–31.

Westley T, Syrowatka A, Henault D, et al. Patterns and predictors of emergency department visits among older patients after breast cancer surgery: a population-based cohort study. J Geriatr Oncol. 2018;9(3):204–13.

Nasser JS, Huetteman HE, Chung TT, et al. Unplanned emergency department visits within 30 days of mastectomy and breast reconstruction. Plast Reconstr Surg. 2018;142(6):1411-1420.

National Center for Health Statistics. Health, United States, 2019: Table ##. Hyattsville, MD. 2021. Available from: https://www.cdc.gov/nchs/hus/contents2019.htm. Accessed.

SEER-Medicare: Brief Description of the SEER-Medicare Database. https://healthcaredelivery.cancer.gov/seermedicare/overview/. Accessed 4/26, 2022.

Enewold L, Parsons H, Zhao L, et al. Updated overview of the SEER-Medicare data: enhanced content and applications. J Natl Cancer Inst Monogr. 2020;2020(55):3–13.

Klabunde CN, Legler JM, Warren JL, et al. A refined comorbidity measurement algorithm for claims-based studies of breast, prostate, colorectal, and lung cancer patients. Ann Epidemiol. 2007;17(8):584–90.

Quan H, Sundararajan V, Halfon P, et al. Coding algorithms for defining comorbidities in ICD-9-CM and ICD-10 administrative data. Med Care. 2005;43(11):1130–9.

Venkatesh AK, Mei H, Kocher KE, et al. Identification of emergency department visits in medicare administrative claims: approaches and implications. Acad Emerg Med. 2017;24(4):422–31.

Sada A, Day CN, Hoskin TL, et al. Mastectomy and immediate breast reconstruction in the elderly: trends and outcomes. Surgery. 2019;166(4):709–14.

Gibreel WO, Day CN, Hoskin TL, et al. Mastectomy and immediate breast reconstruction for cancer in the elderly: A National Cancer Data Base study. J Am Coll Surg. 2017;224(5):895–905.

Agarwal S, Pappas L, Neumayer L, et al. An analysis of immediate postmastectomy breast reconstruction frequency using the surveillance, epidemiology, and end results database. Breast J. 2011;17(4):352–8.

Alderman AK, McMahon L, Jr., Wilkins EG. The national utilization of immediate and early delayed breast reconstruction and the effect of sociodemographic factors. Plast Reconstr Surg. 2003;111(2):695-703; discussion 704-695.

Smith BD, Jiang J, Shih YC, et al. Cost and complications of local therapies for early-stage breast cancer. J Natl Cancer Inst. 2017;109(1).

Chatterjee A, Pyfer B, Czerniecki B, et al. Early postoperative outcomes in lumpectomy versus simple mastectomy. J Surg Res. 2015;198(1):143–8.

Lucci A, McCall LM, Beitsch PD, et al. Surgical complications associated with sentinel lymph node dissection (SLND) plus axillary lymph node dissection compared with SLND alone in the American College of Surgeons Oncology Group Trial Z0011. J Clin Oncol. 2007;25(24):3657–63.

Li CI, Malone KE, Daling JR. Differences in breast cancer stage, treatment, and survival by race and ethnicity. Arch Intern Med. 2003;163(1):49–56.

Banegas MP, Li CI. Breast cancer characteristics and outcomes among Hispanic Black and Hispanic white women. Breast Cancer Res Treat. 2012;134(3):1297–304.

Ooi SL, Martinez ME, Li CI. Disparities in breast cancer characteristics and outcomes by race/ethnicity. Breast Cancer Res Treat. 2011;127(3):729–38.
Funding
This study was supported by the Cancer Prevention and Research Institute of Texas (CPRIT) (grant no. RP160674 to S.H.G.), by the Susan G. Komen Breast Cancer Foundation (grant no. SAC150061 to S.H.G.), and by the National Institutes of Health/National Cancer Institute through Cancer Center Support Grant P30CA016672.
Ethics declarations
Disclosures
The authors have no conflicts of interest or financial disclosures.
Additional information
Publisher's Note
Springer Nature remains neutral with regard to jurisdictional claims in published maps and institutional affiliations.
Supplementary Information
Below is the link to the electronic supplementary material.
Rights and permissions
Springer Nature or its licensor (e.g. a society or other partner) holds exclusive rights to this article under a publishing agreement with the author(s) or other rightsholder(s); author self-archiving of the accepted manuscript version of this article is solely governed by the terms of such publishing agreement and applicable law.
About this article
Cite this article
Sun, S.X., Duan, Z., Kuerer, H.M. et al. Predictors of Emergency Room Visits After Ambulatory Breast Cancer Surgery in the Medicare Population. Ann Surg Oncol 30, 1689–1698 (2023). https://doi.org/10.1245/s10434-022-12836-y
Received:

Accepted:

Published:

Issue Date:

DOI: https://doi.org/10.1245/s10434-022-12836-y