Abstract
Background
Guidelines recommend consideration of screening MRI for patients with high-risk breast lesions (HRLs), acknowledging limited data for this moderate-risk population.
Methods
This study identified patients with atypical ductal/lobular hyperplasia (ADH/ALH), lobular carcinoma in situ, (LCIS) or both evaluated at our high-risk clinic. Patients were categorized as having received screening mammography (MMG) alone vs. MMG and breast MRI (MMG+MRI). Inverse probability weighting based on propensity scores (PS) representing likelihood of MRI use was applied to Kaplan-Meier and Cox regression analyses to determine cancer detection and biopsy rates by screening group.
Results
Among 908 eligible patients, 699 (77%) patients with available follow-up data were analyzed (542 with ADH/ALH and 157 with LCIS). Of the 699 patients, 540 (77%) received MMG alone, and 159 (23%) received MMG + MRI. The median follow-up period was 25 months, during which a median of two MRIs were performed. After PS-weighting, the characteristics of each screening group were well-balanced with respect to age, race, body mass index (BMI), menopausal status, breast density, family history, HRL type, and chemoprevention use. The 4 year breast cancer detection rate was 3.6% with both MMG alone and MMG+MRI (p = 0.89). The breast biopsy rates were significantly higher with MMG+MRI (30.5% vs12.6%; hazard ratio [HR], 2.67; p < 0.001). All breast cancers were clinically node-negative and pathologic stage 0 or 1. Among five cancers in the MMG+MRI group, two were MRI-detected, two were MMG-detected, and one was detected on clinical exam.
Conclusions
Screening MRI did not improve cancer detection, and cancer characteristics were favorable whether screened with MMG alone or MMG + MRI. These findings question the benefit of MRI for patients with HRL, although longer-term follow-up study is needed.
We're sorry, something doesn't seem to be working properly.
Please try refreshing the page. If that doesn't work, please contact support so we can address the problem.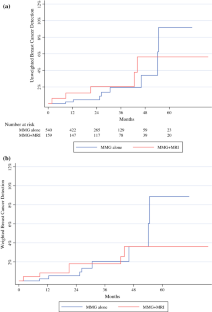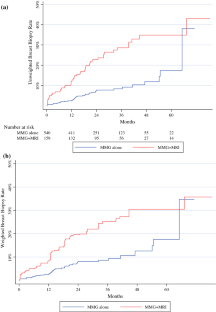 References
Hartmann LC, Degnim AC, Santen RJ, Dupont WD, Ghosh K. Atypical hyperplasia of the breast: risk assessment and management options. N Engl J Med. 2015;372:78–89.

King TA, Reis-Filho JS. Lobular neoplasia. Surg Oncol Clin North Am. 2014;23:487–503.

Bodian CA, Perzin KH, Lattes R. Lobular neoplasia: long-term risk of breast cancer and relation to other factors. Cancer. 1996;78:1024–34.

Page DL, Schuyler PA, Dupont WD, Jensen RA, Plummer WD Jr, Simpson JF. Atypical lobular hyperplasia as a unilateral predictor of breast cancer risk: a retrospective cohort study. Lancet. 2003;361:125–9.

King TA, Pilewskie M, Muhsen S, et al. Lobular carcinoma in situ: a 29-year longitudinal experience evaluating clinicopathologic features and breast cancer risk. J Clin Oncol. 2015;33:3945–52.

Wong SM, King T, Boileau JF, Barry WT, Golshan M. Population-based analysis of breast cancer incidence and survival outcomes in women diagnosed with lobular carcinoma in situ. Ann Surg Oncol. 2017;24:2509–17.

Kuchenbaecker KB, Hopper JL, Barnes DR, et al. Risks of breast, ovarian, and contralateral breast cancer for BRCA1 and BRCA2 mutation carriers. JAMA. 2017;317:2402–16.

Kriege M, Brekelmans CT, Boetes C, et al. Efficacy of MRI and mammography for breast-cancer screening in women with a familial or genetic predisposition. N Engl J Med. 2004;351:427–37.

Kuhl CK, Schrading S, Leutner CC, et al. Mammography, breast ultrasound, and magnetic resonance imaging for surveillance of women at high familial risk for breast cancer. J Clin Oncol. 2005;23:8469–76.

Leach MO, Boggis CR, Dixon AK, et al. Screening with magnetic resonance imaging and mammography of a UK population at high familial risk of breast cancer: a prospective multicentre cohort study (MARIBS). Lancet. 2005;365:1769–78.

Lehman CD, Blume JD, Weatherall P, et al. Screening women at high risk for breast cancer with mammography and magnetic resonance imaging. Cancer. 2005;103:1898–905.

Warner E, Plewes DB, Hill KA, et al. Surveillance of BRCA1 and BRCA2 mutation carriers with magnetic resonance imaging, ultrasound, mammography, and clinical breast examination. JAMA. 2004;292:1317–25.

Saadatmand S, Geuzinge HA, Rutgers EJT, et al. MRI versus mammography for breast cancer screening in women with familial risk (FaMRIsc): a multicentre, randomised, controlled trial. Lancet Oncol. 2019;20:1136–47.

Bakker MF, de Lange SV, Pijnappel RM, et al. Supplemental MRI screening for women with extremely dense breast tissue. N Engl J Med. 2019;381:2091–102.

Evans DG, Kesavan N, Lim Y, et al. MRI breast screening in high-risk women: cancer detection and survival analysis. Breast Cancer Res Treat. 2014;145:663–72.

Pan IW, Oeffinger KC, Shih YT. Cost-sharing and out-of-pocket cost for women who received MRI for breast cancer screening. J Natl Cancer Instit. 2022;114:254–62.

Griebsch I, Brown J, Boggis C, et al. Cost-effectiveness of screening with contrast enhanced magnetic resonance imaging vs x-ray mammography of women at a high familial risk of breast cancer. Br J Cancer. 2006;95:801–10.

Plevritis SK, Kurian AW, Sigal BM, et al. Cost-effectiveness of screening BRCA1/2 mutation carriers with breast magnetic resonance imaging. JAMA. 2006;295:2374–84.

Saslow D, Boetes C, Burke W, et al. American Cancer Society guidelines for breast screening with MRI as an adjunct to mammography. CA Cancer J Clin. 2007;57:75–89.

Bevers TB, et al. National Comprehensive Cancer Network (NCCN). NCCN Clinical Practice Guidelines in Oncology (NCCN Guidelines): Breast Cancer Screening and Diagnosis, Version 1.20121. 6 May 2021.

Monticciolo DL, Newell MS, Moy L, Niell B, Monsees B, Sickles EA. Breast cancer screening in women at higher-than-average risk: recommendations from the ACR. J Am Coll Radiol. 2018;15(3 Pt A):408–14.

Pankratz VS, Hartmann LC, Degnim AC, et al. Assessment of the accuracy of the Gail model in women with atypical hyperplasia. J Clin Oncol. 2008;26:5374–9.

Boughey JC, Hartmann LC, Anderson SS, et al. Evaluation of the Tyrer-Cuzick (International Breast Cancer Intervention Study) model for breast cancer risk prediction in women with atypical hyperplasia. J Clin Oncol. 2010;28:3591–6.

Valero MG, Zabor EC, Park A, et al. The Tyrer-Cuzick model inaccurately predicts invasive breast cancer risk in women with LCIS. Ann Surg Oncol. 2020;27:736–40.

Austin PC. An introduction to propensity score methods for reducing the effects of confounding in observational studies. Multivariate Behav Res. 2011;46:399–424.

King TA, Muhsen S, Patil S, et al. Is there a role for routine screening MRI in women with LCIS? Breast Cancer Res Treat. 2013;142:445–53.

Port ER, Park A, Borgen PI, Morris E, Montgomery LL. Results of MRI screening for breast cancer in high-risk patients with LCIS and atypical hyperplasia. Ann Surg Oncol. 2007;14:1051–7.

Sippo DA, Burk KS, Mercaldo SF, et al. Performance of screening breast MRI across women with different elevated breast cancer risk indications. Radiology. 2019;292:51–9.

Chikarmane SA, Giess CS. Screening breast MRI in patients with history of atypia or lobular neoplasia. Breast J. 2019;25:484–7.

Friedlander LC, Roth SO, Gavenonis SC. Results of MR imaging screening for breast cancer in high-risk patients with lobular carcinoma in situ. Radiology. 2011;261:421–7.

Lehman CD, Arao RF, Sprague BL, et al. National performance benchmarks for modern screening digital mammography: update from the Breast Cancer Surveillance Consortium. Radiology. 2017;283:49–58.

Minami CA, Zabor EC, Gilbert E, et al. Do body mass index and breast density impact cancer risk among women with lobular carcinoma in situ? Ann Surg Oncol. 2020;27:1844–51.

Tice JA, O'Meara ES, Weaver DL, Vachon C, Ballard-Barbash R, Kerlikowske K. Benign breast disease, mammographic breast density, and the risk of breast cancer. J Natl Cancer Instit. 2013;105:1043–9.

Vierkant RA, Degnim AC, Radisky DC, et al. Mammographic breast density and risk of breast cancer in women with atypical hyperplasia: an observational cohort study from the Mayo Clinic Benign Breast Disease (BBD) cohort. BMC Cancer. 2017;17:84.
Acknowledgments
This study was supported by a Komen Scholars Award, Rebecca Winn Matchett, Christopher Matchett, and the Winn Family Foundation.
Ethics declarations
Disclosure
Tari A. King reports speaker's honoraria and advisory board participation for Exact Sciences (formerly Genomic Health) and serves on the Global Advisory Board, Besins Healthcare. Judy E. Garber reports institutional research funding from Myriad Genetics, Ambry Genetics and Invitae Genetics; consulting for Helix Genetics (compensation) and Earli (no compensation); leading two clinical trials for AstraZeneca; serving on the scientific advisory board of Konica Minolta (no compensation); conducting a sponsored lecture for Clinical Care Options, LLC; Editorial Services publications, President, Fellows of the AACR Academy, and member, Foundation Board of the American Association for Cancer Research; co-scientific director, Breast Cancer Research Foundation; board of directors, Facing Our Risk of Cancer Empowered; spousal consulting fees from Novartis Oncology, GTx Pharmaceuticals, Aleta BioTherapeutics and H3 Biomedicine, Inc.; a spousal advisory board membership at Oric Pharmaceuticals; and spousal scientific advisory board memberships at Kronos Bio, Susan G. Komen for the Cure, James P. Wilmot Foundation, Inc., Diane Helis Henry Medical Research Foundation, Adrienne Helis Melvin Medical Research Foundation, and Global Biological Standards Institute.
Additional information
Publisher's Note
Springer Nature remains neutral with regard to jurisdictional claims in published maps and institutional affiliations.
Presented in poster format at the San Antonio Breast Cancer Symposium, San Antonio, TX, 7–10 December, 2021.
Supplementary Information
Below is the link to the electronic supplementary material.
Rights and permissions
Springer Nature or its licensor holds exclusive rights to this article under a publishing agreement with the author(s) or other rightsholder(s); author self-archiving of the accepted manuscript version of this article is solely governed by the terms of such publishing agreement and applicable law.
About this article
Cite this article
Laws, A., Katlin, F., Hans, M. et al. Screening MRI Does Not Increase Cancer Detection or Result in an Earlier Stage at Diagnosis for Patients with High-Risk Breast Lesions: A Propensity Score Analysis. Ann Surg Oncol 30, 68–77 (2023). https://doi.org/10.1245/s10434-022-12568-z
Received:

Accepted:

Published:

Issue Date:

DOI: https://doi.org/10.1245/s10434-022-12568-z