Abstract
Introduction
Patients developing metastatic gastrointestinal stromal tumors (mGIST) have heterogenous disease biology and oncologic outcomes; prognostic factors are incompletely characterized. We sought to evaluate predictors of 10-year metastatic survivorship in the era of tyrosine kinase inhibitor (TKI) therapy.
Methods
We reviewed patients with mGIST treated at our Comprehensive Cancer Center from 2003 to 2019, including only patients with either mortality or 10 years of follow-up. Ten-year survivorship was evaluated with logistic regression.
Results
We identified 109 patients with a median age of 57 years at mGIST diagnosis. Synchronous disease was present in 57% (n = 62) of patients; liver (n = 48, 44%), peritoneum (n = 40, 37%), and liver + peritoneum (n = 18, 17%) were the most common sites. Forty-six (42%) patients were 10-year mGIST survivors. Following mGIST diagnosis, radiographic progression occurred within 2 years in 53% (n = 58) of patients, 2–5 years in 16% (n = 17), and 5–10 years in 16% (n = 17), with median survival of 32, 76, and 173 months, respectively. Seventeen (16%) patients had not progressed by 10 years.
Fifty-two (47%) patients underwent metastasectomy, which was associated with improved progression-free survival (hazard ratio 0.63, p = 0.04). In patients experiencing progression, factors independently associated with 10-year survivorship were age (odds ratio [OR] 0.96, p = 0.03) and time to progression (OR 1.71/year, p < 0.001).
Conclusions
Ten-year survivorship is achievable in mGIST in the era of TKIs and is associated with younger age and longer time to first progression, while metastasectomy is associated with longer time to first progression. The role of metastasectomy in the management of patients with disease progression receiving TKI therapy merits further study.
Access options
Buy single article
Instant access to the full article PDF.
USD 39.95
Price excludes VAT (USA)
Tax calculation will be finalised during checkout.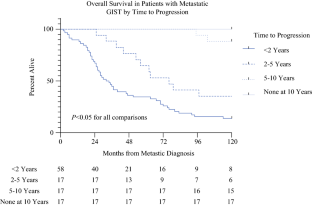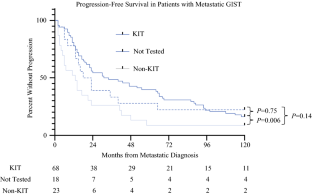 References
Miettinen M, Sarlomo-Rikala M, Lasota J. Gastrointestinal stromal tumors: recent advances in understanding of their biology. Human Pathol. 1999;30(10):1213–20.

Corless CL, Heinrich MC. Molecular pathobiology of gastrointestinal stromal sarcomas. Ann Rev Pathol. 2008;3(1):557–86.

Yang DY, Wang X, Yuan WJ, Chen ZH. Metastatic pattern and prognosis of gastrointestinal stromal tumor (GIST): a SEER-based analysis. Clin and Trans Oncol. 2019;21(12):1654–62.

Patnaik S, Jyotsnarani Y, Rammurti S. Radiological features of metastatic gastrointestinal stromal tumors. J Clin Imag Sci. 2012;2:43.

Joensuu H, Vehtari A, Riihimäki J, et al. Risk of recurrence of gastrointestinal stromal tumour after surgery: an analysis of pooled population-based cohorts. Lancet Oncol. 2012;13(3):265–74.

Gold JS, van der Zwan SM, Gönen M, et al. Outcome of metastatic GIST in the era before tyrosine kinase inhibitors. Ann Surg Oncol. 2007;14(1):134–42.

van der Graaf WTA, Tielen R, Bonenkamp JJ, Lemmens V, Verhoeven RHA, de Wilt JHW. Nationwide trends in the incidence and outcome of patients with gastrointestinal stromal tumour in the imatinib era. The British J Surg. 2018;105(8):1020–7.

Demetri GD, Rankin CJ, Benjamin RS, et al. Long-term disease control of advanced gastrointestinal stromal tumors (GIST) with imatinib (IM): 10-year outcomes from SWOG phase III intergroup trial S0033. J Clin Oncol. 2014;32(15 Suppl):10508.

Raut CP, Espat NJ, Maki RG, et al. Efficacy and tolerability of 5-year adjuvant imatinib treatment for patients with resected intermediate- or high-risk primary gastrointestinal stromal tumor: the PERSIST-5 clinical trial. JAMA Oncol. 2018;4(12):e184060.

Hompland I, Bruland ØS, Hølmebakk T, et al. Prediction of long-term survival in patients with metastatic gastrointestinal stromal tumor: analysis of a large, single-institution cohort. Acta oncologica. 2017;56(10):1317–23.

Kim JH, Ryu MH, Yoo C, et al. Long-term survival outcome with tyrosine kinase inhibitors and surgical intervention in patients with metastatic or recurrent gastrointestinal stromal tumors: A 14-year, single-center experience. Cancer Med. 2019;8(3):1034–43.

Heinrich MC, Rankin C, Blanke CD, et al. Correlation of long-term results of imatinib in advanced gastrointestinal stromal tumors with next-generation sequencing results: analysis of phase 3 swog intergroup trial S0033. JAMA Oncol. 2017;3(7):944–52.

Call JW, Wang Y, Montoya D, Scherzer NJ, Heinrich MC. Survival in advanced GIST has improved over time and correlates with increased access to post-imatinib tyrosine kinase inhibitors: results from life raft group registry. Clin Sarcoma Res. 2019;9:4.

Sutton TL, Walker BS, Billingsley KG, et al. Hepatic metastases in gastrointestinal stromal tumors: oncologic outcomes with curative-intent hepatectomy, resection of treatment-resistant disease, and tyrosine kinase inhibitor therapy alone. HPB (Oxford). 2022;24(6):986–93.

Bamboat ZM, DeMatteo RP. Metastasectomy for gastrointestinal stromal tumors. J Surg Oncol. 2014;109(1):23–7.

Sutton TL, Walker BS, Billingsley KG, et al. Disease-free interval is associated with oncologic outcomes in patients with recurrent gastrointestinal stromal tumor. Annals Surg Oncol. 2021;28(12):7912–20.
Funding
MCH received partial salary support from the following sources: a research grant from the Jonathan David Foundation, a VA Merit Review Grant (I01BX005358), and from NCI R21 Grant (R21CA263400).
Ethics declarations
Disclosure
Michael Heinrich receives consulting fees from Novartis, Deciphera Pharmaceuticals, Blueprint Medicines, and Theseus Pharmaceuticals, and holds multiple patents on the diagnosis and/or treatment of GIST. One patent on the treatment of GIST has been licensed by OHSU to Novartis. Thomas L. Sutton, Brett S. Walker, Kevin G. Billingsley, Christopher L. Corless, Brett C. Sheppard, and Skye C. Mayo have no conflicts of interest to declare.
Additional information
Publisher's Note
Springer Nature remains neutral with regard to jurisdictional claims in published maps and institutional affiliations.
About this article
Cite this article
Sutton, T.L., Walker, B.S., Billingsley, K.G. et al. Ten-Year Survivorship in Patients with Metastatic Gastrointestinal Stromal Tumors. Ann Surg Oncol 29, 7123–7132 (2022). https://doi.org/10.1245/s10434-022-12063-5
Received:

Accepted:

Published:

Issue Date:

DOI: https://doi.org/10.1245/s10434-022-12063-5
Keywords