Abstract
Background
The SINODAR-ONE trial is a prospective noninferiority multicenter randomized study aimed at assessing the role of axillary lymph node dissection (ALND) in patients undergoing either breast-conserving surgery or mastectomy for T1–2 breast cancer (BC) and presenting one or two macrometastatic sentinel lymph nodes (SLNs). The endpoints were to evaluate whether SLN biopsy (SLNB) only was associated with worsening of the prognosis compared with ALND in terms of overall survival (OS) and relapse.
Methods
Patients were randomly assigned (1:1 ratio) to either removal of ≥ 10 axillary level I/II non-SLNs followed by adjuvant therapy (standard arm) or no further axillary treatment (experimental arm).
Results
The trial started in April 2015 and ceased in April 2020, involving 889 patients. Median follow-up was 34.0 months. There were eight deaths (ALND, 4; SNLB only, 4), with 5-year cumulative mortality of 5.8% and 2.1% in the standard and experimental arm, respectively (p = 0.984). There were 26 recurrences (ALND 11; SNLB only, 15), with 5-year cumulative incidence of recurrence of 6.9% and 3.3% in the standard and experimental arm, respectively (p = 0.444). Only one axillary lymph node recurrence was observed in each arm. The 5-year OS rates were 98.9% and 98.8%, in the ALND and SNLB-only arm, respectively (p = 0.936).
Conclusions
The 3-year survival and relapse rates of T1–2 BC patients with one or two macrometastatic SLNs treated with SLNB only, and adjuvant therapy, were not inferior to those of patients treated with ALND. These results do not support the use of routine ALND.
Access options
Buy single article
Instant access to the full article PDF.
USD 39.95
Price excludes VAT (USA)
Tax calculation will be finalised during checkout.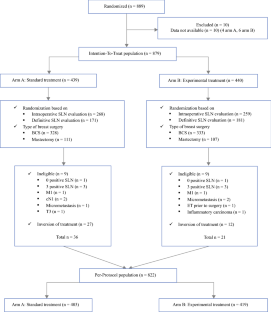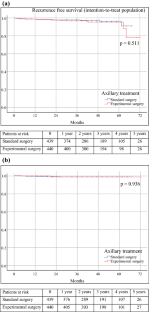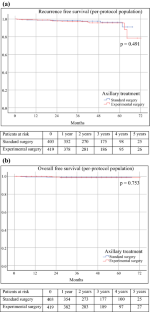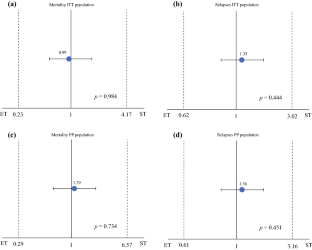 Acknowledgment
We thank Mrs Elena Bissolotti for clinical data acquisition and collection.
The SINODAR-ONE Collaborative Group: Olindo Custodero, MD8, Vito Leopoldo Troilo, MD8, Mario Taffurelli, MD9, Maria Cristina Cucchi, MD10, Valentina Galluzzo, MD10, Carlo Cabula, MD11, Roberta Cabula, MD11, Maria Grazia Lazzaretti, MD12, Francesco Caruso, MD, PhD13, Gaetano Castiglione, MD13, Simona Grossi, MD14, Maria Saveria Tavoletta, MD14, Camilla Rossi, MD15, Annalisa Curcio, MD, PhD16, Daniele Friedman, MD17, Piero Fregatti, MD, PhD17, Carla Magni, MD18, Giovanni Tazzioli, MD19, Simona Papi, MD19, Riccardo Giovanazzi, MD20, Camelia Chifu, MD20, Rossella Bettini, MD21, Modestino Pezzella, MD21, Silvia Michieletto, MD22, Tania Saibene, MD22, Manuela Roncella, MD23, Matteo Ghilli, MD23, Andrea Sibilio, MD24, Anna Cariello, MD24, Saverio Coiro, MD25, Giuseppe Falco, MD25, Emanuele Zarba Meli, MD26, Lucio Fortunato, MD26, Luigi Ciuffreda, MD27, Roberto Murgo, MD, PhD27, Claudio Battaglia, MD28, Luca Rubino, MD28, Nicoletta Biglia, MD, PhD29, Valentina Bounous, MD, PhD29, Francesca Angela Rovera, MD30, Corrado Chiappa, MD30, Giovanni Pollini, MD31, Sara Mirandola, MD31, Graziano Meneghini, MD32, Francesco Di Bartolo, MD32
8UOSVD Chirurgia Senologica – Breast Unit ASL BA P.O. San Paolo, Bari, Italy; 9IRCCS – Azienda Ospedaliero Universitaria di Bologna – Policlinico di Sant'Orsola, Bologna, Italy; 10U.O. Chirurgia Senologica Dipartimento Chirurgie Specialistiche USL di Bologna, Italy; 11 Oncologia e Senologia Azienda di Rilievo Nazionale Alta Specializzazione ARNAS – Cagliari, Italy; 12Unità semplice di Chirurgia Senologica, Ospedale Ramazzini di Carpi, AUSL Modena, Italy; 13Humanitas Istituto Clinico Catanese – Contrada Cubba SP 54 n. 11, 95045, Misterbianco (CT), Italy; 14U.O.C. di Chirurgia Generale a indirizzo Senologico – EUSOMA Breast Centre ASL 2 Abruzzo, Italy; 15U.O. Chirurgia Senologica, Ospedale degli Infermi, Viale Stradone 9, Faenza, Italy; 16Chirurgia Senologica Ospedale di Forlì – Ravenna, Azienda USL della Romagna, Italy; 17UO Clinica di Chirurgia Policlinico San Martino – IRCCS, Genova, Italy; 18SSD Breast Unit ASST Lecco, Italy; 19Chirurgia Oncologica Senologica, Azienda Ospedaliera-Universitaria di Modena, Italy; 20Breast Unit – Surgery – San Gerardo Hospital, Monza, Italy; 21UOC Chirurgia Senologica IRCCS Sacro Cuore Don Calabria, Presidio Ospedaliero Accreditato – Regione Veneto, Italy; 22Breast Surgery, Istituto Oncologico Veneto, Padova, Italy; 23Breast Surgery Unit, Azienda Ospedaliero-Universitaria Pisana, Pisa, Italy; 24Oncology Department AUSL Romagna, Ravenna Hospital, Ravenna, Italy; 25Breast Surgery Unit, Azienda USL – IRCCS di Reggio Emilia, Italy; 26UOC Senologia, Azienda ospedaliera San Giovanni-Addolorata, Rome, Italy; 27Chirurgia Senologica, Dipartimento Scienze Chirurgiche, IRCCS 'Casa Sollievo della Sofferenza' Opera di San Pio da Pietralcina, 71013, San Giovanni Rotondo (FG), Italy; 28Breast Unit, Civic Hospital of Sanremo, ASL 1 Imperiese, Sanremo, Italy; 29SCDU Gin e Ost, Ospedale Mauriziano Umberto primo, Torino, Italy; 30Centro Ricerche in Senologia, Università degli Studi dell'Insubria, S.S.D. Breast Unit, ASST SetteLaghi, Varese, Italy; 31UOC Chirurgia Senologica – Breast Unit, AOUI Verona, Italy; 32Breast Unit, Ospedale Montecchio Maggiore, Vicenza, Italy
Funding
The clinical trial was supported by Fondazione Humanitas per la Ricerca – Rozzano (MI). No other disclosures or conflicts of interest are declared.
Additional information
Publisher's Note
Springer Nature remains neutral with regard to jurisdictional claims in published maps and institutional affiliations.
About this article
Cite this article
Tinterri, C., Gentile, D., Gatzemeier, W. et al. Preservation of Axillary Lymph Nodes Compared with Complete Dissection in T1–2 Breast Cancer Patients Presenting One or Two Metastatic Sentinel Lymph Nodes: The SINODAR-ONE Multicenter Randomized Clinical Trial. Ann Surg Oncol 29, 5732–5744 (2022). https://doi.org/10.1245/s10434-022-11866-w
Received:

Accepted:

Published:

Issue Date:

DOI: https://doi.org/10.1245/s10434-022-11866-w