Abstract
Background
The prognostic impact of tumor necrosis among patients undergoing resection for intrahepatic cholangiocarcinoma (ICC) remains ill-defined.
Methods
Patients who underwent curative-intent resection for ICC between 2000 and 2017 were identified using a multi-institutional database. The association of pathologic tumor necrosis with overall survival (OS) and recurrence-free survival (RFS) was examined.
Results
Among 757 patients who underwent resection for ICC, tumor necrosis was present in 384 (50.7%) patients (no necrosis: n = 373, 49.3%; <50% necrosis: n = 291, 38.4%; ≥50% necrosis: n = 93, 12.3%). Tumor necrosis was associated with worse OS (5-year OS: no necrosis 39.3% vs. <50% necrosis 34.7% and ≥50% necrosis 24.0%; p = 0.03) and RFS (5-year RFS: no necrosis 25.7% vs. <50% necrosis 13.9% and ≥50% necrosis 18.8%; p < 0.001). After stratifying by T stage, tumor necrosis was able to further stratify prognosis among patients with T1a ICC (5-year RFS: T1a and no necrosis 46.7% vs. T1a and necrosis 36.1%; p = 0.02), and T1b ICC (5-year RFS: T1b and no necrosis 31.1% vs. T1b and necrosis 11.2%; p = 0.006), but was not associated with outcomes among patients with more advanced T2–T3 disease. Patients with T1a ICC and tumor necrosis had similar 5-year RFS as individuals with T1b ICC and no tumor necrosis (36.1% vs. 31.1%; p = 0.66).
Conclusion
Tumor necrosis was associated with worse prognosis among patients with T1 ICC. Tumor necrosis for T1 ICC should be considered as an important factor to further stratify outcomes of patients with early T-stage ICC.
Access options
Buy single article
Instant access to the full article PDF.
USD 39.95
Price excludes VAT (USA)
Tax calculation will be finalised during checkout.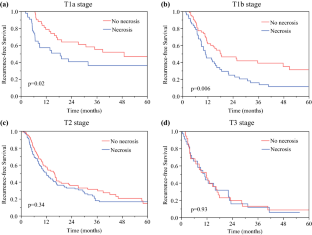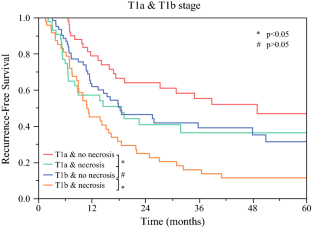 References
Singal AK, Vauthey JN, Grady JJ, et al. Intra-hepatic cholangiocarcinoma–frequency and demographic patterns: thirty-year data from the M.D. Anderson Cancer Center. J Cancer Res Clin Oncol. 2011;137(7):1071–8.

Wu L, Tsilimigras DI, Paredes AZ, et al. Trends in the incidence, treatment and outcomes of patients with intrahepatic cholangiocarcinoma in the USA: facility type is associated with margin status, use of lymphadenectomy and overall survival. World J Surg. 2019;43(7):1777–87.

Mavros MN, Economopoulos KP, Alexiou VG, et al. Treatment and prognosis for patients with intrahepatic cholangiocarcinoma: systematic review and meta-analysis. JAMA Surg. 2014;149(6):565–74.

Spolverato G, Bagante F, Tsilimigras D, et al. Management and outcomes among patients with mixed hepatocholangiocellular carcinoma: a population-based analysis. J Surg Oncol. 2019;119(3):278–87.

de Jong MC, Nathan H, Sotiropoulos GC, et al. Intrahepatic cholangiocarcinoma: an international multi-institutional analysis of prognostic factors and lymph node assessment. J Clin Oncol. 2011;29(23):3140–5.

Endo I, Gonen M, Yopp AC, et al. Intrahepatic cholangiocarcinoma: rising frequency, improved survival, and determinants of outcome after resection. Ann Surg. 2008;248(1):84–96.

Tsilimigras DI, Sahara K, Wu L, et al. Very early recurrence after liver resection for intrahepatic cholangiocarcinoma: considering alternative treatment approaches. JAMA Surg. 2020;155(9):823–31.

Tsilimigras DI, Hyer JM, Paredes AZ, et al. Tumor burden dictates prognosis among patients undergoing resection of intrahepatic cholangiocarcinoma: a tool to guide post-resection adjuvant chemotherapy? Ann Surg Oncol. 2021;28(4):1970–8.

Amin MB, Greene FL, Edge SB, et al. The Eighth Edition AJCC Cancer Staging Manual: continuing to build a bridge from a population-based to a more "personalized" approach to cancer staging. CA Cancer J Clin. 2017;67(2):93–9.

Sasaki K, Margonis GA, Andreatos N, et al. Serum tumor markers enhance the predictive power of the AJCC and LCSGJ staging systems in resectable intrahepatic cholangiocarcinoma. HPB (Oxford). 2018;20(10):956–65.

Buettner S, Galjart B, van Vugt JLA, et al. Performance of prognostic scores and staging systems in predicting long-term survival outcomes after surgery for intrahepatic cholangiocarcinoma. J Surg Oncol. 2017;116(8):1085–95.

Wei T, Zhang XF, Bagante F, et al. Tumor necrosis impacts prognosis of patients undergoing curative-intent hepatocellular carcinoma. Ann Surg Oncol. 2021;28(2):797–805.

Gilchrist KW, Gray R, Fowble B, et al. Tumor necrosis is a prognostic predictor for early recurrence and death in lymph node-positive breast cancer: a 10-year follow-up study of 728 Eastern Cooperative Oncology Group patients. J Clin Oncol. 1993;11(10):1929–35.

Hiraoka N, Ino Y, Sekine S, et al. Tumour necrosis is a postoperative prognostic marker for pancreatic cancer patients with a high interobserver reproducibility in histological evaluation. Br J Cancer. 2010;103(7):1057–65.

Atanasov G, Dietel C, Feldbrugge L, et al. Tumor necrosis and infiltrating macrophages predict survival after curative resection for cholangiocarcinoma. Oncoimmunology. 2017;6(8):e1331806.

Tsilimigras DI, Moris D, Mehta R, et al. The systemic immune-inflammation index predicts prognosis in intrahepatic cholangiocarcinoma: an international multi-institutional analysis. HPB (Oxford). 2020;22(12):1667–74.

Tsilimigras DI, Mehta R, Aldrighetti L, et al. Development and Validation of a Laboratory Risk Score (LabScore) to predict outcomes after resection for intrahepatic cholangiocarcinoma. J Am Coll Surg. 2020;230(4):381–91.

Strasberg SM. Nomenclature of hepatic anatomy and resections: a review of the Brisbane 2000 system. J Hepatobiliary Pancreat Surg. 2005;12(5):351–5.

Akaike H. A new look at the statistical model identification. IEEE Trans Autom Control. 1974;19:716–23.

Burnham KP, Anderson DR. Multimodel inference understanding AIC and BIC in model selection. Sociol Methods Res. 2004;33:261–304.

Sengupta S, Lohse CM, Leibovich BC, et al. Histologic coagulative tumor necrosis as a prognostic indicator of renal cell carcinoma aggressiveness. Cancer. 2005;104(3):511–20.

Richards CH, Roxburgh CS, Anderson JH, et al. Prognostic value of tumour necrosis and host inflammatory responses in colorectal cancer. Br J Surg. 2012;99(2):287–94.

Bredholt G, Mannelqvist M, Stefansson IM, et al. Tumor necrosis is an important hallmark of aggressive endometrial cancer and associates with hypoxia, angiogenesis and inflammation responses. Oncotarget. 2015;6(37):39676–91.

Vakkila J, Lotze MT. Inflammation and necrosis promote tumour growth. Nat Rev Immunol. 2004;4(8):641–8.

Tsilimigras DI, Ntanasis-Stathopoulos I, Moris D, et al. Liver tumor microenvironment. Adv Exp Med Biol. 2020;1296:227–41.

Martin JD, Seano G, Jain RK. Normalizing function of tumor vessels: progress, opportunities, and challenges. Annu Rev Physiol. 2019;81:505–34.

Atanasov G, Schierle K, Hau HM, et al. Prognostic significance of tumor necrosis in hilar cholangiocarcinoma. Ann Surg Oncol. 2017;24(2):518–25.

Leek RD, Landers RJ, Harris AL, et al. Necrosis correlates with high vascular density and focal macrophage infiltration in invasive carcinoma of the breast. Br J Cancer. 1999;79(5–6):991–5.
Funding
No sources of funding were used to assist in the preparation of this study.
Ethics declarations
Disclosure
Diamantis I. Tsilimigras, Aslam Ejaz, Jordan Cloyd, Alfredo Guglielmi, Luca Aldrighetti, Matthew Weiss, Todd W. Bauer, Sorin Alexandrescu, George A. Poultsides, Shishir K. Maithel, Hugo P. Marques, Guillaume Martel, Carlo Pulitano, Feng Shen, Olivier Soubrane, Bas Groot Koerkamp, Itaru Endo, and Timothy M. Pawlik have no conflicts of interest to declare.
Additional information
Publisher's Note
Springer Nature remains neutral with regard to jurisdictional claims in published maps and institutional affiliations.
Supplementary Information
Below is the link to the electronic supplementary material.
Supplementary Figure 2. Kaplan–Meier curves demonstrating differences in overall survival based on the (a) current 8th edition AJCC T stage and (b) proposed AJCC T stage. AJCC American Joint Committee on Cancer.
About this article
Cite this article
Tsilimigras, D.I., Ejaz, A., Cloyd, J. et al. Tumor Necrosis Impacts Prognosis of Patients Undergoing Resection for T1 Intrahepatic Cholangiocarcinoma. Ann Surg Oncol 29, 4326–4334 (2022). https://doi.org/10.1245/s10434-022-11462-y
Received:

Accepted:

Published:

Issue Date:

DOI: https://doi.org/10.1245/s10434-022-11462-y