Abstract
Introduction
Delayed gastric emptying (DGE) is a common complication in surgery, but incidence and relevance following multivisceral resection are unknown.
Methods
Data from 100 consecutive patients treated for primary retroperitoneal sarcoma (RPS) were analyzed from our institutional prospectively maintained database from January 2019 to April 2020. DGE severity was graded according to the International Study Group of Pancreatic Surgery and classified as primary or secondary to other complications. The primary outcome was incidence and grade of clinically relevant DGE (grades B–C). Secondary outcomes were correlation with patient, tumor, and treatment characteristics, and non-DGE morbidity [Clavien-Dindo (CD) grade ≥ 3].
Results
Forty-two patients developed DGE and 28 had clinically relevant DGE. DGE was primary in 10 patients and secondary in 18 patients; the most common associated complications were: infections (11/18, 61.1%), pancreatic leak (7/18, 38.9%), bleeding (6/18, 33.3%), and bowel leak (6/18, 33.3%). DGE was related to longer length of hospital stay (P < 0.001), ICU admission (P = 0.004), ICU length of stay (P = 0.001), postoperative complications (CD \(\ge\) 3 in 14/28 in DGE patients vs 11/72 in no-DGE; P = 0.04), and re-operation (P = 0.03). With multivariate analysis, the independent risk factors for DGE were patient comorbidities (OR 1.05; 95% CI 1.01–1.1; P = 0.04) and tumor size (OR 1.05; 95% CI 1.0–1.1; P = 0.02).
Discussion
Following multivisceral resection, DGE is a clinically relevant event that can be caused by an underlying complication. Prompt diagnosis and treatment of both DGE and any underlying complications led to full recovery in all cases.
Access options
Buy single article
Instant access to the full article PDF.
USD 39.95
Price excludes VAT (USA)
Tax calculation will be finalised during checkout.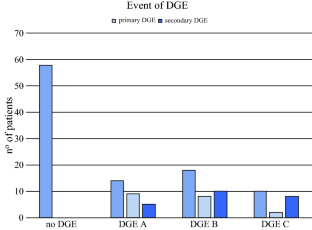 References
Wente MN, Bassi C, Dervenis C, et al. Delayed gastric emptying (DGE) after pancreatic surgery: a suggested definition by the International Study Group of Pancreatic Surgery (ISGPS). Surgery. 2007;142(5):761–8.

Callegaro D, Raut CP, Ng D, et al. Has the Outcome for Patients Who Undergo Resection of Primary Retroperitoneal Sarcoma Changed Over Time? A Study of Time Trends During the Past 15 years. Ann Surg Oncol. 2021;28(3):1700–9.

MacNeill AJ, Fiore M. Surgical morbidity in retroperitoneal sarcoma resection. J Surg Oncol. 2018;117(1):56–61.

Swallow CJ, Strauss DC, Bonvalot S, et al. Management of primary retroperitoneal sarcoma (RPS) in the adult: an updated consensus approach from the Transatlantic Australasian RPS Working Group. Ann Surg Oncol. 2021;28:7873–88. https://doi.org/10.1245/s10434-021-09654-z.

Dindo D, Demartines N, Clavien PA. Classification of surgical complications: a new proposal with evaluation in a cohort of 6336 patients and results of a survey. Ann Surg. 2004;240(2):205–13.

Prytherch DR, Whiteley MS, Higgins B, Weaver PC, Prout WG, Powell SJ. POSSUM and Portsmouth POSSUM for predicting mortality. Physiological and Operative Severity Score for the enUmeration of Mortality and morbidity. Br J Surg. 1998 85(9):1217-20.

Stratton RJ, Hackston A, Longmore D, et al. Malnutrition in hospital outpatients and inpatients: prevalence, concurrent validity and ease of use of the "malnutrition universal screening tool" ('MUST') for adults. Br J Nutr. 2004;92(5):799–808.

Onodera T, Goseki N, Kosaki G. Prognostic nutritional index in gastrointestinal surgery of malnourished cancer patients. Nihon Geka Gakkai Zasshi. 1984;85(9):1001–5.

Mourtzakis M, Prado CM, Lieffers JR, Reiman T, McCargar LJ, Baracos VE. A practical and precise approach to quantification of body composition in cancer patients using computed tomography images acquired during routine care. Appl Physiol Nutr Metab. 2008;33(5):997–1006.

Prado CM, Lieffers JR, McCargar LJ, et al. Prevalence and clinical implications of sarcopenic obesity in patients with solid tumours of the respiratory and gastrointestinal tracts: a population-based study. Lancet Oncol. 2008;9(7):629–35.

Baker C, Ahmed M, Cheng K, et al. Hypoganglionosis in the gastric antrum causes delayed gastric emptying. Neurogastroenterol Motil. 2020 32(5):e13766.

Klaiber U, Probst P, Strobel O, et al. Meta-analysis of delayed gastric emptying after pylorus-preserving versus pylorus-resecting pancreatoduodenectomy. Br J Surg. 2018;105(4):339–49.

Shaikh N, Nainthramveetil MM, Nawaz S, et al. Optimal dose and duration of enteral erythromycin as a prokinetic: A surgical intensive care experience. Qatar Med J. 2021;2020(3):36. https://doi.org/10.5339/qmj.2020.36.

Peng R, Li H, Yang L, et al. The efficacy and safety of prokinetics in critically ill adults receiving gastric feeding tubes: A systematic review and meta-analysis. PLoS One. 2021;16(1):e0245317. https://doi.org/10.1371/journal.pone.0245317.

Taylor SJ, Allan K, McWilliam H, et al. A randomised controlled feasibility and proof-of-concept trial in delayed gastric emptying when metoclopramide fails: We should revisit nasointestinal feeding versus dual prokinetic treatment: Achieving goal nutrition in critical illness and delayed gastric emptying: Trial of nasointestinal feeding versus nasogastric feeding plus prokinetics. Clin Nutr ESPEN. 2016;14:1–8. https://doi.org/10.1016/j.clnesp.2016.04.020.

Cai X, Zhang M, Liang C, Xu Y, Yu W. Delayed gastric emptying after pancreaticoduodenectomy: a propensity score-matched analysis and clinical nomogram study. BMC Surg. 2020;20(1):149.

Previtali P, Fiore M, Colombo J, Arendar I, Fumagalli L, Pizzocri M, Colombo C, Rampello NN, Mariani L, Gronchi A, Codazzi D. Malnutrition and Perioperative Nutritional Support in Retroperitoneal Sarcoma Patients: Results from a Prospective Study. Ann Surg Oncol. 2020;27(6):2025–32.

Kirov KM, Xu HP, Crenn P, et al. Role of nutritional status in the early postoperative prognosis of patients operated for retroperitoneal liposarcoma (RLS): A single center experience. Eur J Surg Oncol. 2019;45(2):261–7.
Funding
No funding has been used for this publication
Additional information
Publisher's Note
Springer Nature remains neutral with regard to jurisdictional claims in published maps and institutional affiliations.
This paper is not based on a previous communication to a society or meeting.
About this article
Cite this article
Baia, M., Conti, L., Pasquali, S. et al. Delayed Gastric Emptying After Multivisceral Resection for Retroperitoneal Sarcoma. Ann Surg Oncol 29, 3264–3270 (2022). https://doi.org/10.1245/s10434-021-11154-z
Received:

Accepted:

Published:

Issue Date:

DOI: https://doi.org/10.1245/s10434-021-11154-z