Abstract
Background
Based on modern series demonstrating low upgrade rates for pure lobular neoplasia (LN) diagnosed on core needle biopsy (CNB), our institution no longer recommends routine excision, provided imaging is concordant. This study describes outcomes in patients managed without surgical excision.
Methods
From an institutional database, we identified all patients with a diagnosis of pure atypical lobular hyperplasia and/or classic lobular carcinoma in situ on CNB managed without surgical excision (i.e., conservative management) from 2015 to 2019. The primary outcome of interest was failure of conservative management, defined as development of ipsilateral same-quadrant ductal carcinoma in situ or invasive breast cancer within 2 years of CNB, or need for ipsilateral same-quadrant excisional biopsy. We also evaluated rates of ipsilateral same-quadrant CNB during follow-up.
Results
Among 96 pure LN lesions on CNB since 2015, 80 (83%) were managed without surgical excision. Median follow-up was 27 months (IQR: 16–28), with only 2 (2%) patients lost to follow-up. No patients developed an ipsilateral, same-quadrant breast cancer. The 3-year risk of conservative management failure was 6.2% (95% CI 2.3–15.7%). All failures were a result of need for excisional biopsy due to progressive imaging abnormalities at the initial CNB site, with benign final pathology. The 3-year risk of ipsilateral same-quadrant CNB was 9.2% (95% CI 3.8–21.5%).
Conclusion
Non-surgical management of pure LN is safe, and the likelihood of requiring subsequent surgical excision or repeat CNB during follow-up is low. These data provide reassurance that routine excision of pure LN in the setting of radiologic-pathologic concordance is not required.
Access options
Buy single article
Instant access to the full article PDF.
US$ 39.95
Tax calculation will be finalised during checkout.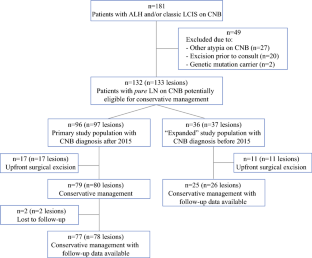 References
1.

Foote FW, Stewart FW. Lobular carcinoma in situ: a rare form of mammary carcinoma. Am J Pathol. 1941;17:491–9.

2.

Haagensen CD, Lane N, Lattes R, Bodian C. Lobular neoplasia (so-called lobular carcinoma in situ) of the breast. Cancer. 1978;42:737–69.

3.

King TA, Reis-Filho JS. Lobular neoplasia. Surg Oncol Clin N Am. 2014;23:487–503.

4.

Reis-Filho JS, Pinder SE. Non-operative breast pathology: lobular neoplasia. J Clin Pathol. 2007;60:1321–7.

5.

Collins LC, Baer HJ, Tamimi RM, et al. Magnitude and laterality of breast cancer risk according to histologic type of atypical hyperplasia: results from the Nurses' Health Study. Cancer. 2007;109:180–7.

6.

Page DL, Schuyler PA, Dupont WD, Jensen RA, Plummer WD Jr, Simpson JF. Atypical lobular hyperplasia as a unilateral predictor of breast cancer risk: a retrospective cohort study. Lancet. 2003;11(361):125–9.

7.

Bodian CA, Perzin KH, Lattes R. Lobular neoplasia. Long term risk of breast cancer and relation to other factors. Cancer. 1996;78:1024–34.

8.

Chuba PJ, Hamre MR, Yap J, et al. Bilateral risk for subsequent breast cancer after lobular carcinoma-in-situ: analysis of surveillance, epidemiology, and end results data. J Clin Oncol. 2005;23:5534–41.

9.

King TA, Pilewskie M, Muhsen S, et al. Lobular Carcinoma in Situ: A 29-Year Longitudinal Experience Evaluating Clinicopathologic Features and Breast Cancer Risk. J Clin Oncol. 2015;33:3945–52.

10.

Hwang H, Barke LD, Mendelson EB, Susnik B. Atypical lobular hyperplasia and classic lobular carcinoma in situ in core biopsy specimens: routine excision is not necessary. Mod Pathol. 2008;21:1208–16.

11.

Chaudhary S, Lawrence L, McGinty G, Kostroff K, Bhuiya T. Classic lobular neoplasia on core biopsy: a clinical and radio-pathologic correlation study with follow-up excision biopsy. Mod Pathol. 2013;26:762–71.

12.

Murray MP, Luedtke C, Liberman L, Nehhozina T, Akram M, Brogi E. Classic lobular carcinoma in situ and atypical lobular hyperplasia at percutaneous breast core biopsy: outcomes of prospective excision. Cancer. 2013;119:1073–9.

13.

Shehata MN, Rahbar H, Flanagan MR, et al. Risk for Upgrade to malignancy after breast core needle biopsy diagnosis of lobular neoplasia: a systematic review and meta-analysis. J Am Coll Radiol. 2020;17:1207–19.

14.

Nakhlis F, Gilmore L, Gelman R, et al. Incidence of adjacent synchronous invasive carcinoma and/or ductal carcinoma in-situ in patients with lobular neoplasia on core biopsy: results from a prospective multi-institutional registry (TBCRC 020). Ann Surg Oncol. 2016;23:722–8.

15.

Schmidt H, Arditi B, Wooster M, et al. Observation versus excision of lobular neoplasia on core needle biopsy of the breast. Breast Cancer Res Treat. 2018;168:649–54.

16.

Shah-Khan MG, Geiger XJ, Reynolds C, Jakub JW, Deperi ER, Glazebrook KN. Long-term follow-up of lobular neoplasia (atypical lobular hyperplasia/lobular carcinoma in situ) diagnosed on core needle biopsy. Ann Surg Oncol. 2012;19:3131–8.

17.

Middleton LP, Sneige N, Coyne R, et al. Most lobular carcinoma in situ and atypical lobular hyperplasia diagnosed on core needle biopsy can be managed clinically with radiologic follow-up in a multidisciplinary setting. Cancer Med. 2014;3:492–9.

18.

Saslow D, Boetes C, Burke W, et al. American cancer society breast cancer advisory group .American Cancer Society guidelines for breast screening with MRI as an adjunct to mammography. CA Cancer J Clin. 2007;57(2):75–89.

19.

Hwang ES, Nyante SJ, Yi Chen Y, et al. Clonality of lobular carcinoma in situ and synchronous invasive lobular carcinoma. Cancer. 2004;100:2562–72.

20.

Lee JY, Schizas M, Geyer FC, et al. Lobular carcinomas in situ display intralesion genetic heterogeneity and clonal evolution in the progression to invasive lobular carcinoma. Clin Cancer Res. 2019;25(2):674–86.

21.

Mastracci TL, Boulos FI, Andrulis IL, Lam WL. Genomics and premalignant breast lesions: clues to the development and progression of lobular breast cancer. Breast Cancer Res. 2007;9:215.
Ethics declarations
Disclosures
TK: Speakers' honoraria and advisory board participation for Exact Sciences (formerly Genomic Health); Faculty, PrecisCA Cancer Information Service
Additional information
Publisher's Note
Springer Nature remains neutral with regard to jurisdictional claims in published maps and institutional affiliations.
About this article
Cite this article
Laws, A., Katlin, F., Nakhlis, F. et al. Atypical Lobular Hyperplasia and Classic Lobular Carcinoma In Situ Can Be Safely Managed Without Surgical Excision. Ann Surg Oncol (2021). https://doi.org/10.1245/s10434-021-10827-z
Received:

Accepted:

Published: