Abstract
Background
In most women ≥ 70 years old with hormone-receptor-positive breast cancer, axillary staging and adjuvant radiotherapy provide no survival advantage over surgery and hormone therapy alone. Despite recommendations for their omission, sentinel lymph node biopsy (SLNB) and adjuvant radiotherapy rates remain high. While treatment side effects are well documented, less is known about the incremental spending associated with SLNB and adjuvant radiotherapy.
Methods
Using a statewide multipayer claims registry, we examined spending associated with breast cancer treatment in a retrospective cohort of women ≥ 70 years old undergoing surgery.
Results
9074 women ≥70 years old underwent breast cancer resection between 2012 and 2019, with 78% (n = 7122) receiving SLNB and/or adjuvant radiotherapy within 90 days of surgery. Women undergoing SLNB were more likely to receive radiation (51% vs. 28%; p < 0.001 and OR = 2.68). Average 90-day spending varied substantially based upon treatment received, ranging from US$10,367 (breast-conserving surgery alone) to US$27,370 (mastectomy with SLNB and adjuvant radiotherapy). The relative increases in 90-day treatment spending in the breast-conserving surgery cohort was 65% for SLNB, 82% for adjuvant radiotherapy, and 120% for both treatments.
Conclusions
SLNB and adjuvant radiotherapy have significant spending implications in older women with breast cancer, even though they are unlikely to improve survival.
Access options
Buy single article
Instant access to the full article PDF.
US$ 39.95
Tax calculation will be finalised during checkout.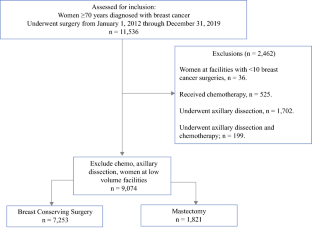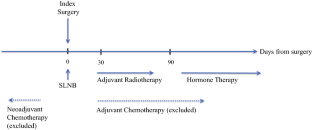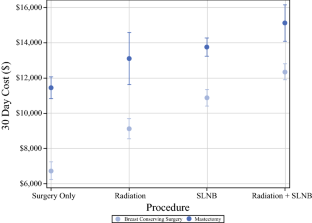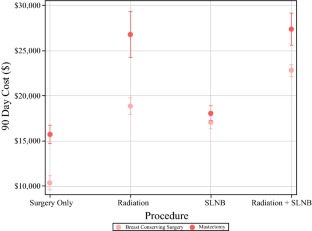 References
1.

Downs-Canner SM, Gaber CE, Louie RJ, et al. Nodal positivity decreases with age in women with early-stage, hormone receptor-positive breast cancer. Cancer. 2020;126(6):1193–201.

2.

Weiss A, Chavez-MacGregor M, Lichtensztajn DY, et al. Validation study of the American Joint Comittee on cancer eighth edition prognostic stage compared with the anatomic stage in breast cancer. JAMA Oncol. 2018;4(2):203–9.

3.

Hughes KS, Schnaper LA, Berry D, et al. Lumpectomy plus tamoxifen with or without irradiation in women 70 years of age or older with early breast cancer. N Engl J Med. 2004;351(10):971–7.

4.

Fisher B, Anderson S, Bryant J, et al. Twenty-year follow-up of a randomized trial comparing total mastectomy, lumpectomy, and lumpectomy plus irradiation for the treatment of invasive breast cancer. N Engl J Med. 2002;347(16):1233–41.

5.

Fisher B, Jeong JH, Anderson S, Bryant J, Fisher ER, Wolmark N. Twenty-five-year follow-up of a randomized trial comparing radical mastectomy, total mastectomy, and total mastectomy followed by irradiation. N Engl J Med. 2002;347(8):567–75.

6.

Martelli G, Miceli R, Daidone MG, et al. Axillary dissection versus no axillary dissection in elderly patients with breast cancer and no palpable axillary nodes: results after 15 years of follow-up. Ann Surg Oncol. 2011;18(1):125–33.

7.

Rudenstam CM, Zahrieh D, Forbes JF, et al. Randomized trial comparing axillary clearance versus no axillary clearance in older patients with breast cancer: first results of International Breast Cancer Study Group Trial 10–93. J Clin Oncol. 2006;24(3):337–44.

8.

NCCN Guidlines, Breast Cancer, version 5.2020 ed2020:MS-20.

9.

Society of Surgical Oncology: Five things physicians and patients should question. Choosing Wisely13 Nov 2020.

10.

Tamirisa N, Thomas SM, Fayanju OM, et al. Axillary Nodal evaluation in elderly breast cancer patients: potential effects on treatment decisions and survival. Ann Surg Oncol. 2018;25(10):2890–8.

11.

Taylor LJ, Steiman JS, Anderson B, et al. Does persistent use of radiation in women > 70 years of age with early-stage breast cancer reflect tailored patient-centered care? Breast Cancer Res Treat. 2020;180(3):801–7.

12.

Vyas A, Madhavan SS, Sambamoorthi U, et al. Healthcare utilization and costs during the initial phase of care among elderly women with breast cancer. J Natl Compr Cancer Netw. 2017;15(11):1401–9.

13.

Smith ME, Vitous CA, Hughes TM, Shubeck SP, Jagsi R, Dossett LA. Barriers and facilitators to de-implementation of the choosing wisely. Ann Surg Oncol. 2020;27(8):2653–63.

14.

Wang T, Baskin A, Miller J, et al. Trends in breast cancer treatment de-implementation in older patients with hormone receptor-positive breast cancer: a mixed methods study. Ann Surg Oncol. 2020;28:902–13.

15.

Yashkin AP, Greenup RA, Gorbunova G, Akushevich I, Oeffinger KC, Hwang ES. Outcomes and costs for women after breast cancer: preparing for improved survivorship of Medicare beneficiaries. JCO Oncol Pract. 2020;17:e469–78.

16.

Michigan Value Collaborative Frequently Asked Questions (FAQ). https://michiganvalue.org/faq/. Accessed 16 Dec 2020.

17.

Herrel LA, Syrjamaki JD, Linsell SM, Miller DC, Dupree JM. Identifying drivers of episode cost variation with radical prostatectomy. Urology. 2016;11(97):105–10.

18.

Perrier L, Nessah K, Morelle M, Mignotte H, Carrere MO, Bremond A. Cost comparison of two surgical strategies in the treatment of breast cancer: sentinel lymph node biopsy versus axillary lymph node dissection. Int J Technol Assess Health Care. 2004;20(4):449–54.

19.

Greenup RA, Blitzblau RC, Houck KL, et al. Cost implications of an evidence-based approach to radiation treatment after lumpectomy for early-stage breast cancer. J Oncol Pract. 2017;13(4):e283–90.

20.

Dean LT, Moss SL, Rollinson SI, Frasso Jaramillo L, Paxton RJ, Owczarzak JT. Patient recommendations for reducing long-lasting economic burden after breast cancer. Cancer. 2019;125(11):1929–40.

21.

McLaughlin SA, Wright MJ, Morris KT, et al. Prevalence of lymphedema in women with breast cancer 5 years after sentinel lymph node biopsy or axillary dissection: objective measurements. J Clin Oncol. 2008;26(32):5213–9.

22.

Dean LT, Ransome Y, Frasso-Jaramillo L, et al. Drivers of cost differences between US breast cancer survivors with or without lymphedema. J Cancer Surviv. 2019;13(5):804–14.

23.

Wang SY, Dang W, Richman I, Mougalian SS, Evans SB, Gross CP. Cost-effectiveness analyses of the 21-gene assay in breast cancer: systematic review and critical appraisal. J Clin Oncol. 2018;36(16):1619–27.

24.

Dracham CB, Shankar A, Madan R. Radiation induced secondary malignancies: a review article. Radiat Oncol J. 2018;36(2):85–94.

25.

Wang T, Bredbeck BC, Sinco B, et al. Variations in persistent use of low-value breast cancer surgery. JAMA Surg. 2021;156:353.

26.

Wang T, Baskin AS, Dossett LA. Deimplementation of the Choosing Wisely recommendations for low-value breast cancer surgery: a systematic review. JAMA Surg. 2020;155:759.

27.

Ward MC, Vicini F, Al-Hilli Z, et al. Cost-effectiveness analysis of endocrine therapy alone versus partial-breast irradiation alone versus combined treatment for low-risk hormone-positive early-stage breast cancer in women aged 70 years or older. Breast Cancer Res Treat. 2020;182(2):355–65.
Acknowledgments
The Michigan Value Collaborative (MVC) is supported by Blue Cross Blue Shield of Michigan (BCBSM). The funding agency was not involved in the design, analysis, or reporting of this study.
Ethics declarations
Disclosures
Dr. Dossett is supported by a grant from the Agency for Healthcare Research and Quality (AHRQ; 5 K08 HS026030-02). Dr. Bredbeck is supported by the Ruth L. Kirschstein Research Service Award from the National Cancer Institute (NCI; T32 CA009672). Dr. Baskin is supported by scholarship funding from the University of Michigan Rogel Cancer Center. Dr. Berlin receives funding from the US Department of Veterans Affairs supporting his role as a National Clinician Scholar. Dr. Nathan is supported by a contract from Blue Cross Blue Shield of Michigan Value Partnerships program for the conduct of the Michigan Value Collaborative.
Additional information
Publisher's Note
Springer Nature remains neutral with regard to jurisdictional claims in published maps and institutional affiliations.
Supplementary Information
Below is the link to the electronic supplementary material.
About this article
Cite this article
Bredbeck, B.C., Baskin, A.S., Wang, T. et al. Incremental Spending Associated with Low-Value Treatments in Older Women with Breast Cancer. Ann Surg Oncol (2021). https://doi.org/10.1245/s10434-021-10807-3
Received:

Accepted:

Published: