Abstract
Background
Pancreatic neuroendocrine tumors (PanNETs) are increasingly common. Experts debate whether small tumors should be resected. Tumor destruction via injection of cytotoxic agents could offer a minimal invasive approach to this controversy. We hypothesize that a new drug delivery system comprising chondroitin sulfate (CS) hydrogels loaded with sunitinib (SUN) suppresses tumor growth in PanNET cells.
Methods
Injectable hydrogels composed of CS modified with methacrylate groups (MA) were fabricated and loaded with SUN. Loading target was either 200 µg (SUN200-G) or 500 µg (SUN500-G) as well as sham hydrogel with no drug loading (SUN0-G). SUN release from hydrogels was monitored in vitro over time and cytotoxicity induced by the released SUN was evaluated using QGP-1 and BON1 PanNET cell lines. QGP-1 xenografts were developed in 35 mice and directly injected with 25 µL of either SUN200-G, SUN500-G, SUN0-G, 100 µL of Sunitinib Malate (SUN-inj), or given 40 mg/kg/day oral sunitinib (SUN-oral).
Results
SUN-loaded CSMA hydrogel retained complete in vitro cytotoxicity toward the QGP-1 PanNET and BON-1 PanNET cell lines for 21 days. Mouse xenograft models with QGP-1 PanNETs showed a significant delay in tumor growth in the SUN200/500-G, SUN-inj and SUN-oral groups compared with SUN0-G (p = 0.0014). SUN500-G hydrogels induced significantly more tumor necrosis than SUN0-G (p = 0.04). There was no difference in tumor growth delay between SUN200/500G, SUN-inj, and SUN-oral.
Conclusions
This study demonstrates that CSMA hydrogels loaded with SUN suppress PanNETs growth. This drug delivery could approach represents a novel way to treat PanNETs and other neoplasms via intratumoral injection.
Access options
Buy single article
Instant access to the full article PDF.
US$ 39.95
Tax calculation will be finalised during checkout.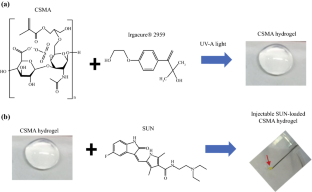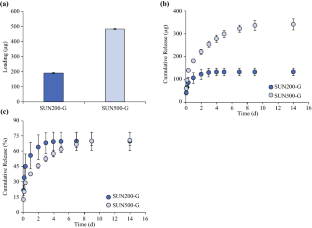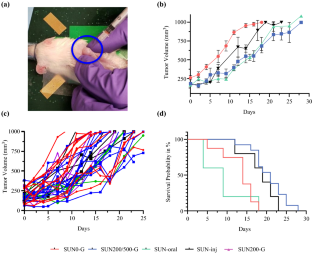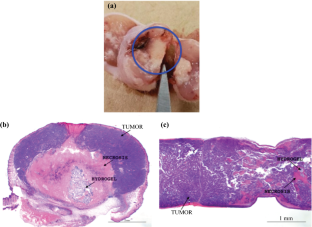 References
1.

Bilimoria KY, Tomlinson JS, Merkow RP, Stewart AK, Ko CY, Talamonti MS, et al. Clinicopathologic features and treatment trends of pancreatic neuroendocrine tumors: analysis of 9821 patients. J Gastrointest Surg. 2007;11(11):1460–7.

2.

Tierney JF, Poirier J, Chivukula S, Pappas SG, Hertl M, Schadde E, et al. Primary tumor site affects survival in patients with gastroenteropancreatic and neuroendocrine liver metastases. Int J Endocrinol. 2019;2019:9871319.

3.

Falconi M, Eriksson B, Kaltsas G, Bartsch DK, Capdevila J, Caplin M, et al. ENETS consensus guidelines update for the management of patients with functional pancreatic neuroendocrine tumors and non-functional pancreatic neuroendocrine tumors. Neuroendocrinology. 2016;103(2):153–71.

4.

Sallinen V, Le Large TY, Galeev S, Kovalenko Z, Tieftrunk E, Araujo R, et al. Surveillance strategy for small asymptomatic non-functional pancreatic neuroendocrine tumors: a systematic review and meta-analysis. HPB (Oxford). 2017;19(4):310–20.

5.

Sallinen VJ, Le Large TYS, Tieftrunk E, Galeev S, Kovalenko Z, Haugvik SP, et al. Prognosis of sporadic resected small (</=2 cm) nonfunctional pancreatic neuroendocrine tumors: a multi-institutional study. HPB (Oxford). 2018;20(3):251–9.

6.

Shah MH, Goldner WS, Halfdanarson TR, Bergsland E, Berlin JD, Halperin D, et al. NCCN guidelines insights: neuroendocrine and adrenal tumors, Version 2.2018. J Natl Compr Canc Netw. 2018;16(6):693–702.

7.

Chivukula SV, Tierney JF, Hertl M, Poirier J, Keutgen XM. Operative resection in early stage pancreatic neuroendocrine tumors in the United States: are we over- or undertreating patients? Surgery. 2019;167:180–7.

8.

Keutgen XM, Hammel P, Choyke PL, Libutti SK, Jonasch E, Kebebew E. Evaluation and management of pancreatic lesions in patients with von Hippel–Lindau disease. Nat Rev Clin Oncol. 2016;13(9):537–49.

9.

Sadowski SM, Cadiot G, Dansin E, Goudet P, Triponez F. The future: surgical advances in MEN1 therapeutic approaches and management strategies. Endocrine-Related Cancer. 2017;24(10):T243–60.

10.

Ho CK, Kleeff J, Friess H, Buchler MW. Complications of pancreatic surgery. HPB (Oxford). 2005;7(2):99–108.

11.

Raymond E, Dahan L, Raoul JL, Bang YJ, Borbath I, Lombard-Bohas C, et al. Sunitinib malate for the treatment of pancreatic neuroendocrine tumors. N Engl J Med. 2011;364(6):501–13.

12.

Valle JW, Borbath I, Rosbrook B, Fernandez K, Raymond E. Sunitinib in patients with pancreatic neuroendocrine tumors: update of safety data. Future Oncol. 2019;15(11):1219–30.

13.

Ornell KJ, Lozada D, Phan NV, Coburn JM. Controlling methacryloyl substitution of chondroitin sulfate: injectable hydrogels with tunable long-term drug release profiles. J Mat Chem B. 2019;7(13):2151–61.

14.

Li Q, Williams CG, Sun DD, Wang J, Leong K, Elisseeff JH. Photocrosslinkable polysaccharides based on chondroitin sulfate. J Biomed Mater Res A. 2004;68(1):28–33.

15.

Varghese S, Hwang NS, Canver AC, Theprungsirikul P, Lin DW, Elisseeff J. Chondroitin sulfate based niches for chondrogenic differentiation of mesenchymal stem cells. Matrix Biol. 2008;27(1):12–21.

16.

Muzzarelli RA, Greco F, Busilacchi A, Sollazzo V, Gigante A. Chitosan, hyaluronan and chondroitin sulfate in tissue engineering for cartilage regeneration: a review. Carbohydr Polym. 2012;89(3):723–39.

17.

Coburn JM, Gibson M, Monagle S, Patterson Z, Elisseeff JH. Bioinspired nanofibers support chondrogenesis for articular cartilage repair. Proc Natl Acad Sci USA. 2012;109(25):10012–7.

18.

Recha-Sancho L, Semino CE. Chondroitin sulfate- and decorin-based self-assembling scaffolds for cartilage tissue engineering. PLoS ONE. 2016;11(6):e0157603.

19.

Ornell KJ, Lozada D, Phan NV, Coburn JM. Controlling methacryloyl substitution of chondroitin sulfate: injectable hydrogels with tunable long-term drug release profiles. J Mater Chem B. 2019;7(13):2151–61.

20.

Brown JE, Partlow BP, Berman AM, House MD, Kaplan DL. Injectable silk-based biomaterials for cervical tissue augmentation: an in vitro study. Am J Obstet Gynecol. 2016;214(1):118 e1-9.

21.

Wang X, Partlow B, Liu J, Zheng Z, Su B, Wang Y, et al. Injectable silk-polyethylene glycol hydrogels. Acta Biomater. 2015;12:51–61.

22.

Parekh D, Ishizuka J, Townsend CM Jr, Haber B, Beauchamp RD, Karp G, et al. Characterization of a human pancreatic carcinoid in vitro: morphology, amine and peptide storage, and secretion. Pancreas. 1994;9(1):83–90.

23.

Silva SR, Bowen KA, Rychahou PG, Jackson LN, Weiss HL, Lee EY, et al. VEGFR-2 expression in carcinoid cancer cells and its role in tumor growth and metastasis. Int J Cancer. 2011;128(5):1045–56.

24.

Vandamme T, Peeters M, Dogan F, Pauwels P, Van Assche E, Beyens M, et al. Whole-exome characterization of pancreatic neuroendocrine tumor cell lines BON-1 and QGP-1. J Mol Endocrinol. 2015;54(2):137–47.

25.

Kaku M, Nishiyama T, Yagawa K, Abe M. Establishment of a carcinoembryonic antigen-producing cell line from human pancreatic carcinoma. Gan. 1980;71(5):596–601.

26.

Gilbert JA, Adhikari LJ, Lloyd RV, Halfdanarson TR, Muders MH, Ames MM. Molecular markers for novel therapeutic strategies in pancreatic endocrine tumors. Pancreas. 2013;42(3):411–21.

27.

Zhang J, Jia Z, Li Q, Wang L, Rashid A, Zhu Z, et al. Elevated expression of vascular endothelial growth factor correlates with increased angiogenesis and decreased progression-free survival among patients with low-grade neuroendocrine tumors. Cancer. 2007;109(8):1478–86.

28.

Bauerschlag DO, Schem C, Tiwari S, Egberts JH, Weigel MT, Kalthoff H, et al. Sunitinib (SU11248) inhibits growth of human ovarian cancer in xenografted mice. Anticancer Res. 2010;30(9):3355–60.

29.

Zhang L, Smith KM, Chong AL, Stempak D, Yeger H, Marrano P, et al. In vivo antitumor and antimetastatic activity of sunitinib in preclinical neuroblastoma mouse model. Neoplasia. 2009;11(5):426–35.

30.

Jurgensen C, Schuppan D, Neser F, Ernstberger J, Junghans U, Stolzel U. EUS-guided alcohol ablation of an insulinoma. Gastrointest Endosc. 2006;63(7):1059–62.

31.

Lakhtakia S. Therapy of pancreatic neuroendocrine tumors: fine needle intervention including ethanol and radiofrequency ablation. Clin Endosc. 2017;50(6):546–51.

32.

Guo Y, Yuan T, Xiao Z, Tang P, Xiao Y, Fan Y, et al. Hydrogels of collagen/chondroitin sulfate/hyaluronan interpenetrating polymer network for cartilage tissue engineering. J Mater Sci Mater Med. 2012;23(9):2267–79.

33.

Strehin I, Nahas Z, Arora K, Nguyen T, Elisseeff J. A versatile pH sensitive chondroitin sulfate-PEG tissue adhesive and hydrogel. Biomaterials. 2010;31(10):2788–97.

34.

Yi H-G, Choi Y-J, Kang KS, Hong JM, Pati RG, Park MN, et al. A 3D-printed local drug delivery patch for pancreatic cancer growth suppression. J Control Release. 2016;238:231–41.

35.

Zhang Y, Dosta P, Conde J, Oliva N, Wang M, Artzi N. Prolonged local in vivo delivery of stimuli-responsive nanogels that rapidly release doxorubicin in triple-negative breast cancer cells. Adv Healthc Mater. 2020;9(4):1901101.

36.

Ornell KJ, Taylor JS, Zeki J, Ikegaki N, Shimada H, Coburn JM, et al. Local delivery of dinutuximab from lyophilized silk fibroin foams for treatment of an orthotopic neuroblastoma model. Cancer Med. 2020;9(8):2891–903.

37.

Coburn J, Harris J, Zakharov AD, Poirier J, Ikegaki N, Kajdacsy-Balla A, et al. Implantable chemotherapy-loaded silk protein materials for neuroblastoma treatment. Int J Cancer. 2017;140(3):726–35.

38.

Harris JC, Coburn JM, Kajdacsy-Balla A, Kaplan DL, Chiu B. Sustained delivery of vincristine inside an orthotopic mouse sarcoma model decreases tumor growth. J Pediatr Surg. 2016;51(12):2058–62.

39.

Li Q, Wang D, Elisseeff JH. Heterogeneous-phase reaction of glycidyl methacrylate and chondroitin sulfate: mechanism of ring-opening−transesterification competition. Macromolecules. 2003;36(7):2556–62.

40.

Shemi A, Khvalevsky EZ, Gabai RM, Domb A, Barenholz Y. Multistep, effective drug distribution within solid tumors. Oncotarget. 2015;6(37):39564–77.

41.

Brem H, Piantadosi S, Burger PC, Walker M, Selker R, Vick NA, et al. Placebo-controlled trial of safety and efficacy of intraoperative controlled delivery by biodegradable polymers of chemotherapy for recurrent gliomas. The polymer-brain tumor treatment group. Lancet. 1995;345(8956):1008–12.

42.

Brem H, Mahaley MS, Vick NA, Black KL, Schold SC, Burger PC, et al. Interstitial chemotherapy with drug polymer implants for the treatment of recurrent gliomas. J Neurosurg. 1991;74(3):441–6.

43.

Matthes K, Mino-Kenudson M, Sahani DV, Holalkere N, Fowers KD, Rathi R, et al. EUS-guided injection of paclitaxel (OncoGel) provides therapeutic drug concentrations in the porcine pancreas (with video). Gastrointest Endosc. 2007;65(3):448–53.

44.

Chiu B, Coburn J, Pilichowska M, Holcroft C, Seib FP, Charest A, et al. Surgery combined with controlled-release doxorubicin silk films as a treatment strategy in an orthotopic neuroblastoma mouse model. Br J Cancer. 2014;111(4):708–15.

45.

Al-Abd AM, Hong K-Y, Song S-C, Kuh H-J. Pharmacokinetics of doxorubicin after intratumoral injection using a thermosensitive hydrogel in tumor-bearing mice. J Control Release. 2010;142(1):101–7.

46.

Xu Y, Asghar S, Li H, Chen M, Su Z, Xu Y, et al. Preparation of a paclitaxel-loaded cationic nanoemulsome and its biodistribution via direct intratumoral injection. Colloids Surf B Biointerf. 2016;142:81–8.
Funding
This work was supported in part by the Neuroendocrine Tumor SPORE grant P50 CA174521 (XK) from the University of Iowa.
Ethics declarations
Conflict of interest
The authors have no conflict of interest to declare.
Additional information
Publisher's Note
Springer Nature remains neutral with regard to jurisdictional claims in published maps and institutional affiliations.
Presented in part at the Americas Hepato-Pancreato-Biliary Association (AHPBA) Annual Meeting, March 2019, Miami Beach, FL.
Supplementary Information
Below is the link to the electronic supplementary material.
About this article
Cite this article
Keutgen, X.M., Ornell, K.J., Vogle, A. et al. Sunitinib-Loaded Chondroitin Sulfate Hydrogels as a Novel Drug-Delivery Mechanism for the Treatment of Pancreatic Neuroendocrine Tumors. Ann Surg Oncol (2021). https://doi.org/10.1245/s10434-021-10245-1
Received:

Accepted:

Published: