Abstract
Background
Neoadjuvant chemotherapy with concurrent radiotherapy (nCRT) is an accepted treatment regimen for patients with potentially curable esophageal and gastroesophageal junction (GEJ) adenocarcinoma. The purpose of this study is to evaluate whether induction chemotherapy (IC) before nCRT is associated with improved pathologic complete response (pCR) and overall survival (OS) when compared with patients who received nCRT alone for esophageal and GEJ adenocarcinoma.
Methods
Using the National Cancer Database (NCDB), patients who received nCRT and curative-intent esophagectomy for esophageal or GEJ adenocarcinoma from 2006 to 2015 were included. Chemotherapy and radiation therapy start dates were used to define cohorts who received IC before nCRT (IC + nCRT) versus those who only received concurrent nCRT before surgery. Propensity weighting was conducted to balance patient, disease, and facility covariates between groups.
Results
12,460 patients met inclusion criteria, of whom 11,880 (95%) received nCRT and 580 (5%) received IC + nCRT. Following propensity weighting, OS was significantly improved among patients who received IC + nCRT versus nCRT (HR 0.82; 95% CI 0.74–0.92; p < 0.001) with median OS for the IC + nCRT cohort of 3.38 years versus 2.45 years for nCRT. For patients diagnosed from 2013 to 2015, IC + nCRT was also associated with higher odds of pCR compared with nCRT (OR 1.59; 95% CI 1.14–2.21; p = 0.007).
Conclusion
IC + nCRT was associated with a significant OS benefit as well as higher pCR rate in the more modern patient cohort. These results merit consideration of a sufficiently powered prospective multiinstitutional trial to further evaluate these observed differences.
Access options
Buy single article
Instant access to the full article PDF.
USD 39.95
Price excludes VAT (USA)
Tax calculation will be finalised during checkout.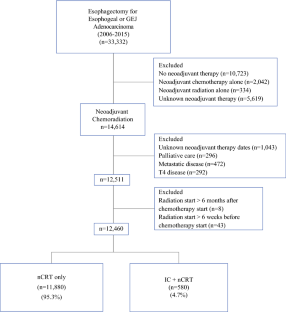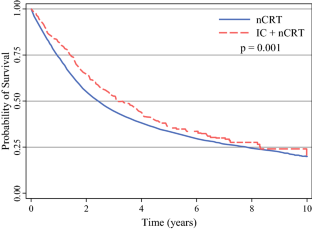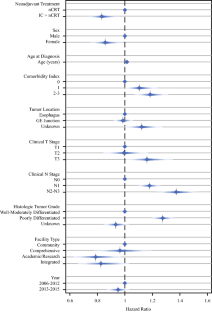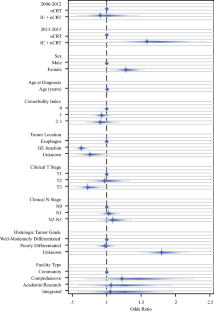 References
Torre LA, Siegel RL, Ward EM, Jemal A. Global cancer incidence and mortality rates and trends-an update. Cancer Epidemiol Biomarkers Prev. 2016;25(1):16–27.

Cunningham D, Allum WH, Stenning SP, et al. Perioperative chemotherapy versus surgery alone for resectable gastroesophageal cancer. N Engl J Med. 2006;355(1):11–20.

Shapiro J, van Lanschot JJB, Hulshof M, et al. Neoadjuvant chemoradiotherapy plus surgery versus surgery alone for oesophageal or junctional cancer (CROSS): long-term results of a randomised controlled trial. Lancet Oncol. 2015;16(9):1090–8.

van Hagen P, Hulshof MC, van Lanschot JJ, et al. Preoperative chemoradiotherapy for esophageal or junctional cancer. N Engl J Med. 2012;366(22):2074–84.

Tepper J, Krasna MJ, Niedzwiecki D, et al. Phase III trial of trimodality therapy with cisplatin, fluorouracil, radiotherapy, and surgery compared with surgery alone for esophageal cancer: CALGB 9781. J Clin Oncol. 2008;26(7):1086–92.

Ajani JA, D'Amico TA, Bentrem DJ, et al. Esophageal and esophagogastric junction cancers, version 2.2019, NCCN Clinical Practice Guidelines in Oncology. J Natl Compr Canc Netw. 2019;17(7):855–83.

Xi M, Liao Z, Deng W, et al. A Prognostic scoring model for the utility of induction chemotherapy prior to neoadjuvant chemoradiotherapy in esophageal cancer. J Thorac Oncol. 2017;12(6):1001–10.

Jin J, Liao Z, Zhang Z, et al. Induction chemotherapy improved outcomes of patients with resectable esophageal cancer who received chemoradiotherapy followed by surgery. Int J Radiat Oncol Biol Phys. 2004;60(2):427–36.

Malaisrie SC, Hofstetter WL, Correa AM, et al. The addition of induction chemotherapy to preoperative, concurrent chemoradiotherapy improves tumor response in patients with esophageal adenocarcinoma. Cancer. 2006;107(5):967–74.

Cercek A, Roxburgh CSD, Strombom P, et al. Adoption of total neoadjuvant therapy for locally advanced rectal cancer. JAMA Oncol. 2018;4(6):e180071.

Petrelli F, Trevisan F, Cabiddu M, et al. Total neoadjuvant therapy in rectal cancer: a systematic review and meta-analysis of treatment outcomes. Ann Surg. 2020;271(3):440–8.

Goodman KA, Niedzwiecki D, Hall N, et al. Initial results of CALGB 80803 (Alliance): a randomized phase II trial of PET scan-directed combined modality therapy for esophageal cancer. J Clin Oncol. 2017;35(4_suppl):1.

Goodman KA, Hall N, Bekaii-Saab TS, et al. Survival outcomes from CALGB 80803 (Alliance): a randomized phase II trial of PET scan-directed combined modality therapy for esophageal cancer. J Clin Oncol. 2018;36(15_suppl):4012–4012.

Harada K, Wang X, Shimodaira Y, et al. Early metabolic change after induction chemotherapy predicts histologic response and prognosis in patients with esophageal cancer: secondary analysis of a randomized trial. Target Oncol. 2018;13(1):99–106.

Ajani JA, Xiao L, Roth JA, et al. A phase II randomized trial of induction chemotherapy versus no induction chemotherapy followed by preoperative chemoradiation in patients with esophageal cancer. Ann Oncol. 2013;24(11):2844–9.

Shimodaira Y, Slack RS, Harada K, et al. Influence of induction chemotherapy in trimodality therapy-eligible oesophageal cancer patients: secondary analysis of a randomised trial. Br J Cancer. 2018;118(3):331–7.

National Cancer Database. [cited 2020 1/1/2020]; Available from: www.facs.org/quality-programs/cancer/ncdb.

Mohanty S, Bilimoria KY. Comparing national cancer registries: The National Cancer Data Base (NCDB) and the Surveillance, Epidemiology, and End Results (SEER) program. J Surg Oncol. 2014;109(7):629–30.

Rosenbaum PR, Rubin DB. Reducing bias in observational studies using subclassification on the propensity score. J Am Stat Assoc. 1984;79(387):516–24.

Rubin DB. Estimating causal effects from large data sets using propensity scores. Ann Intern Med. 1997;127(8 Pt 2):757–63.

Robins JM, Hernan MA, Brumback B. Marginal structural models and causal inference in epidemiology. Epidemiology. 2000;11(5):550–60.

Herskovic A, Russell W, Liptay M, et al. Esophageal carcinoma advances in treatment results for locally advanced disease: review. Ann Oncol. 2012;23(5):1095–103.
Acknowledgment
F.H. is supported by the Dr. Harold J. and Claire Wanebo Endowed Research Fellowship at University of Colorado. R.J.T is supported by NIH/NCATS Colorado CTSA grant no. TL1 TR002533. S.W. is supported by the University of Colorado Department of Medicine Outstanding Early Scholars Program
Ethics declarations
Disclosure
S.W.: consultant for Boston Scientific, Medtronic, Interpace and Cernostics. M.W.: Intuitive Surgical-Educational Consultant; Medtronic-educational consultant. Other authors declare no conflicts of interest.
Additional information
Publisher's Note
Springer Nature remains neutral with regard to jurisdictional claims in published maps and institutional affiliations.
About this article
Cite this article
Ho, F., Torphy, R.J., Friedman, C. et al. Induction Chemotherapy Plus Neoadjuvant Chemoradiation for Esophageal and Gastroesophageal Junction Adenocarcinoma. Ann Surg Oncol 28, 7208–7218 (2021). https://doi.org/10.1245/s10434-021-09999-5
Received:

Accepted:

Published:

Issue Date:

DOI: https://doi.org/10.1245/s10434-021-09999-5