Abstract
Background
Surgical resection remains the cornerstone of ovarian cancer management. In 2017, the authors implemented a multi-disciplinary surgical team comprising gynecologic oncologists as well as colorectal, hepatobiliary, and upper gastrointestinal (GI) surgeons to increase gross macroscopic resection rates. This report aims to describe changes in complete cytoreduction rates and morbidity after the implementation of a multi-disciplinary surgical team comprising gynecologic oncologists as well as colorectal, hepatobiliary, and upper GI surgeons in a tertiary gynecologic oncology unit.
Methods
The study used two cohorts. Cohort A was a retrospectively collated cohort from 2006 to 2015. Cohort B was a prospectively collated cohort of patients initiated in 2017. A multidisciplinary approach to preoperative medical optimization, intraoperative management, and postoperative care was implemented in 2017. The patients in cohort B with upper abdominal disease were offered primary cytoreduction with or without hyperthermic intraperitoneal chemotherapy (HIPEC). Before 2017, the patients with upper abdominal disease received neoadjuvant chemotherapy (cohort A).
Results
This study included 146 patients in cohort A (2006–2015) and 93 patients in cohort B (2017–2019) with stages 3 or 4 ovarian cancer. The overall complete macroscopic resection rate (CC0) increased from 58.9 in cohort A to 67.7% in cohort B. The rate of primary cytoreductive surgery (CRS) increased from 38 (55/146) in cohort A to 42% (39/93) in cohort B. The CC0 rate for the patients who underwent primary CRS increased from 49 in cohort A to 77% in cohort B. Major morbidity remained stable throughout both study periods (2006–2019).
Conclusions
The study data demonstrate that implementation of a multidisciplinary team intraoperative approach and a meticulous approach to preoperative optimization resulted in significantly improved complete resection rates, particularly for women offered primary CRS.
Access options
Buy single article
Instant access to the full article PDF.
US$ 39.95
Tax calculation will be finalised during checkout.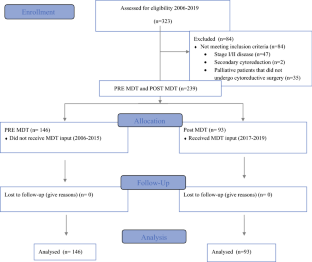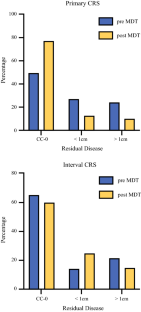 References
1.

Parkin DM, Bray F, Ferlay J, Pisani P. Global cancer statistics, 2002. CA Cancer J Clin. 2005;55:74–108.

2.

du Bois A, Reuss A, Pujade-Lauraine E, et al. Role of surgical outcome as prognostic factor in advanced epithelial ovarian cancer: a combined exploratory analysis of 3 prospectively randomized phase 3 multicenter trials: by the Arbeitsgemeinschaft Gynaekologische Onkologie Studiengruppe Ovarialkarzinom (AGO-OVAR) and the Groupe d'Investigateurs Nationaux Pour les Etudes des Cancers de l'Ovaire (GINECO). Cancer. 2009;115:1234–44.

3.

Van der Burg ME, van Lent M, Buyse M, Kobierska A, Colombo N, Favalli G, et al. The effect of debulking surgery after induction chemotherapy on the prognosis in advanced epithelial ovarian cancer. Gynecological Cancer Cooperative Group of the European Organization for Research and Treatment of Cancer. N Engl J. 1995;332(10):629–34.

4.

Aletti G, Dowdy SC, Podratz KC, Cliby WA. Analysis of factors impacting operability in stage IV ovarian cancer: rationale use of a triage system. Gynecol Oncol. 2007;105:84–9.

5.

Al Rawahi T, Lopes AD, Bristow RE, Bryant A, Elattar A, Chattopadhyay S, et al. Surgical cytoreduction for recurrent epithelial ovarian cancer. Cochrane Database Syst Rev. 2013:Cd008765.

6.

Van Driel WJ, Koole SN, Sikorska K, Schagen van Leeuwen JH, Schreuder HWR, Hermans RHM, et al. Hyperthermic intraperitoneal chemotherapy in ovarian cancer. N Engl J Med. 2018;378:230–40.

7.

Bartels HC, Rogers AC, McSharry V, McVey R, Walsh T, O'Brien D, et al. A meta-analysis of morbidity and mortality in primary cytoreductive surgery compared to neoadjuvant chemotherapy in advanced ovarian malignancy. Gynecol Oncol. 2019;154:622–30.

8.

Harter P, Sehouli J, Lorusso D, Reuss A, Vergoten I, Marth C, et al. Lymphaedectomy in ovrian neoplasms: a prospective randomized AGO study group led gynecologic cancer intergroup trial (LION trial). J Clin Oncol. 2017;35(15 Suppl):5500. https://doi.org/10.1200/JCO.2017.35.15_suppl.5500.

9.

Vermeulen C, Walsh T, Kruitwagen R, Tadesse W. Multi-disciplinary assessment proves to be effective in detecting suitable patients for primary debulking surgery in advanced stage epithelial ovarian cancer 2015.

10.

Chang KH, Kazanowski M, Staunton O, Cahill RA, Moran BJ, Shields C, Mulsow J. Mentored experience of establishing a national peritoneal malignancy programme: experience of first 50 operative cases. EJSO Eur J Surg Oncol. 2017;43:395–400.

11.

Dindo D, Demartines N, Clavien PA. Classification of surgical complications: a new proposal with evaluation in a cohort of 6336 patients and results of a survey. Ann Surg. 2004;240:205–13.

12.

Esquivel J, Sugarbaker PH, Helm CW (2007) Techniques of delivering hyperthermic intraperitoneal chemotherapy. In: Helm CW, Edwards RP, editors. Intraperitoneal cancer therapy: current clinical oncology. Totowa, NJ: Humana Press; 2007.

13.

Woo YL, Kyrgiou M, Bryant A, Everett T, Dickinson HO. Centralisation of services for gynaecological cancers: a Cochrane systematic review. Gynecol Oncol. 2012;126:286–90.

14.

Vernooij F, Heintz AP, Coebergh JW, Massuger LF, Witteveen PO, van der Graaf Y. Specialized and high-volume care leads to better outcomes of ovarian cancer treatment in the Netherlands. Gynecol Oncol. 2009;112:455–61.

15.

Tingulstad S, Skjeldestad FE, Hagen B. The effect of centralization of primary surgery on survival in ovarian cancer patients. Obstet Gynecol. 2003;102:499–505.

16.

Sinno AK, Li X, Thompson RE, Tanner EJ III, Levinson KL, Stone RL, et al. Trends and factors associated with radical cytoreductive surgery in the United States: a case for centralized care. Gynecol Oncol. 2017;145:493–9.

17.

Rafii A, Stoeckle E, Jean-Laurent M, Ferron G, Morice P, Houvenaeghel G, et al. Multi-center evaluation of post-operative morbidity and mortality after optimal cytoreductive surgery for advanced ovarian cancer. PLoS One. 2012;7(7):e39415. https://doi.org/10.1371/journal.pone.0039415.

18.

Rausei S, Uccella S, D'Alessandro V, Gisone B, Frattini F, Lianos G. Aggressive surgery for advanced ovarian cancer performed by a multidisciplinary team: a retrospective analysis on a large series of patients. Surg Open Sci. 2019;1:43–7.

19.

Elattar A, Bryant A, Winter-Roach BA, Hatem M, Naik R. Optimal primary surgical treatment for advanced epithelial ovarian cancer Cochrane Database Syst Rev. 2011;10:1–67.

20.

Bartels HC, Rogers AC, Postle J, Shields C, Mulsow J, Conneely J, et al. Morbidity and mortality in women with advanced ovarian cancer who underwent primary cytoreductive surgery compared to cytoreductive surgery for recurrent disease: a meta-analysis. Pleura Peritoneum. 2019;4(2):20190014. https://doi.org/10.1515/pp-2019-0014.

21.

Kehoe S, Hook J, Nankivell M, Jayson G, Kitchener H, Lopes A, et al. Primary chemotherapy versus primary surgery for newly diagnosed advanced ovarian cancer (CHORUS): an open-label, randomised, controlled, non-inferiority trial. Lancet. 2015;386(9990):249–57.
Ethics declarations
Disclosures
There are no conflict of interest.
Additional information
Publisher's Note
Springer Nature remains neutral with regard to jurisdictional claims in published maps and institutional affiliations.
Appendix 1: ESGO Operative Report
Appendix 1: ESGO Operative Report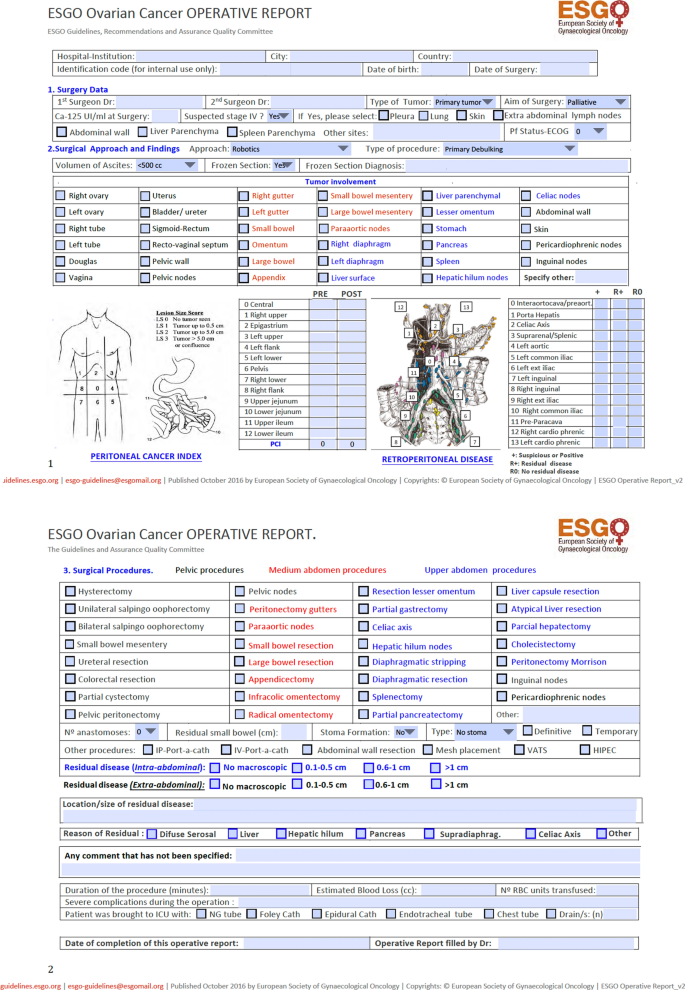 About this article
Cite this article
Mulligan, K.M., Glennon, K., Donohoe, F. et al. Multidisciplinary Surgical Approach to Increase Complete Cytoreduction Rates for Advanced Ovarian Cancer in a Tertiary Gynecologic Oncology Center. Ann Surg Oncol (2021). https://doi.org/10.1245/s10434-020-09494-3
Received:

Accepted:

Published: