Abstract
Background
Omission of axillary lymph node dissection (ALND) is accepted for patients with one or two positive sentinel nodes, and studies are focusing on clinically node-positive patients who have been downstaged with neoadjuvant chemotherapy (NAC). Evidence is lacking for patients with positive nodes who undergo surgery upfront. These patients are assumed to have a higher burden of nodal disease such that ALND remains the standard of care.
Methods
Patients who underwent ALND for breast cancer between 2010 and 2019 at the authors' institution were retrospectively identified. Those with clinical N1 disease were included in the study. Patients who received NAC and those who had surgery for sentinel node positive disease or axillary recurrence were excluded. Clinical and pathologic factors associated with nodal stage were evaluated.
Results
Of 111 patients who met the inclusion criteria, 61.3% had a palpable node on exam, and 41.4% ultimately had pN1 disease. Most of the tumors were estrogen receptor (ER)-positive (91.5%), and 21.7% of the tumors were invasive lobular cancers. Lobular histology, tumor size, and metastasis size were associated with higher nodal stage. In the multivariable analysis, the patients with nodal metastasis larger than 10 mm had significantly lower odds of having pN1 disease (odds ratio 0.12; 95% confidence interval 0.02–0.69; p = 0.02). In a subset analysis of patients with palpable nodes, tumor size and histology remained significantly associated with nodal stage.
Conclusion
More than 40% of breast cancer patients with clinically positive nodes had minimal nodal disease (pN1) at surgery. Additionally, palpable nodes on exam did not predict higher nodal stage. A subset of patients with clinically positive nodes may be identified who can potentially be spared the morbidity of ALND.
Access options
Buy single article
Instant access to the full article PDF.
USD 39.95
Price includes VAT (USA)
Tax calculation will be finalised during checkout.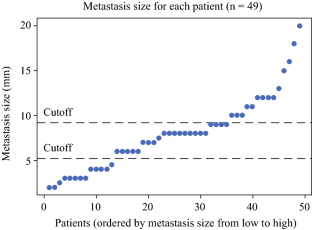 References
1.

Giuliano AE, Hunt KK, Ballman KV, et al. Axillary dissection vs no axillary dissection in women with invasive breast cancer and sentinel node metastasis: a randomized clinical trial. JAMA. 2011;305:569–75.

2.

Galimberti V, Cole BF, Zurrida S, et al. Axillary dissection versus no axillary dissection in patients with sentinel-node micrometastases (IBCSG 23-01): a phase 3 randomised controlled trial. Lancet Oncol. 2013;14:297–305.

3.

Donker M, van Tienhoven G, Straver ME, et al. Radiotherapy or surgery of the axilla after a positive sentinel node in breast cancer (EORTC 10981-22023 AMAROS): a randomised, multicentre, open-label, phase 3 non-inferiority trial. Lancet Oncol. 2014;15:1303–10.

4.

Castelo M, Hu SY, Dossa F, Acuna SA, Scheer AS. Comparing observation, axillary radiotherapy, and completion axillary lymph node dissection for management of axilla in breast cancer in patients with positive sentinel nodes: a systemic review. Ann Surg Oncol. 2020;27:2664–76.

5.

Hennessy BT, Hortobagyi GN, Rouzier R, et al. Outcome after pathologic complete eradication of cytologically proven breast cancer axillary node metastases following primary chemotherapy. J Clin Oncol. 2005;23:9304–11.

6.

Boughey JC, McCall LM, Ballman KV, et al. Tumor biology correlates with rates of breast-conserving surgery and pathologic complete response after neoadjuvant chemotherapy for breast cancer: findings from the ACOSOG Z1071 (Alliance) prospective multicenter clinical trial. Ann Surg. 2014;260:608–16.

7.

Boughey JC, Suman VJ, Mittendorf EA, et al. Sentinel lymph node surgery after neoadjuvant chemotherapy in patients with node-positive breast cancer: the ACOSOG Z1071 (Alliance) clinical trial. JAMA. 2013;310:1455–61.

8.

Boileau JF, Poirier B, Basik M, et al. Sentinel node biopsy after neoadjuvant chemotherapy in biopsy-proven node-positive breast cancer: the SN FNAC study. J Clin Oncol. 2015;33:258–64.

9.

Kuehn T, Banenfeind I, Fehm T, et al. Sentinel-lymph-node biopsy in patients with breast cancer before and after neoadjuvant chemotherapy (SENTINA): a prospective multicentre cohort study. Lancet Oncol. 2013;14:609–18.

10.

Cortazar P, Zhang L, Untch M, et al. Pathologic complete response and long-term clinical benefit in breast cancer: the CTNeoBC pooled analysis. Lancet. 2014;384:164–72.

11.

von Minckwitz G, Untch M, Nuesch F, et al. Impact of treatment characteristics on response of different breast cancer phenotypes: pooled analysis of the German neo-adjuvant chemotherapy trials. Breast Cancer Res Treat. 2011;125;145–56.

12.

von Minckwitz G, Untch M, Blohmer JU, et al. Definition and impact of pathologic complete response on prognosis after neoadjuvant chemotherapy in various intrinsic breast cancer subtypes. J Clin Oncol. 2012;30:1796–804.

13.

Harris CK, Tran HT, Lee K, et al. Positive ultrasound-guided lymph node needle biopsy in breast cancer may not mandate axillary lymph node dissection. Ann Surg Oncol. 2017;24:3004–10.

14.

Pilewskie M, Mautner SK, Stempel M, Eaton A, Morrow M. Does a positive axillary lymph node needle biopsy results predict the need for an axillary lymph node dissection in clinically node-negative breast cancer patients in the ACOSOG Z0011 era? Ann Surg Oncol. 2016;23:1123–8.

15.

Caudle AS, Kuerer HM, Le-Petross HT, et al. Predicting the extent of nodal disease in early-stage breast cancer. Ann Surg Oncol. 2014;21:3440–7.

16.

Verheuvel NC, van den Hoven I, Ooms HW, et al. The role of ultrasound-guided lymph node biopsy in axillary staging of invasive breast cancer in the post-ACOSOG Z0011 trial era. Ann Surg Oncol. 2015;22:409–15.

17.

van Wely BJ, de Wilt JH, Francissen C, Teerenstra S, Strobbe LJ. Meta-analysis of ultrasound-guided biopsy of suspicious axillary lymph nodes in the selection of patients with extensive axillary tumour burden in breast cancer. Br J Surg. 2015;102:159–68.

18.

Mamtani A, Zabor EC, Stempel M, Morrow M. Lobular histology does not predict the need for axillary dissection among ACOSOG Z0011-eligible breast cancers. Ann Surg Oncol. 2019;26:3269–74.

19.

Cipolla C, Valerio MR, Grassi N, et al. Axillary nodal burden in breast cancer patients with preoperative fine-needle aspiration-proven positive lymph nodes compared to those with positive sentinel nodes. In Vivo. 2020;34:729–34.

20.

Early Breast Cancer Trialists' Collaborative Group, McGale P, Taylor C, Correa C, et al. Effect of radiotherapy after mastectomy and axillary surgery on 10-year recurrence and 20-year breast cancer mortality: meta-analysis of individual patient data for 8135 women in 22 randomised trials. Lancet. 2014;383:2127–35.
Acknowledgment
This study was supported by Clinical and Translational Science Institute (CTSI) Grant UL1TR000124UCLA.
Ethics declarations
Disclosures
There are no conflicts of interest.
Additional information
Publisher's Note
Springer Nature remains neutral with regard to jurisdictional claims in published maps and institutional affiliations.
About this article
Cite this article
Angarita, S., Ye, L., Rünger, D. et al. Assessing the Burden of Nodal Disease for Breast Cancer Patients with Clinically Positive Nodes: Hope for More Limited Axillary Surgery. Ann Surg Oncol 28, 2609–2618 (2021). https://doi.org/10.1245/s10434-020-09228-5
Received:

Accepted:

Published:

Issue Date: