Abstract
Purpose
We evaluated the short- and long-term surgical outcomes of hepatectomy combined with diaphragmatic resection for hepatocellular carcinoma (HCC) with diaphragmatic involvement.
Methods
We retrospectively reviewed the surgical outcomes of HCC patients with diaphragmatic resection (DR group) and HCC patients without diaphragmatic resection (non-DR group). We applied 1:1 propensity score matching (PSM) to these subjects.
Results
The study included 46 patients in DR group and 828 patients in non-DR group. The DR group cases were pathologically more advanced, and both overall and relapse-free survival among the patients in this group with pathological diaphragmatic invasion were similar to cases with pathological diaphragmatic fibrous adhesion. There were 40 patients from each group subjected to PSM. In these matched cohorts, there was no statistically significant difference between the two groups regarding perioperative outcomes, overall survival, and relapse-free survival. Multivariate analyses of our matched HCC patients revealed that alpha-fetoprotein expression and tumor size were independent prognostic factors for overall survival and poor differentiation for relapse-free survival, whereas neither diaphragmatic invasion nor diaphragmatic resection were prognostic indicators. The most frequent site of recurrence in non-DR group was the liver, whereas the most frequent site of recurrence in DR group was the lung before and after PSM.
Conclusions
The short- and long-term surgical outcomes of DR HCC cases are equivalent to their non-DR counterparts under a matched clinicopathological background. Hepatectomy combined with DR is an acceptable treatment for HCC with either diaphragmatic fibrous adhesion or diaphragmatic invasion.
This is a preview of subscription content, log in to check access.
Access options
Buy single article
Instant access to the full article PDF.
US$ 39.95
Price includes VAT for USA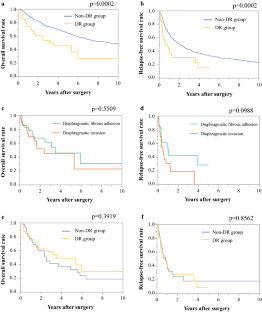 References
1.

Forner A, Reig M, Bruix J. Hepatocellular carcinoma. Lancet. 2018;31:1301–14.

2.

Kokudo T, Hasegawa K, Matsuyama Y, et al. Survival benefit of liver resection for hepatocellular carcinoma associated with portal vein invasion. J Hepatol. 2016;65:938–43.

3.

Wakayama K, Kamiyama T, Yokoo H, et al. Huge hepatocellular carcinoma greater than 10 cm in diameter worsens prognosis by causing distant recurrence after curative resection. J Surg Oncol. 2017;115:324–9.

4.

Zheng J, Shen S, Jiang L, et al. Outcomes of anterior approach major hepatectomy with diaphragmatic resection for single huge right lobe HCC with diaphragmatic invasion. Medicine (Baltimore). 2018;97:e12194.

5.

Yamashita Y, Morita K, Iguchi T, et al. Surgical impacts of an en bloc resection of the diaphragm for hepatocellular carcinoma with gross diaphragmatic involvement. Surg Today. 2011;41:101–6.

6.

Wakayama K, Kamiyama T, Yokoo H, et al. Our technique of preceding diaphragm resection and partial mobilization of the hepatic right lobe using a vessel sealing device (LigaSure™) for huge hepatic tumors with diaphragm invasion. Surg Today. 2016;46:1224–9.

7.

Liu YC, Mao YZ, Wang JC, et al. Hepatocellular carcinoma with en bloc diaphragmatic resection: a single-center experience over 14 years. Int J Surg. 2018;53:93–7.

8.

Kamiyama T, Nakanishi K, Yokoo H, et al. Perioperative management of hepatic resection toward zero mortality and morbidity: analysis of 793 consecutive cases in a single institution. J Am Coll Surg. 2010;211:443–9.

9.

Clavien PA, Barkun J, de Oliveira ML, et al. The Clavien-Dindo classification of surgical complications: five-year experience. Ann Surg. 2009;250:187–96.

10.

Lau WY, Leung KL, Leung TW, Liew CT, Chan M, Li AK. Resection of hepatocellular carcinoma with diaphragmatic invasion. Br J Surg. 1995;82:264–6.

11.

Yuki K, Hirohashi S, Sakamoto M, Kanai T, Shimosato Y. Growth and spread of hepatocellular carcinoma. A review of 240 consecutive autopsy cases. Cancer. 1990;66:2174–9.

12.

Kamarajah SK, Frankel TL, Sonnenday C, Cho CS, Nathan H. Critical evaluation of the American Joint Commission on Cancer (AJCC) 8th edition staging system for patients with Hepatocellular Carcinoma (HCC): a Surveillance, Epidemiology, End Results (SEER) analysis. J Surg Oncol. 2018;117:644–50.

13.

Sonohara F, Nomoto S, Inokawa Y, et al. Serosal invasion strongly associated with recurrence after curative hepatic resection of hepatocellular carcinoma: a retrospective study of 214 consecutive cases. Medicine (Baltimore). 2015;94:e602.

14.

Kato Y, Okamura Y, Sugiura T, et al. The impact of serosal invasion on prognosis after curative hepatectomy for hepatocellular carcinoma: invasion to adjacent organs and rupture of tumor were crucial tumor-related prognostic factors needed for survival. Dig Surg. 2018;35:155–63.

15.

Sakamoto K, Ogawa K, Tohyama T, et al. Serosal invasion is a strong prognostic factor for hepatocellular carcinoma after hepatectomy. Hepatol Res. 2019;49:419–31.

16.

Yang SL, Liu LP, Yang S, et al. Preoperative serum α-fetoprotein and prognosis after hepatectomy for hepatocellular carcinoma. Br J Surg. 2016;103:716-24.

17.

Meguro M, Mizuguchi T, Nishidate T, et al. Prognostic roles of preoperative α-fetoprotein and des-γ-carboxy prothrombin in hepatocellular carcinoma patients. World J Gastroenterol. 2015;21(28):4933–45.

18.

Han JH, Kim DG, Na GH, et al. Evaluation of prognostic factors on recurrence after curative resections for hepatocellular carcinoma. World J Gastroenterol. 2014;20:17132–40.

19.

Chang YJ, Chung KP, Chang YJ, Chen LJ. Long-term survival of patients undergoing liver resection for very large hepatocellular carcinomas. Br J Surg. 2016;103:1513–20.

20.

Orimo T, Ojima H, Hiraoka N, Saito S, Kosuge T, Kakisaka T, Yokoo H, Nakanishi K, Kamiyama T, Todo S, Hirohashi S, Kondo T. Proteomic profiling reveals the prognostic value of adenomatous polyposis coli-end-binding protein 1 in hepatocellular carcinoma. Hepatology. 2008;48:1851–63.

21.

Shen J, Liu J, Li C, Wen T, Yan L, Yang J. The impact of tumor differentiation on the prognosis of HBV-associated solitary hepatocellular carcinoma following hepatectomy: a propensity score matching analysis. Dig Dis Sci. 2018;63:1962–9.

22.

Bruix J, Sherman M. Management of hepatocellular carcinoma. Hepatology. 2005;42:1208–36.

23.

Minagawa M, Makuuchi M, Takayama T, Ohtomo K. Selection criteria for hepatectomy in patients with hepatocellular carcinoma and portal vein tumor thrombus. Ann Surg. 2001;233:379–84.

24.

Kamiyama T, Nakanishi K, Yokoo H, et al. Efficacy of preoperative radiotherapy to portal vein tumor thrombus in the main trunk or first branch in patients with hepatocellular carcinoma. Int J Clin Oncol. 2007;12:363–8.

25.

Inoue Y, Hasegawa K, Ishizawa T, et al. Is there any difference in survival according to the portal tumor thrombectomy method in patients with hepatocellular carcinoma? Surgery. 2009;145:9–19.

26.

Kokudo T, Hasegawa K, Yamamoto S, et al. Surgical treatment of hepatocellular carcinoma associated with hepatic vein tumor thrombosis. J Hepatol. 2014;61:583–8.

27.

Poon RT, Fan ST, Wong J. Selection criteria for hepatic resection in patients with large hepatocellular carcinoma larger than 10 cm in diameter. J Am Coll Surg. 2002;194:592–602.

28.

Matsukuma S, Sato K. Peritoneal seeding of hepatocellular carcinoma: clinicopathological characteristics of 17 autopsy cases. Pathol Int. 2011;61:356–62.

29.

Xia F, Poon RT, Fan ST, Wong J. Thoracoabdominal approach for right-sided hepatic resection for hepatocellular carcinoma. J Am Coll Surg. 2003;196:418–27.

30.

Bruix J, Takayama T, Mazzaferro V, et al. Adjuvant sorafenib for hepatocellular carcinoma after resection or ablation (STORM): a phase 3, randomised, double-blind, placebo-controlled trial. Lancet Oncol. 2015;16:1344–54.
Ethics declarations
DISCLOSURES
The authors declare no competing interests.
Additional information
Publisher's Note
Springer Nature remains neutral with regard to jurisdictional claims in published maps and institutional affiliations.
About this article
Cite this article
Orimo, T., Kamiyama, T., Wakayama, K. et al. Hepatectomy Combined with Diaphragmatic Resection for Hepatocellular Carcinoma with Diaphragmatic Involvement: A Propensity Score-Matched Analysis. Ann Surg Oncol 27, 4153–4163 (2020). https://doi.org/10.1245/s10434-020-08754-6
Received:

Published:

Issue Date: