Abstract
Background
Synchronous prostate cancer (PC) and rectal cancer (RC) is a rare clinical situation. While combining curative-intent management for both cancers can be challenging, available data for guiding the multidisciplinary strategy are lacking.
Methods
Consecutive patients undergoing rectal resection for a mid-low RC with synchronous PC treated at 9 tertiary-care centers between 2008 and 2018 were included. Management strategy and data on postoperative and long-term outcomes were retrospectively analyzed.
Results
Overall, 25 patients underwent curative-intent RC resection combined with PC management. Nine (36%), 10 (40%) and 6 (24%) patients had low-, intermediate-, and high-risk PC, respectively. Management mostly consisted of chemoradiotherapy combined in 18 patients (72%) with either TME in 12 patients or pelvic exenteration for resection of both cancers in 6 patients. Most patients underwent RC resection using a laparoscopic approach (n = 16, 64%). Anastomosis was performed in 18 patients (72%) of whom 13 received diverting ileostomy. The complete R0 resection rate was 96% (n = 24). The overall morbidity rate was 64% (n = 16) and 5 patients (20%) experienced severe surgical morbidity of which two died within 90 days of surgery after pelvic exenteration. Among patients with anastomosis, 2 patients (11%) experienced anastomotic leak requiring surgical management. After a median follow-up of 31.2 months, 3-year OS and RFS were 80.2% (CI 95% 58.8–92.2) and 68.6% (CI 95% 42.3–84.8), respectively.
Conclusions
This series is the largest to report that simultaneous curative-intent management of synchronous PC and RC is feasible and safe. Pelvic exenteration might be a better option when RC complete resection seems not achievable through TME.
This is a preview of subscription content, log in to check access.
Access options
Buy single article
Instant access to the full article PDF.
US$ 39.95
Price includes VAT for USA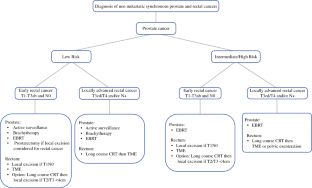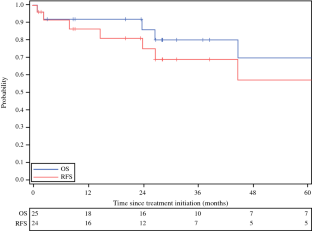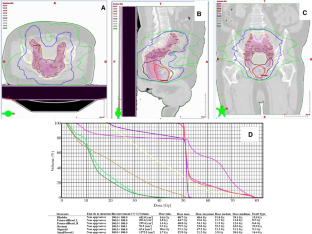 References
1.

Nash GF, Turner KJ, Hickish T, Smith J, Chand M, Moran BJ. Interactions in the aetiology, presentation and management of synchronous and metachronous adenocarcinoma of the prostate and rectum. Ann R Coll Surg Engl. 2012;94(7):456–62. https://doi.org/10.1308/003588412x13373405384611.

2.

NICE Guideline Updates Team (UK). Prostate cancer: diagnosis and management. London: National Institute for Health and Care Excellence (UK); 2019. http://www.ncbi.nlm.nih.gov/books/NBK544759/. Accessed 14 Oct 2019.

3.

Lakkis Z, Manceau G, Bridoux V, et al. Management of rectal cancer: the 2016 French guidelines. Colorectal Dis. 2017;19(2):115–22. https://doi.org/10.1111/codi.13550.

4.

Lavan NA, Kavanagh DO, Martin J, et al. The curative management of synchronous rectal and prostate cancer. Br J Radiol. 2016;89(1057):20150292. https://doi.org/10.1259/bjr.20150292.

5.

Dindo D, Demartines N, Clavien P-A. Classification of surgical complications: a new proposal with evaluation in a cohort of 6336 patients and results of a survey. Ann Surg. 2004;240(2):205–13.

6.

D'Amico AV, Whittington R, Malkowicz SB, et al. Biochemical outcome after radical prostatectomy, external beam radiation therapy, or interstitial radiation therapy for clinically localized prostate cancer. JAMA. 1998;280(11):969–74. https://doi.org/10.1001/jama.280.11.969.

7.

Bosset J-F, Collette L, Calais G, et al. Chemotherapy with preoperative radiotherapy in rectal cancer. N Engl J Med. 2006;355(11):1114–23. https://doi.org/10.1056/nejmoa060829.

8.

von Elm E, Altman DG, Egger M, et al. The Strengthening the Reporting of Observational Studies in Epidemiology (STROBE) statement: guidelines for reporting observational studies. Lancet. 2007;370(9596):1453–57. https://doi.org/10.1016/s0140-6736(07)61602-x.

9.

Lakkis Z, Vernerey D, Mege D, et al. Morbidity and oncological outcomes of rectal cancer impaired by previous prostate malignancy. Br J Surg. 2019;106(8):1087–98. https://doi.org/10.1002/bjs.11176.

10.

Peacock O, Waters PS, Kong JC, et al. Complications after extended radical resections for locally advanced and recurrent pelvic malignancies: a 25-year experience. Ann Surg Oncol. 2019. https://doi.org/10.1245/s10434-019-07816-8.

11.

Venchiarutti RL, Solomon MJ, Koh CE, Young JM, Steffens D. Pushing the boundaries of pelvic exenteration by maintaining survival at the cost of morbidity. Br J Surg. 2019;106(10):1393–403. https://doi.org/10.1002/bjs.11203.

12.

Harris VA, Staffurth J, Naismith O, et al. Consensus guidelines and contouring atlas for pelvic node delineation in prostate and pelvic node intensity modulated radiation therapy. Int J Radiat Oncol Biol Phys. 2015;92(4):874–83. https://doi.org/10.1016/j.ijrobp.2015.03.021.

13.

Valentini V, Gambacorta MA, Barbaro B, et al. International consensus guidelines on clinical target volume delineation in rectal cancer. Radiother Oncol. 2016;120(2):195–201. https://doi.org/10.1016/j.radonc.2016.07.017.

14.

De Bari B, Daidone A, Alongi F. Is high dose rate brachytherapy reliable and effective treatment for prostate cancer patients? A review of the literature. Crit Rev Oncol Hematol. 2015;94(3):360–70. https://doi.org/10.1016/j.critrevonc.2015.02.003.

15.

Morris WJ, Tyldesley S, Rodda S, et al. Androgen Suppression Combined with Elective Nodal and Dose Escalated Radiation Therapy (the ASCENDE-RT Trial): an analysis of survival endpoints for a randomized trial comparing a low-dose-rate brachytherapy boost to a dose-escalated external beam boost for high- and intermediate-risk prostate cancer. Int J Radiat Oncol Biol Phys. 2017;98(2):275–85. https://doi.org/10.1016/j.ijrobp.2016.11.026.

16.

Rullier E, Rouanet P, Tuech J-J, et al. Organ preservation for rectal cancer (GRECCAR 2): a prospective, randomised, open-label, multicentre, phase 3 trial. Lancet. 2017;390(10093):469–79. https://doi.org/10.1016/s0140-6736(17)31056-5.

17.

Rullier E, Vendrely V, Asselineau J, et al. Organ preservation with chemoradiotherapy plus local excision for rectal cancer: 5-year results of the GRECCAR 2 randomised trial. Lancet Gastroenterol Hepatol. 2020;5(5):465–74. https://doi.org/10.1016/s2468-1253(19)30410-8.

18.

Lam TBL, MacLennan S, Willemse PPM, et al. EAU-EANM-ESTRO-ESUR-SIOG prostate cancer guideline panel consensus statements for deferred treatment with curative intent for localised prostate cancer from an international collaborative study (DETECTIVE study). Eur Urol. 2019. https://doi.org/10.1016/j.eururo.2019.09.020.

19.

Kavanagh DO, Quinlan DM, Armstrong JG, Hyland JMP, O'Connell PR, Winter DC. Management of synchronous rectal and prostate cancer. Int J Colorectal Dis. 2012;27(11):1501–08. https://doi.org/10.1007/s00384-012-1465-z.
Acknowledgment
The authors thank Mr Paul Petit (medical dosimetrist) for his technical support.
Ethics declarations
Disclosure
The authors declare that they do not have anything to disclose regarding funding or conflict of interest relating to this publication.
Additional information
Publisher's Note
Springer Nature remains neutral with regard to jurisdictional claims in published maps and institutional affiliations.
About this article
Cite this article
Doussot, A., Vernerey, D., Rullier, E. et al. Surgical Management and Outcomes of Rectal Cancer with Synchronous Prostate Cancer: A Multicenter Experience from the GRECCAR Group. Ann Surg Oncol 27, 4286–4293 (2020). https://doi.org/10.1245/s10434-020-08683-4
Received:

Published:

Issue Date: