Abstract
Purpose
We retrospectively investigated the risk factors for mediastinal lymph node (MLN) metastasis in esophagogastric junction (EGJ) cancer with an epicenter within 2 cm above and below the anatomical cardia, including both adenocarcinoma (AC) and squamous cell carcinoma (SCC).
Methods
Fifty patients who underwent initial surgery for EGJ cancer from January 2002 to December 2013 were included in this study. We defined metastatic lymph nodes as pathological metastases in resected specimens and recurrence within 2 years postoperatively.
Results
Thirty-four patients had AC and 16 had SCC; 24 patients underwent transhiatal resection and 26 underwent transthoracic resection. MLN metastasis was observed in 13 patients (26%) regardless of the histological type, 9 of whom had metastasis in the upper and middle mediastinum. Metastasis occurred when the esophageal invasion length (EIL) exceeded 20 mm. In addition, 10/13 patients had stage pN2–3 cancer. Multivariable analysis identified EIL ≥ 20 mm and stage pN2–3 as significant risk factors for MLN metastasis. The 5-year overall survival was 38% and 65% in the MLN-positive and -negative groups, respectively (p = 0.12). Multivariable Cox regression analysis showed that only stage pN2–3, and not the presence of MLN metastasis, was a significantly poor prognostic factor.
Conclusion
MLN metastasis in EGJ cancer may have a close association with the EIL of the tumor, but the presence of MLN metastasis itself was not a poor prognostic factor. The significance and indications for MLN dissection should be clarified in prospective clinical trials.
This is a preview of subscription content, log in to check access.
Access options
Buy single article
Instant access to the full article PDF.
US$ 39.95
Price includes VAT for USA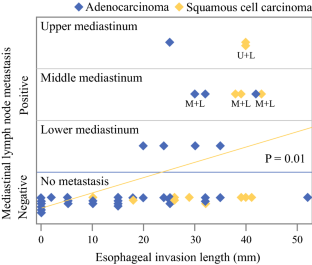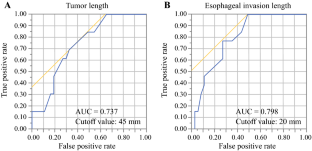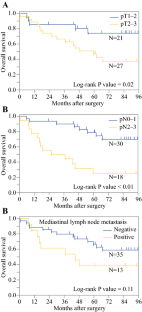 References
1.

DeMeester SR. Adenocarcinoma of the esophagus and cardia: a review of the disease and its treatment. Ann Surg Oncol. 2006;13:12–30.

2.

Dubecz A, Solymosi N, Stadlhuber RJ, et al. Does the incidence of adenocarcinoma of the esophagus and gastric cardia continue to rise in the twenty-first century? A SEER database analysis. J Gastrointest Surg. 2013;18:124–9.

3.

Siewert JR, Stein HJ. Classification of adenocarcinoma of the oesophagogastric junction. Br J Surg. 1998;85:1457–9.

4.

Omloo JM, Lagarde SM, Hulscher JB, et al. Extended transthoracic resection compared with limited transhiatal resection for adenocarcinoma of the mid/distal esophagus: five-year survival of a randomized clinical trial. Ann Surg. 2007;246:992–1000.

5.

Giacopuzzi S, Bencivenga M, Weindelmayer J, et al. Western strategy for EGJ carcinoma. Gastric Cancer. 2017;20:60–8.

6.

Heger P, Blank S, Goossen K, et al. Thoracoabdominal versus transhiatal surgical approaches for adenocarcinoma of the esophagogastric junction: a systematic review and meta-analysis. Langenbecks Arch Surg. 2019;404:103–13.

7.

Deans C, Yeo MS, Soe MY, et al. Cancer of the gastric cardia is rising in incidence in an Asian population and is associated with adverse outcome. World J Surg. 2011;35:617–24.

8.

Yamashita H, Seto Y, Sano T, et al. Results of a nation-wide retrospective study of lymphadenectomy for esophagogastric junction carcinoma. Gastric Cancer. 2017;20:69–83.

9.

Japanese Classification of Esophageal Cancer, 11th edition: part II and III. Esophagus. 2017;14:37–65.

10.

Rice TW, Blackstone EH, Rusch VW. 7th edition of the AJCC cancer staging manual: esophagus and esophagogastric junction. Ann Surg Oncol. 2010;17:1721–4.

11.

Sasako M, Sano T, Yamamoto S, et al. Left thoracoabdominal approach versus abdominal-transhiatal approach for gastric cancer of the cardia or subcardia: a randomised controlled trial. Lancet Oncol. 2006;7:644–51.

12.

Steup WH, De Leyn P, Deneffe G et al. Tumors of the esophagogastric junction. Long-term survival in relation to the pattern of lymph node metastasis and a critical analysis of the accuracy or inaccuracy of pTNM classification. J Thorac Cardiovasc Surg. 1996;111:85–94; discussion 94–85.

13.

Lagarde SM, Cense HA, Hulscher JB, et al. Prospective analysis of patients with adenocarcinoma of the gastric cardia and lymph node metastasis in the proximal field of the chest. Br J Surg. 2005;92:1404–8.

14.

Kurokawa Y, Hiki N, Yoshikawa T, et al. Mediastinal lymph node metastasis and recurrence in adenocarcinoma of the esophagogastric junction. Surgery. 2015;157:551–5.

15.

Rudiger Siewert J, Feith M, Werner M, et al. Adenocarcinoma of the esophagogastric junction: results of surgical therapy based on anatomical/topographic classification in 1,002 consecutive patients. Ann Surg. 2000;232:353–61.

16.

Voron T, Gronnier C, Pasquer A, et al. Adenocarcinoma of the oesophagogastric junction Siewert II: an oesophageal cancer better cured with total gastrectomy. Eur J Surg Oncol. 2019;45(12):2473–81.

17.

Reddavid R, Strignano P, Sofia S, et al. Transhiatal distal esophagectomy for Siewert type II cardia cancer can be a treatment option in selected patients. Eur J Surg Oncol. 2019;45:1943–9.

18.

Shapiro J, van Lanschot JJ, Hulshof MC, et al. Neoadjuvant chemoradiotherapy plus surgery versus surgery alone for oesophageal or junctional cancer (CROSS): long-term results of a randomised controlled trial. Lancet Oncol. 2015;16:1090–8.

19.

Al-Batran SE, Homann N, Pauligk C, et al. Perioperative chemotherapy with fluorouracil plus leucovorin, oxaliplatin, and docetaxel versus fluorouracil or capecitabine plus cisplatin and epirubicin for locally advanced, resectable gastric or gastro-oesophageal junction adenocarcinoma (FLOT4): a randomised, phase 2/3 trial. Lancet. 2019;393:1948–57.

20.

Parry K, van Rossum PS, Haj Mohammad N, et al. The effect of perioperative chemotherapy for patients with an adenocarcinoma of the gastroesophageal junction: a propensity score matched analysis. Eur J Surg Oncol. 2017;43:226–33.

21.

Hosokawa Y, Kinoshita T, Konishi M, et al. Clinicopathological features and prognostic factors of adenocarcinoma of the esophagogastric junction according to Siewert classification: experiences at a single institution in Japan. Ann Surg Oncol. 2012;19:677–83.

22.

Kurokawa Y, Takeuchi H, Doki Y, et al. Mapping of lymph node metastasis from esophagogastric junction tumors: a prospective nationwide multicenter study. Ann Surg. 2019. https://doi.org/10.1097/sla.0000000000003499

23.

Mine S, Watanabe M, Kumagai K, et al. Comparison of mediastinal lymph node metastases from adenocarcinoma of the esophagogastric junction versus lower esophageal squamous cell carcinoma with involvement of the esophagogastric junction. Dis Esophagus. 2019;32(11):doz002.

24.

Barbour AP, Rizk NP, Gonen M, et al. Adenocarcinoma of the gastroesophageal junction: influence of esophageal resection margin and operative approach on outcome. Ann Surg. 2007;246:1–8.

25.

Parry K, Haverkamp L, Bruijnen RC, et al. Surgical treatment of adenocarcinomas of the gastro-esophageal junction. Ann Surg Oncol. 2015;22:597–603.

26.

Tosolini C, Reim D, Schirren R, et al. Influence of the surgical technique on survival in the treatment of carcinomas of the true cardia (Siewert Type II): right thoracoabdominal vs. transhiatal-abdominal approach. Eur J Surg Oncol. 2019;45:416–24.
Acknowledgments
The authors thank Jane Charbonneau, DVM, from Edanz Group for editing a draft of this manuscript.
Funding
No funding was received for this study.
Ethics declarations
Disclosures
Osamu Shiraishi, Hiroaki Kato, Mitsuru Iwama, Yoko Hiraki, Atsushi Yasuda, Masayuki Shinkai, Yutaka Kimura, Motohiro Imano, and Takushi Yasuda have no conflicts of interest or financial ties to disclose.
Additional information
Publisher's Note
Springer Nature remains neutral with regard to jurisdictional claims in published maps and institutional affiliations.
About this article
Cite this article
Shiraishi, O., Yasuda, T., Kato, H. et al. Risk Factors and Prognostic Impact of Mediastinal Lymph Node Metastases in Patients with Esophagogastric Junction Cancer. Ann Surg Oncol 27, 4433–4440 (2020). https://doi.org/10.1245/s10434-020-08579-3
Received:

Published:

Issue Date: