Abstract
Background
Laparoscopic hepatectomy has gained popularity in the management of malignant liver lesions in the past decade. Its safety and feasibility, with faster recovery and comparable long-term outcomes, have been widely published. Nonetheless, laparoscopic isolated caudate lobectomy is still rare and technically demanding. We herein present a video on laparoscopic total caudate lobectomy for caudate cholangiocarcinoma.
Methods
The patient is a 61-year-old man who presented with epigastric distending discomfort. A contrast-enhanced magnetic resonance imaging was performed, showing a 4.6 × 3.9 cm tumor in the caudate lobe adjacent to the inferior vena cava, middle hepatic vein, right hepatic vein, as well as the bifurcation of the main trunk of the portal pedicle. The carbohydrate antigen was elevated to 54.58 U/ml (normal < 37 U/ml), and his liver function was normal. With the preoperative diagnosis of intrahepatic cholangiocarcinoma, laparoscopic caudate lobectomy was contemplated.
Results
The operative time was 300 min. The estimated intraoperative blood loss was 180 ml. The patient was discharged on the seventh postoperative day without any complications. Histopathological examination showed a 4.2 cm cholangiocarcinoma (T2N0M0) with a negative margin. He received a course of adjuvant chemotherapy. No recurrence was noted upon follow-up at 6 months after the operation.
Conclusions
Laparoscopic resection for caudate lobe is a feasible and safe procedure. An experienced hepatobiliary surgeon could perform the procedure in selected cases, even with hepatic vein invasion.
This is a preview of subscription content, log in to check access.
Access options
Buy single article
Instant access to the full article PDF.
US$ 39.95
Price includes VAT for USA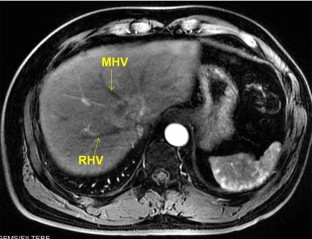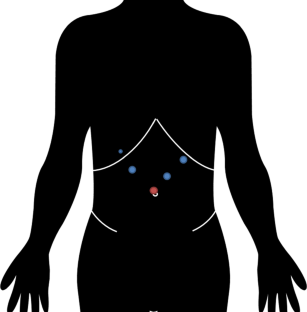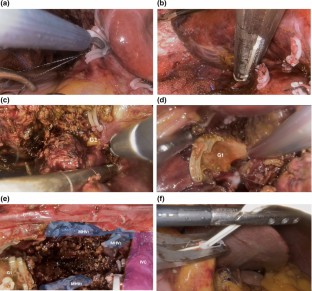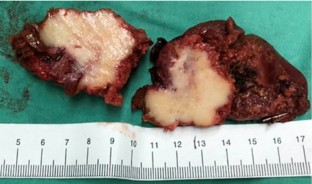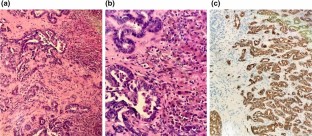 References
1.

Han HS, Shehta A, Ahn S, Yoon YS, Cho JY, Choi Y. Laparoscopic versus open liver resection for hepatocellular carcinoma: Case-matched study with propensity score matching. J Hepatol. 2015;63:643–650.

2.

Yoon YI, Kim KH, Cho HD, Kwon JH, Jung DH, Park GC, Song GW, et al. Long-term perioperative outcomes of pure laparoscopic liver resection versus open liver resection for hepatocellular carcinoma: a retrospective study. Surg Endosc. 2020;34:796–805.

3.

Untereiner X, Cagniet A, Memeo R, Cherkaoui Z, Piardi T, Severac F, Mutter D, et al. Laparoscopic hepatectomy versus open hepatectomy for the management of hepatocellular carcinoma: A comparative study using a propensity score matching. World J Surg. 2019;43:615–625.

4.

Cheung TT, Poon RT, Yuen WK, Chok KS, Jenkins CR, Chan SC, Fan ST, et al. Long-term survival analysis of pure laparoscopic versus open hepatectomy for hepatocellular carcinoma in patients with cirrhosis: a single-center experience. Ann Surg. 2013;257:506–511.

5.

Wakabayashi G, Cherqui D, Geller DA, Buell JF, Kaneko H, Han HS, Asbun H, et al. Recommendations for laparoscopic liver resection: a report from the second international consensus conference held in Morioka. Ann Surg. 2015;261:619–629.

6.

Ban D, Tanabe M, Ito H, Otsuka Y, Nitta H, Abe Y, Hasegawa Y, et al. A novel difficulty scoring system for laparoscopic liver resection. J Hepatobiliary Pancreat Sci. 2014;21:745–753.

7.

Oh D, Kwon CH, Na BG, Lee KW, Cho WT, Lee SH, Choi JY, et al. Surgical techniques for totally laparoscopic caudate lobectomy. J Laparoendosc Adv Surg Tech A. 2016;26:689–692.

8.

Ho KM, Han HS, Yoon YS, Cho JY, Choi YR, Jang JS, Kwon SU, et al. Laparoscopic total caudate lobectomy for hepatocellular carcinoma. J Laparoendosc Adv Surg Tech A. 2017;27:1074–1078.

9.

Kumon M. Anatomical study of the caudate lobe with special reference to portal venous and biliary branches using corrosion liver casts and clinical application. Liver Cancer. 2017;6:161–170.

10.

Lee AJ, Chun YS. Intrahepatic cholangiocarcinoma: the AJCC/UICC 8th edition updates. Chin Clin Oncol. 2018;7:52.

11.

Soubrane O, Schwarz L, Cauchy F, Perotto LO, Brustia R, Bernard D, Scatton O. A conceptual technique for laparoscopic right hepatectomy based on facts and oncologic principles: The caudal approach. Ann Surg. 2015;261:1226–1231.

12.

Kawaguchi D, Hiroshima Y, Matsuo K, Endo I, Koda K, Tanaka K. Parenchymal congestion is important for rapid regeneration of the future liver remnant following the ALPPS procedure. Anticancer Res. 2016;36:4731–4738.

13.

Uda Y, Hirano T, Son G, Iimuro Y, Uyama N, Yamanaka J, Mori A, et al. Angiogenesis is crucial for liver regeneration after partial hepatectomy. Surgery. 2013;153:70–77.
Funding
Funding was provided by National Key Technologies R&D Program (Grant No. 2018YFC1106800), the Natural Science Foundation of China (Grant Nos. 81672882, 81700555, 81770615, 81800564, 81872004 and 81972747), the Science and Technology Program of Tibet Autonomous Region (Grant No. XZ201801-GB-02), the Science and Technology Support Program of Sichuan Province (Grant Nos. 2017SZ0003, 2018SZ0115, 2019YFQ0001) and the 1.3.5 project for disciplines of excellence, West China Hospital, Sichuan University (Grant No. ZYJC18008).
Ethics declarations
Disclosures
The authors declare no conflicts of interest.
Additional information
Publisher's Note
Springer Nature remains neutral with regard to jurisdictional claims in published maps and institutional affiliations.
Electronic supplementary material
Below is the link to the electronic supplementary material.
Supplementary file1 (MP4 137295 kb)
About this article
Cite this article
Wan, H., Xie, K., Li, J. et al. Laparoscopic Caudate Lobectomy for Cholangiocarcinoma of Caudate Lobe Invading Middle Hepatic Vein. Ann Surg Oncol 27, 4181–4185 (2020). https://doi.org/10.1245/s10434-020-08577-5
Received:

Published:

Issue Date: