Abstract
Background
Therapeutic reduction mammoplasty (TRM) is a safe and effective surgical technique that has oncologic outcomes comparable with those achieved by mastectomy. This study aimed to compare surgical and patient-reported outcomes between breast cancer patients treated with TRM and those who had mastectomy with immediate reconstruction (MIR).
Methods
A 4-year, single-institution, retrospective cohort study analyzed breast cancer patients undergoing TRM and MIR. Patient characteristics and perioperative data were collected from electronic records. Patient-reported outcome data were collected via BREAST-Q questionnaires preoperatively, then 3 months and 12 months postoperatively. A subgroup analysis was performed on locally advanced breast cancer (LABC) patients for TRM and MIR.
Results
The study included 249 breast reconstructions, of which 77 (31%) were TRM and 172 (69%) were MIR. The mean follow-up time was 2.4 ± 1.2 years. Compared with MIR, TRM had significantly lower major complication rates (9% vs 21%; p = 0.02) and fewer revisionary surgeries (5% vs 37%; p < 0.0001). At 1 year postoperatively, TRM had a significantly greater change in satisfaction with breasts, (+ 27.7 vs + 4.6; p < 0.01) and sexual well-being (+ 20.0 vs – 5.5; p = 0.02) than MIR.
Conclusion
For select breast cancer patients, TRM continues to be a safe and effective alternative to mastectomy. The current study demonstrated that TRM patients had fewer major complications and revisionary surgeries, as well as better patient-reported outcomes than MIR.
This is a preview of subscription content, log in to check access.
Access options
Buy single article
Instant access to the full article PDF.
US$ 39.95
Price includes VAT for USA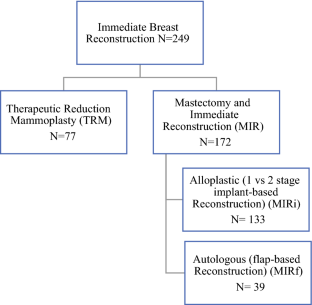 References
1.

https://www.breastcancer.org/symptoms/understand_bc/statistics. Accessed Aug 2019.

2.

Ferlay J, Colombet M, Soerjomataram I, et al. Estimating the global cancer incidence and mortality in 2018: GLOBOCAN sources and methods. Int J Cancer. 2019;144:1941–53.

3.

Rowland JH, Desmond KA, Meyerowitz BE, Belin TR, Wyatt GE, Ganz PA. Role of breast reconstructive surgery in physical and emotional outcomes among breast cancer survivors. J Natl Cancer Inst. 2000;92:1422–9.

4.

Dean C, Chetty U, Forrest AP. Effects of immediate breast reconstruction on psychosocial morbidity after mastectomy. Lancet. 1983;1:459–62.

5.

Fernández-Delgado J, López-Pedraza MJ, Blasco JA, et al. Satisfaction with and psychological impact of immediate and deferred breast reconstruction. Ann Oncol. 2008;19:1430–4.

6.

Wilkins EG, Cederna PS, Lowery JC, et al. Prospective analysis of psychosocial outcomes in breast reconstruction: one-year postoperative results from the Michigan Breast Reconstruction Outcome Study. Plast Reconstr Surg. 2000;106:1014–25; discussion 1026–1017.

7.

Corsten LA, Suduikis SV, Donegan WL. Patient satisfaction with breast reconstruction. Wis Med J. 1992;91:125–26, 129.

8.

Dutra AK, Neto MS, Garcia EB, et al. Patients' satisfaction with immediate breast reconstruction with a latissimus dorsi musculocutaneous flap. J Plast Surg Hand Surg. 2012;46:349–53.

9.

Veiga DF, Sabino Neto M, Ferreira LM, et al. Quality-of-life outcomes after pedicled TRAM flap delayed breast reconstruction. Br J Plast Surg. 2004;57:252–7.

10.

Rubino C, Figus A, Lorettu L, Sechi G. Post-mastectomy reconstruction: a comparative analysis on psychosocial and psychopathological outcomes. J Plast Reconstr Aesthet Surg. 2007;60:509–18.

11.

Al-Ghazal SK, Fallowfield L, Blamey RW. Comparison of psychological aspects and patient satisfaction following breast-conserving surgery, simple mastectomy and breast reconstruction. Eur J Cancer. 2000;36:1938–43.

12.

Piper ML, Esserman LJ, Sbitany H, Peled AW. Outcomes following oncoplastic reduction mammoplasty: a systematic review. Ann Plast Surg. 2016;76: S222–S226.

13.

Losken A, Dugal CS, Styblo TM, et al. A meta-analysis comparing breast conservation therapy alone to the oncoplastic technique. Ann Plast Surg. 2014;72:145–9.

14.

Newman LA, Kuerer HM, Hunt KK, et al. Feasibility of immediate breast reconstruction for locally advanced breast cancer. Ann Surg Oncol. 1999;6:671–5.

15.

Foster RD, Esserman LJ, Anthony JP, Hwang ES, Do H. Skin-sparing mastectomy and immediate breast reconstruction: a prospective cohort study for the treatment of advanced stages of breast carcinoma. Ann Surg Oncol. 2002;9:462–6.

16.

Kronowitz SJ, Lam C, Terefe W, et al. A multidisciplinary protocol for planned skin-preserving delayed breast reconstruction for patients with locally advanced breast cancer requiring postmastectomy radiation therapy: 3-year follow-up. Plast Reconstr Surg. 2011;127:2154–66.

17.

Lim W, Ko BS, Kim HJ, et al. Oncological safety of skin-sparing mastectomy followed by immediate reconstruction for locally advanced breast cancer. J Surg Oncol. 2010;102:39–42.

18.

Veronesi U, Cascinelli N, Mariani L, et al. Twenty-year follow-up of a randomized study comparing breast-conserving surgery with radical mastectomy for early breast cancer. N Engl J Med. 2002;347:1227–32.

19.

Fisher B, Anderson S, Bryant J, et al. Twenty-year follow-up of a randomized trial comparing total mastectomy, lumpectomy, and lumpectomy plus irradiation for the treatment of invasive breast cancer. N Engl J Med. 2002;347:1233–41.

20.

Carrara GF, Scapulatempo-Neto C, Abrahão-Machado LF, Brentani MM, Nunes JS, Folgueira MA, Vieira RA. Breast-conserving surgery in locally advanced breast cancer submitted to neoadjuvant chemotherapy: safety and effectiveness based on ipsilateral breast tumor recurrence and long-term follow-up. Clinics Sao Paulo. 2017;72(3):134–42.

21.

Pusic AL, Klassen AF, Scott AM, Klok JA, Cordeiro PG, Cano SJ. Development of a new patient-reported outcome measure for breast surgery: the BREAST-Q. Plast Reconstr Surg. 2009;124:345–53.

22.

Liu LQ, Branford OA, Mehigan S. BREAST-Q measurement of the patient perspective in oncoplastic breast surgery: a systematic review. Plast Reconstr Surg Glob Open. 2018;6:e1904.

23.

Chen CM, Cano SJ, Klassen AF, et al. Measuring quality of life in oncologic breast surgery: a systematic review of patient-reported outcome measures. Breast J. 2010;16:587–97.

24.

Audretsch W. Reconstruction of the partial mastectomy defect: classification and method. In: Surgery of the Breast: Principles and Art. Lippincott Williams & Wilkins, Philadelphia, 2006, pp 179–216.

25.

Vieira RA, Carrara GF, Scapulatempo Neto C, Morini MA, Brentani MM, Folgueira MA. The role of oncoplastic breast-conserving treatment for locally advanced breast tumors: a matching case-control study. Ann Med Surg London. 2016;10:61–8.

26.

Rose M, Manjer J, Ringberg A, Svensson H. Surgical strategy, methods of reconstruction, surgical margins, and postoperative complications in oncoplastic breast surgery. Eur J Plast Surg. 2014;37:205–14.

27.

Lee J, Jung JH, Kim WW, et al. Oncologic outcomes of volume replacement technique after partial mastectomy for breast cancer: a single-center analysis. Surg Oncol. 2015;24:35–40.

28.

Darby S, McGale P, Correa C, et al. Effect of radiotherapy after breast-conserving surgery on 10-year recurrence and 15-year breast cancer death: meta-analysis of individual patient data for 10,801 women in 17 randomised trials. Lancet. 2011;378:1707–16.

29.

Zumsteg ZS, Morrow M, Arnold B, et al. Breast-conserving therapy achieves locoregional outcomes comparable to mastectomy in women with T1-2N0 triple-negative breast cancer. Ann Surg Oncol. 2013;20:3469–76.

30.

Anderson SJ, Wapnir I, Dignam JJ, et al. Prognosis after ipsilateral breast tumor recurrence and locoregional recurrences in patients treated by breast-conserving therapy in five National Surgical Adjuvant Breast and Bowel Project protocols of node-negative breast cancer. J Clin Oncol. 2009;27:2466–73.

31.

Bartelink H, Horiot JC, Poortmans PM, et al. Impact of a higher radiation dose on local control and survival in breast-conserving therapy of early breast cancer: 10-year results of the randomized boost versus no boost EORTC 22881-10882 trial. J Clin Oncol. 2007;25:3259–65.

32.

De La Cruz L, Blankenship SA, Chatterjee A, et al. Outcomes after oncoplastic breast-conserving surgery in breast cancer patients: a systematic literature review. Ann Surg Oncol. 2016;23:3247–58.

33.

Blichert-Toft M, Nielsen M, Düring M, et al. Long-term results of breast-conserving surgery vs mastectomy for early-stage invasive breast cancer: 20-year follow-up of the Danish randomized DBCG-82TM protocol. Acta Oncol. 2008;47:672–81.

34.

Tong WM, Baumann DP, Villa MT, et al. Obese women experience fewer complications after oncoplastic breast repair following partial mastectomy than after immediate total breast reconstruction. Plast Reconstr Surg. 2016;137:777–91.

35.

Losken A, Pinell XA, Eskenazi BR. The benefits of partial versus total breast reconstruction for women with macromastia. Plast Reconstr Surg. 2010;125:1051–6.

36.

Peled AW, Sbitany H, Foster RD, Esserman LJ. Oncoplastic mammoplasty as a strategy for reducing reconstructive complications associated with postmastectomy radiation therapy. Breast J. 2014;20:302–7.

37.

Kelsall JE, McCulley SJ, Brock L, Akerlund MT, Macmillan RD. Comparing oncoplastic breast-conserving surgery with mastectomy and immediate breast reconstruction: case-matched patient-reported outcomes. J Plast Reconstr Aesth Surg. 2017;70:1377–85.

38.

Hart AM, Pinell-White X, Egro FM, Losken A. The psychosexual impact of partial and total breast reconstruction: a prospective one-year longitudinal study. Ann Plast Surg. 2015;75:281–6.

39.

Retrouvey H, Kerrebijn I, Metcalfe KA, et al. Psychosocial functioning in women with early breast cancer treated with breast surgery with or without immediate breast reconstruction. Ann Surg Oncol. 2019:1–8.

40.

Howes BH, Watson DI, Xu C, Fosh B, Canepa M, Dean NR. Quality of life following total mastectomy with and without reconstruction versus breast-conserving surgery for breast cancer: a case-controlled cohort study. J Plast Reconstr Aesth Surg. 2016;69:1184–91.

41.

Atisha DM, Rushing CN, Samsa GP, et al. A national snapshot of satisfaction with breast cancer procedures. Ann Surg Oncol. 2015;22:361–9.
Ethics declarations
Disclosure
The authors declare tha they have no conflict of interest.
Additional information
Publisher's Note
Springer Nature remains neutral with regard to jurisdictional claims in published maps and institutional affiliations.
About this article
Cite this article
Stein, M.J., Karir, A., Arnaout, A. et al. Quality-of-Life and Surgical Outcomes for Breast Cancer Patients Treated with Therapeutic Reduction Mammoplasty Versus Mastectomy with Immediate Reconstruction. Ann Surg Oncol 27, 4502–4512 (2020). https://doi.org/10.1245/s10434-020-08574-8
Received:

Published:

Issue Date: