Abstract
Background
Hilar cholangiocarcinoma is the most common malignant neoplasm of the biliary tract. Surgical resection is the only curative modality of treatment. The aim of this video is to present a robotic left hepatectomy extended to caudate lobe, combined with bile duct resection, lymphadenectomy, and Roux-en-Y biliary reconstruction.
Methods
A 76-year-old female presented with progressive jaundice due to hilar cholangiocarcinoma. She underwent chemoradiation and after 5 months of treatment was referred for second opinion; imaging reevaluation showed objective response and no arterial invasion. Multidisciplinary team decided for radical treatment, which consisted in robotic left hepatectomy, caudate lobe resection, resection of bile duct, lymphadenectomy, and hepaticojejunostomy.
Results
Operative time was 8 h. Estimated blood loss was 740 mL (received 2 U). The patient's recovery was complicated by drainage clogging resulting in fever and perihepatic fluid collection, successfully treated by change of drainage. Pathology confirmed cholangiocarcinoma with free surgical margins (T1aN0). The patient is well, with no signs of disease 5 months after the procedure.
Conclusions
Robotic resection of hilar cholangiocarcinoma is feasible and safe. The robotic approach has some technical advantages over laparoscopic approach. This video may help oncological surgeons to perform this complex procedure.
This is a preview of subscription content, log in to check access.
Access options
Buy single article
Instant access to the full article PDF.
US$ 39.95
Price includes VAT for USA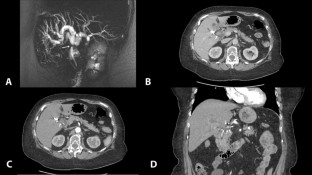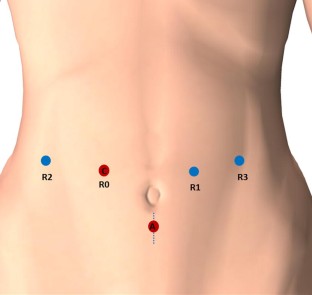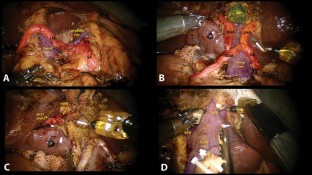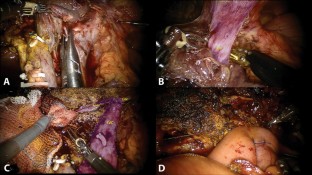 References
1.

Mansour JC, Aloia TA, Crane CH, et al. Hilar cholangiocarcinoma: expert consensus statement. HPB (Oxford). 2015;17:691–99.

2.

Poruk KE, Pawlik TM, Weiss MJ. Perioperative management of hilar cholangiocarcinoma. J Gastrointest Surg. 2015;19:1889–99.

3.

Ciria R, Cherqui D, Geller DA, et al. Comparative short-term benefits of laparoscopic liver resection: 9000 cases and climbing. Ann Surg. 2016;263:761–77

4.

Tsung A, Geller DA, Sukato DC, et al. Robotic versus laparoscopic hepatectomy: a matched comparison. Ann Surg. 2014;259:549–55.

5.

Wakabayashi G, Cherqui D, Geller DA, et al. Recommendations for laparoscopic liver resection: a report from the second international consensus conference held in Morioka. Ann Surg 2015;261:619–29.

6.

Liu R, Wakabayashi G, Kim H-J, et al. International consensus statement on robotic hepatectomy surgery in 2018. World J Gastroenterol 2019;25:1432–44.

7.

Shiraiwa DK, Carvalho PFDC, Maeda CT, et al. The role of minimally invasive hepatectomy for hilar and intrahepatic cholangiocarcinoma: A systematic review of the literature. J Surg Oncol 2020;121:863–72.

8.

Giulianotti PC, Sbrana F, Bianco FM, Addeo P. Robot-assisted laparoscopic extended right hepatectomy with biliary reconstruction. J Laparoendosc Adv Surg Technol A 2010;20:159–63.

9.

Machado MA, Makdissi FF, Surjan RC, Mochizuki M. Laparoscopic resection of hilar cholangiocarcinoma. J Laparoendosc Adv Surg Technol A. 2012;22:954–56.

10.

Machado MA, Makdissi FF, Surjan RC. Totally laparoscopic right hepatectomy with Roux-en-Y hepaticojejunostomy for right-sided intraductal papillary mucinous neoplasm of the bile duct. Ann Surg Oncol. 2014;21:1841–43.

11.

Hu HJ, Wu ZR, Jin YW, et al. Minimally invasive surgery for hilar cholangiocarcinoma: state of art and future perspectives. ANZ J Surg 2019;89:476–80.

12.

Xu Y, Wang H, Ji W, et al. Robotic radical resection for hilar cholangiocarcinoma: perioperative and long-term outcomes of an initial series. Surg Endosc 2016;30:3060–70.

13.

Liu QD, Chen JZ, Xu XY, et al. Incidence of port-site metastasis after undergoing robotic surgery for biliary malignancies. World J Gastroenterol 2012;18:5695–5701.

14.

Gumbs AA, Jarufe N, Gayet B. Minimally invasive approaches to extrapancreatic cholangiocarcinoma. Surg Endosc 2013;27:406–14.

15.

Li J, Tan X, Zhang X, et al. Robotic radical surgery for hilar cholangiocarcinoma: A single-centre case series. Int J Med Robot 2020;10:e2076. https://doi.org/10.1002/rcs.2076

16.

Machado MA, Surjan RC, Basseres T, Makdissi F. Robotic repeat right hepatectomy for recurrent colorectal liver metastasis. Ann Surg Oncol. 2019;26:292–95.

17.

Machado MA, Surjan RC, Ardengh AO, Makdissi F. Robotic left hepatectomy and Roux-en-Y hepaticojejunostomy after bile duct injury. Ann Surg Oncol. 2019;26:2981–84.

18.

Machado MAC, Surjan RC, Makdissi F. Robotic ALPPS. Ann Surg Oncol. 2020;27:1174–79.
Disclosures
The authors declare no conflicts of interest.
Additional information
Publisher's Note
Springer Nature remains neutral with regard to jurisdictional claims in published maps and institutional affiliations.
Electronic supplementary material
Below is the link to the electronic supplementary material.
Supplementary material 1 (MOV 290981 kb)
About this article
Cite this article
Machado, M.A., Mattos, B.V., Lobo Filho, M.M. et al. Robotic Resection of Hilar Cholangiocarcinoma. Ann Surg Oncol 27, 4166–4170 (2020). https://doi.org/10.1245/s10434-020-08514-6
Received:

Published:

Issue Date: