Abstract
Background
The Commission on Cancer recently released quality-of-care measures regarding adequate lymphadenectomy for colon, gastric, lung, and bladder cancer. There is currently little information regarding variation in adequate lymph node yield (ALNY) for gastric, lung, and bladder cancer.
Methods
The New York State Cancer Registry and Statewide Planning and Research Cooperative System were queried for stage I–III gastric, stage I–II lung, and stage II–III bladder cancer resections from 2004 to 2014. Hierarchical models assessed factors associated with ALNY (gastric ≥ 15; lung ≥ 10; bladder ≥ 2). Additionally, the proportions of variation attributable to surgeons, pathologists, and hospitals were estimated among Medicare patients.
Results
Among 3716 gastric, 18,328 lung, and 1512 bladder cancer resections, there were low rates of ALNY (gastric = 53%, lung = 36%, bladder = 67%). When comparing 2004–2006 and 2012–2014, there was significant improvement in ALNY for gastric cancer (39% vs. 68%), but more modest improvement for lung (33% vs. 38%) and bladder (65% vs. 71%) cancer. Large provider-level variation existed for each organ system. After controlling for patient-level factors/variation, the majority of variation was attributable to hospitals (gastric: surgeon = 4%, pathologist = 2.8%, hospital = 40%; lung: surgeon = 13.8%, pathologist = 1.5%, hospital = 18.3%) for gastric and lung cancer. For bladder cancer, most of the variation was attributable to pathologists (surgeon = 3.3%, pathologist = 10.5%, hospital = 6.2%).
Conclusions
ALNY rates are low for gastric, lung, and bladder cancer, with only modest improvement over time for lung and bladder cancer. Given that the proportion of variation attributable to the surgeon, pathologist, and hospital is different for each organ system, future quality improvement initiatives should target the underlying causes, which vary by individual organ system.
This is a preview of subscription content, log in to check access.
Access options
Buy single article
Instant access to the full article PDF.
US$ 39.95
Price includes VAT for USA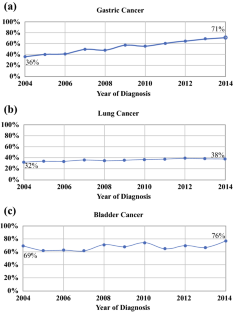 References
1.

Becerra AZ, Berho ME, Probst CP, et al. Variation in hospital-specific rates of suboptimal lymphadenectomy and survival in colon cancer: evidence from the National Cancer Data Base. Ann Surg Oncol. 2016;23 Suppl 5:674–83.

2.

Baxter NN, Tuttle TM. Inadequacy of lymph node staging in gastric cancer patients: a population-based study. Ann Surg Oncol. 2005;12(12):981–7.

3.

Schwarz RE, Smith DD. Clinical impact of lymphadenectomy extent in resectable gastric cancer of advanced stage. Ann Surg Oncol. 2007;14(2):317–28.

4.

Ludwig MS, Goodman M, Miller DL, Johnstone PA. Postoperative survival and the number of lymph nodes sampled during resection of node-negative non-small cell lung cancer. Chest. 2005;128(3):1545–50.

5.

Herr HW, Faulkner JR, Grossman HB, et al. Surgical factors influence bladder cancer outcomes: a cooperative group report. J Clin Oncol. 2004;22(14):2781–9.

6.

American College of Surgeons. CoC Quality of Care Measures. 2018. https://www.facs.org/quality-programs/cancer/ncdb/qualitymeasures. Accessed 19 Apr 2019.

7.

Nathan H, Shore AD, Anders RA, Wick EC, Gearhart SL, Pawlik TM. Variation in lymph node assessment after colon cancer resection: patient, surgeon, pathologist, or hospital? J Gastrointest Surg. 2011;15(3):471–9.

8.

Becerra AZ, Aquina CT, Berho M, et al. Surgeon-, pathologist-, and hospital-level variation in suboptimal lymph node examination after colectomy: Compartmentalizing quality improvement strategies. Surgery. 2017;161(5):1299–306.

9.

Morgan JW, Ji L, Friedman G, Senthil M, Dyke C, Lum SS. The role of the cancer center when using lymph node count as a quality measure for gastric cancer surgery. JAMA Surg. 2015;150(1):37–43.

10.

Odell DD, Feinglass J, Engelhardt K, et al. Evaluation of adherence to the Commission on Cancer lung cancer quality measures. J Thorac Cardiovasc Sur. 2019;157(3):1219–31.

11.

Hermans TJ, Fransen van de Putte EE, Fossion LM, et al. Variations in pelvic lymph node dissection in invasive bladder cancer: a Dutch nationwide population-based study during centralization of care. Urol Oncol. 2016;34(12):532 e537–12.

12.

Quan H, Sundararajan V, Halfon P, et al. Coding algorithms for defining comorbidities in ICD-9-CM and ICD-10 administrative data. Med Care. 2005;43(11):1130–9.

13.

van Walraven C, Austin PC, Jennings A, Quan H, Forster AJ. A modification of the Elixhauser comorbidity measures into a point system for hospital death using administrative data. Med Care. 2009;47(6):626–33.

14.

Thirumala PD, Muluk S, Udesh R, et al. Carotid artery disease and periprocedural stroke risk after transcatheter aortic valve implantation. Ann Card Anaesth. 2017;20(2):145–51.

15.

Aquina CT, Becerra AZ, Xu Z, et al. Population-based study of outcomes following an initial acute diverticular abscess. Br J Surg. 2019;106(4):467–76.

16.

Gelman A, Hill J. Data analysis using regression and multilevel/hierarchical models. Cambridge; NY: Cambridge University Press; 2007.

17.

Merlo J, Chaix B, Ohlsson H, et al. A brief conceptual tutorial of multilevel analysis in social epidemiology: using measures of clustering in multilevel logistic regression to investigate contextual phenomena. J Epidemiol Commun Health. 2006;60(4):290–7.

18.

Aquina CT, Becerra AZ, Justiniano CF, et al. Surgeon, hospital, and geographic variation in minimally invasive colectomy. Ann Surg. 2019;269(6):1109–16.

19.

Hadfield JD. MCMC methods for multi-response generalized linear mixed models: The MCMCglmm R package. J Stat Softw. 2010;33(2):1–22.

20.

Bürkner P. BRMS: an R package for Bayesian multilevel models using stan. J Stat Softw. 2017;80(1):1–28.

21.

Cole AP, Dalela D, Hanske J, et al. Temporal trends in receipt of adequate lymphadenectomy in bladder cancer 1988 to 2010. Urol Oncol. 2015;33(12):504 e509–517.

22.

Rieger NA, Barnett FS, Moore JW, et al. Quality of pathology reporting impacts on lymph node yield in colon cancer. J Clin Oncol. 2007;25(4):463; author reply 463-464.

23.

Leung AM, Scharf AW, Vu HN. Factors affecting number of lymph nodes harvested in colorectal cancer. J Surg Res. 2011;168(2):224–30.

24.

Birkmeyer JD, Stukel TA, Siewers AE, Goodney PP, Wennberg DE, Lucas FL. Surgeon volume and operative mortality in the United States. N Engl J Med. 2003;349(22):2117–27.

25.

Birkmeyer JD, Siewers AE, Finlayson EV, et al. Hospital volume and surgical mortality in the United States. N Engl J Med. 2002;346(15):1128–37.
Ethics declarations
Disclosure
Authors declare that they have no conflict of interest.
Additional information
Publisher's Note
Springer Nature remains neutral with regard to jurisdictional claims in published maps and institutional affiliations.
About this article
Cite this article
Aquina, C.T., Truong, M., Justiniano, C.F. et al. Variation in Adequate Lymph Node Yield for Gastric, Lung, and Bladder Cancer: Attributable to the Surgeon, Pathologist, or Hospital?. Ann Surg Oncol 27, 4093–4106 (2020). https://doi.org/10.1245/s10434-020-08509-3
Received:

Published:

Issue Date: