Abstract
Background
Receiving a new breast cancer (BC) diagnosis can cause significant patient anxiety, which is amplified by delays in diagnosis. There is a lack of defined time periods for delays in the workup of BC. This study aims to evaluate national variations in timing from first abnormal mammogram to first biopsy and to determine independent predictors of delay in diagnosis.
Patients and Methods
Data were derived from SEER–Medicare linked claims database from 2007 to 2013. Time intervals from abnormal mammogram, either screening or diagnostic, to biopsy were assessed. The fourth quartile for timing from first mammogram to first biopsy was utilized to define delay in diagnosis. Multivariate analyses were used to evaluate the association between clinicopathologic variables and delays in diagnosis.
Results
We analyzed 53,758 patients with stage 0–II BC who underwent upfront surgery. Significant variations in timing of care were identified, with mean times from mammogram to biopsy, surgeon visit, and breast surgery of 23.3, 31.6, and 52.6 days, respectively. Over the study period, there was a decrease in delays from mammogram to biopsy. Non-White race, Northeast location, and earlier stage disease were found to be independent predictors of delays in the diagnosis of BC (p < 0.0001).
Conclusions
The study demonstrates significant variations in time to diagnostic biopsy. More efficient processes of care to address these delays should be implemented, and further studies are needed to determine whether improved efficiency decreases patient anxiety. The large variations in time to diagnosis speak to the need for consensus guidelines to establish a standard of care.
Access options
Buy single article
Instant access to the full article PDF.
USD 39.95
Price excludes VAT (USA)
Tax calculation will be finalised during checkout.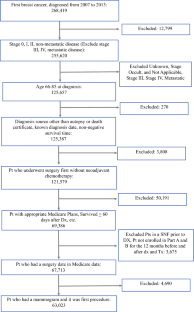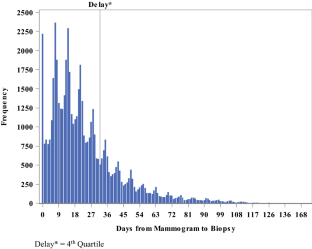 References
Hislop TG, Harris SR, Jackson J, Thorne SE, Rousseau EJ, Coldman AJ, Vestrup JA, Wright CJ, Olivotto IA. Satisfaction and anxiety for women during investigation of an abnormal screening mammogram. Breast Cancer Res Treat. 2002;76(3):245–54. Epub 2002/12/05. PubMed PMID: 12462385.

Lang EV, Berbaum KS, Lutgendorf SK. Large-core breast biopsy: abnormal salivary cortisol profiles associated with uncertainty of diagnosis. Radiology. 2009;250(3):631-7. Epub 2009/02/27. https://doi.org/10.1148/radiol.2503081087. PubMed PMID: 19244038.

Dolan NC, Feinglass J, Priyanath A, Haviley C, Sorensen AV, Venta LA. Measuring satisfaction with mammography results reporting. J Gen Intern Med. 2001;16(3):157-62. Epub 2001/04/25. https://doi.org/10.1111/j.1525-1497.2001.00509.x. PubMed PMID: 11318910; PMCID: PMC1495184.

Richards MA, Westcombe AM, Love SB, Littlejohns P, Ramirez AJ. Influence of delay on survival in patients with breast cancer: a systematic review. Lancet. 1999;353(9159):1119-26. Epub 1999/04/21. PubMed PMID: 10209974.

Yoo TK, Han W, Moon HG, Kim J, Lee JW, Kim MK, Lee E, Kim J, Noh DY. Delay of treatment initiation does not adversely affect survival outcome in breast cancer. Cancer Res Treat. 2016;48(3):962-9. Epub 2015/10/30. https://doi.org/10.4143/crt.2015.173. PubMed PMID: 26511801; PMCID: PMC4946375.

Montella M, Crispo A, D'Aiuto G, De Marco M, de Bellis G, Fabbrocini G, Pizzorusso M, Tamburini M, Silvestra P. Determinant factors for diagnostic delay in operable breast cancer patients. Eur J Cancer Prev. 2001;10(1):53-9. Epub 2001/03/27. PubMed PMID: 11263591.

Bleicher RJ, Ruth K, Sigurdson ER, Ross E, Wong YN, Patel SA, Boraas M, Topham NS, Egleston BL. Preoperative delays in the US Medicare population with breast cancer. J Clin Oncol. 2012;30(36):4485-92. Epub 2012/11/22. https://doi.org/10.1200/jco.2012.41.7972. PubMed PMID: 23169513; PMCID: PMC3518727.

Bleicher RJ. Timing and delays in breast cancer evaluation and treatment. Ann Surg Oncol. 2018;25(10):2829-38. Epub 2018/07/04. https://doi.org/10.1245/s10434-018-6615-2. PubMed PMID: 29968031; PMCID: PMC6123282.

Baena-Canada JM, Rodriguez-Perez L, Gamez-Casado S, Quilez-Cutillas A, Cortes-Carmona C, Rosado-Varela P, Estalella-Mendoza S, Ramirez-Daffos P, Jaen-Olasolo J, Benitez-Rodriguez E. Evaluation of waiting times for breast cancer diagnosis and surgical treatment. Clin Transl Oncol. 2018;20(10):1345-52. Epub 2018/04/11. https://doi.org/10.1007/s12094-018-1867-7. PubMed PMID: 29633184.

Administration USDoCEaS, cartographer Census Regions and Divisions of the United States.

Jaiswal K, Hull M, Furniss AL, Doyle R, Gayou N, Bayliss E. Delays in diagnosis and treatment of breast cancer: a safety-net population profile. J Natl Compr Canc Netw. 2018;16(12):1451-7. Epub 2018/12/14. https://doi.org/10.6004/jnccn.2018.7067. PubMed PMID: 30545992.

Mammography Quality Standards Act Regulations. In: Administration USFaD, editor. 2002.

Rauscher GH, Murphy AM, Orsi JM, Dupuy DM, Grabler PM, Weldon CB. Beyond the mammography quality standards act: measuring the quality of breast cancer screening programs. AJR Am J Roentgenol. 2014;202(1):145-51. Epub 2013/11/23. https://doi.org/10.2214/ajr.13.10806. PubMed PMID: 24261339; PMCID: PMC4113079.

Hay JL, Buckley TR, Ostroff JS. The role of cancer worry in cancer screening: a theoretical and empirical review of the literature. Psychooncology. 2005;14(7):517-34. Epub 2004/10/19. https://doi.org/10.1002/pon.864. PubMed PMID: 15490428.

Hay JL, McCaul KD, Magnan RE. Does worry about breast cancer predict screening behaviors? A meta-analysis of the prospective evidence. Prev Med. 2006;42(6):401-8. Epub 2006/04/22. https://doi.org/10.1016/j.ypmed.2006.03.002. PubMed PMID: 16626796.

Murphy BL, Ray-Zack MD, Reddy PN, Choudhry AJ, Zielinski MD, Habermann EB, Jakub LE, Jr., Brandt KR, Jakub JW. Breast cancer litigation in the 21st century. Ann Surg Oncol. 2018;25(10):2939-47. Epub 2018/06/30. https://doi.org/10.1245/s10434-018-6579-2. PubMed PMID: 29956091.
Acknowledgements
This work was supported in part by the University of Colorado Cancer Center's Population Health Shared Resource funded by NCI grant P30CA046934 and the Surgical Outcomes and Applied Research (SOAR) program, which is a collaboration between the University of Colorado Department of Surgery (DOS) and the Adult and Child Consortium for Outcomes Research and Delivery Science (ACCORDS).
Ethics declarations
Disclosures
The authors have no conflicts of interest to report.
Additional information
Publisher's Note
Springer Nature remains neutral with regard to jurisdictional claims in published maps and institutional affiliations.
About this article
Cite this article
Kovar, A., Bronsert, M., Jaiswal, K. et al. The Waiting Game: How Long Are Breast Cancer Patients Waiting for Definitive Diagnosis?. Ann Surg Oncol 27, 3641–3649 (2020). https://doi.org/10.1245/s10434-020-08484-9
Received:

Published:

Issue Date:

DOI: https://doi.org/10.1245/s10434-020-08484-9