Abstract
Background
Adolescents and young adults (AYAs; age < 40 years) account for less than 2% of breast cancer patients. Therefore, little is known about the tumor characteristics and care provided to AYA patients. This study sought to describe demographic, tumor, and treatment variables among AYA patients.
Methods
The study identified patients ages 15 to 49 years with breast cancer between 2010 and 2015 from the National Cancer Database. Patient and tumor factors were compared using Chi-square tests. Multivariable logistic regression was used to model the effect of age group on treatment while adjusting for confounding variables.
Results
The study identified 46,265 AYA patients with stages 0 to 3 breast cancer and compared them with 169,423 breast cancer patients ages 40 to 49 years. A greater proportion of the AYA patients presented with clinical stage 2 or 3 disease than the adult patients 40 to 49 years old (stage 2 disease: 44.3% vs 29.9%, respectively; stage 3 disease: 14.0% vs 7.7%, respectively; both p < 0.001). A greater proportion of the AYA patients had triple-negative breast cancer (TNBC) or human epidermal growth factor receptor 2-positive (HER2+) cancer than the adult patients (TNBC: 21.2% vs 13.8%, respectively; HER2+: 26.0% vs 18.6%, respectively; both p < 0.001). Among the AYA patients, the very young (ages 15–29 years) had more advanced disease and TNBC or HER2+ disease than the older youth (ages 30 to 39 years). The multivariable analysis showed that the AYA patients were more likely to undergo mastectomy (odds ratio [OR] 2.1) and receive chemotherapy (OR 1.9) than patients in their forties (both p < 0.001).
Conclusion
A greater proportion of the AYA breast cancer patients had more advanced disease and TNBC and HER2+ disease. The AYA patients had higher rates of mastectomy and use of chemotherapy than the adult breast cancer patients, reflecting that more aggressive therapy is recommended or chosen for women in this age group.
This is a preview of subscription content, log in to check access.
Access options
Buy single article
Instant access to the full article PDF.
US$ 39.95
Price includes VAT for USA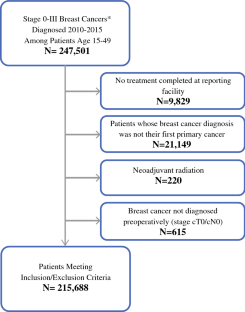 References
1.

Cancer Stat Facts: Female Breast Cancer. Retrieved 4 February 2018 at https://seer.cancer.gov/statfacts/html/breast.html. Accessed 4 Feb 2018.

2.

Fu J, Wu L, Fu W, et al. How young is too young in breast cancer? Young breast cancer is not a unique biological subtype. Clin Breast Cancer. 2017;18:e25–39.

3.

Keegan TH, DeRouen MC, Press DJ, Kurian AW, Clarke CA. Occurrence of breast cancer subtypes in adolescent and young adult women. Breast Cancer Res. 2012;14:R55.

4.

O'Brien KM, Sun J, Sandler DP, DeRoo LA, Weinberg CR. Risk factors for young-onset invasive and in situ breast cancer. Cancer Causes Control. 2015;26:1771–8.

5.

Freedman RA, Partridge AH. Management of breast cancer in very young women. Breast. 2013;22(Suppl 2):S176–9.

6.

Rosenberg SM, Partridge AH. Management of breast cancer in very young women. Breast. 2015;24(Suppl 2):S154–8.

7.

Pesce CE, Liederbach E, Czechura T, Winchester DJ, Yao K. Changing surgical trends in young patients with early-stage breast cancer, 2003 to 2010: a report from the National Cancer Data Base. J Am Coll Surg. 2014;219:19–28.

8.

Raval MV, Bilimoria KY, Stewart AK, Bentrem DJ, Ko CY. Using the NCDB for cancer care improvement: an introduction to available quality assessment tools. J Surg Oncol. 2009;99:488–90.

9.

Edge SB, Compton CC. The American Joint Committee on Cancer: the 7th edition of the AJCC Cancer Staging Manual and the future of TNM. Ann Surg Oncol. 2010;17:1471–4.

10.

Shoemaker ML, White MC, Wu M, Weir HK, Romieu I. Differences in breast cancer incidence among young women aged 20–49 years by stage and tumor characteristics, age, race, and ethnicity, 2004–2013. Breast Cancer Res Treat. 2018;169:595–606.

11.

Bharat A, Aft RL, Gao F, Margenthaler JA. Patient and tumor characteristics associated with increased mortality in young women (≤ 40 years) with breast cancer. J Surg Oncol. 2009;100:248–51.

12.

Brinton LA, Sherman ME, Carreon JD, Anderson WF. Recent trends in breast cancer among younger women in the United States. J Natl Cancer Inst. 2008;100:1643–8.

13.

Anders CK, Johnson R, Litton J, Phillips M, Bleyer A. Breast cancer before age 40 years. Semin Oncol. 2009;36:237–49.

14.

Ambrosone CB, Zirpoli G, Ruszczyk M, et al. Parity and breastfeeding among African-American women: differential effects on breast cancer risk by estrogen receptor status in the Women's Circle of Health study. Cancer Causes Control. 2014;25:259–65.

15.

Anstey EH, Shoemaker ML, Barrera CM, O'Neil ME, Verma AB, Holman DM. Breastfeeding and breast cancer risk reduction: implications for black mothers. Am J Prev Med. 2017;53:S40–6.

16.

Menen RS, Hunt KK. Considerations for the treatment of young patients with breast cancer. Breast J. 2016;22:667–72.

17.

Wang K, Ren Y, Li H, et al. Comparison of clinicopathological features and treatments between young (≤ 40 years) and older (> 40 years) female breast cancer patients in West China: a retrospective, epidemiological, multicenter, case only study. PLoS One. 2016;11:e0152312.

18.

Assi HA, Khoury KE, Dbouk H, Khalil LE, Mouhieddine TH, El Saghir NS. Epidemiology and prognosis of breast cancer in young women. J Thorac Dis. 2013;5 Suppl 1:S2–8.

19.

Murphy BL, Day CN, Hoskin TL, Habermann EB, Boughey JC. Neoadjuvant chemotherapy use in breast cancer is greatest in excellent responders: triple-negative and HER2+ subtypes. Ann Surg Oncol. 2018;25:2241–8.

20.

Botteri E, Veronesi P, Vila J, et al. Improved prognosis of young patients with breast cancer undergoing breast-conserving surgery. Br J Surg. 2017;104:1802–10.

21.

Fredholm H, Eaker S, Frisell J, Holmberg L, Fredriksson I, Lindman H. Breast cancer in young women: poor survival despite intensive treatment. PLoS One. 2009;4:e7695.

22.

Liu J, Chen K, Mao K, Su F, Liu Q, Jacobs LK. The prognostic value of age for invasive lobular breast cancer depending on estrogen receptor and progesterone receptor-defined subtypes: a NCDB analysis. Oncotarget. 2016;7:6063–73.

23.

Keegan TH, Press DJ, Tao L, DeRouen MC, Kurian AW, Clarke CA, Gomez SL. Impact of breast cancer subtypes on 3-year survival among adolescent and young adult women. Breast Cancer Res. 2013;15:R95.
Acknowledgment
The Robert D. and Patricia E. Kern Center for the Science of Health Care Delivery was a substantial contributor of funding to the authors of the project. The American College of Surgeons and the Commission on Cancer have not verified and are not responsible for the analytic or statistical methodology used or the conclusions drawn from these data by the investigator. The authors acknowledge the Mayo Clinic Department of Surgery and the Robert D. and Patricia E. Kern Center for the Science of Health Care Delivery as substantial contributors of resources to the project.
Ethics declarations
Disclosure
There are no conflicts of interest.
Additional information
Publisher's Note
Springer Nature remains neutral with regard to jurisdictional claims in published maps and institutional affiliations.
About this article
Cite this article
Murphy, B.L., Day, C.N., Hoskin, T.L. et al. Adolescents and Young Adults with Breast Cancer have More Aggressive Disease and Treatment Than Patients in Their Forties. Ann Surg Oncol 26, 3920–3930 (2019). https://doi.org/10.1245/s10434-019-07653-9
Received:

Published:

Issue Date: