Abstract
Background
Robotic nipple-sparing mastectomy (RNSM) may allow for more precise anatomic dissection and improved cosmetic outcomes over conventional open nipple-sparing mastectomy; however, data regarding the feasibility and safety of the procedure are limited.
Objective
The aim of this study was to present and discuss perioperative surgical outcomes and early oncologic follow-up data on consecutive patients undergoing RNSM from June 2014 to January 2019.
Methods
Patients underwent RNSM and immediate robotic breast reconstruction through an axillary incision at a single institution. Perioperative data, complications at 3 months postoperatively, pathological data, and adjuvant therapies were recorded. Local recurrence-free, disease-free, and overall survival were analyzed.
Results
Overall, 73 women underwent 94 RNSM procedures. Indications were invasive breast cancer in 39 patients, ductal carcinoma in situ in 17 patients, and BRCA mutation in 17 patients. Mean surgery time was 3 h and 32 min. One-step reconstruction with implant occurred in 89.4% of procedures. The rate of complications requiring reoperation was 4.3%, and the rate of flap or nipple necrosis was 1.1%. Median follow-up was 19 months (range 3.1–44.8). No local recurrences occurred. Overall survival at 12, 24, or 60 months was 98% (95% confidence interval 86–100%).
Conclusion
We observed a low complication rate in 94 consecutive RNSM procedures, demonstrating the procedure is technically feasible and safe. We found no early local failures at 19 months follow-up. Long-term follow-up is needed to confirm oncologic safety. Future clinical trials to study the advantages and disadvantages of RNSM are warranted.
This is a preview of subscription content,
to check access.
Access this article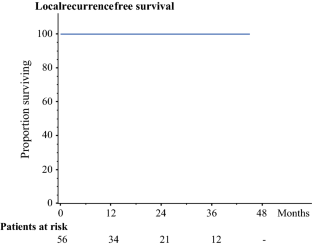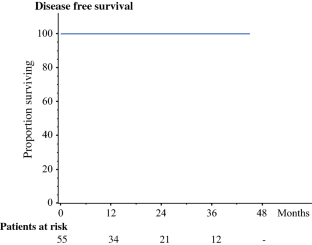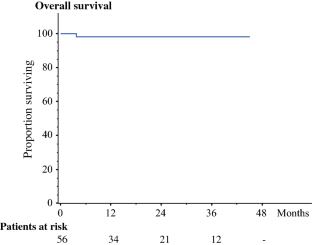 References
Jakub JW, Peled AW, Gray RJ, et al. Oncologic safety of prophylactic nipple-sparing mastectomy in a population with BRCA mutations: a multi-institutional study. JAMA Surg. 2018;153(2):123–9.

Smith BL, Tang R, Rai U, et al. Oncologic safety of nipple-sparing mastectomy in women with breast cancer. J Am Coll Surg. 2017;225(3):361–5.

Galimberti V, Morigi C, Bagnardi V, et al. Oncological outcomes of nipple-sparing mastectomy: a single-center experience of 1989 patients. Ann Surg Oncol. 2018;25(13):3849–57.

Botteri E, Gentilini O, Rotmensz N, et al. Mastectomy without radiotherapy: outcome analysis after 10 years of follow-up in a single institution. Breast Cancer Res Treat. 2012;134(3):1221–8.

Toesca A, Manconi A, Peradze N, et al. 1931 Preliminary report of robotic nipple-sparing mastectomy and immediate breast reconstruction with implant. Eur J Cancer. 2015;51(Suppl 3):S309.

Toesca A, Peradze N, Galimberti V, et al. Robotic nipple-sparing mastectomy and immediate breast reconstruction with implant: first report of surgical technique. Ann Surg. 2017;266(2):e28–e30.

Toesca A, Peradze N, Manconi A, et al. Robotic nipple-sparing mastectomy for the treatment of breast cancer: feasibility and safety study. Breast. 2017;31:51–6.

Toesca A, Peradze N, Manconi A, Nevola Teixeira LF. Reply to the letter to the editor "Robotic-assisted nipple sparing mastectomy: a feasibility study on cadaveric models" by Sarfati B. et al. J Plast Reconstr Aesthet Surg. 2017;70(4):558–60.

Sarfati B, Struk S, Leymarie N, et al. Robotic prophylactic nipple-sparing mastectomy with immediate prosthetic breast reconstruction: a prospective study. Ann Surg Oncol. 2018;25(9):2579–86.

Struk S, Qassemyar Q, Leymarie N, et al. The ongoing emergence of robotics in plastic and reconstructive surgery. Ann Chir Plast Esthet. 2018;63(2):105–112.

Sarfati B, Honart JF, Leymarie N, Rimareix F, Al Khashnam H, Kolb F. Robotic da Vinci Xi-assisted nipple-sparing mastectomy: first clinical report. Breast J. 2018;24(3):373–6.

Selber JC. Robotic nipple-sparing mastectomy: the next step in the evolution of minimally invasive breast surgery. Ann Surg Oncol. 2019;26(1):10–11.

Park HS, Kim JH, Lee DW, et al. Gasless robot-assisted nipple-sparing mastectomy: a case report. J Breast Cancer. 2018;21(3):334–8.

Lai HW, Wang CC, Lai YC, et al. The learning curve of robotic nipple sparing mastectomy for breast cancer: an analysis of consecutive 39 procedures with cumulative sum plot. Eur J Surg Oncol. 2019;45(2):125–33.

European Institute of Oncology. Robotic nipple-sparing mastectomy vs conventional open technique. ClinicalTrials.gov identifier: NCT 03440398. www.clinicaltrials.gov/ct2/show/NCT03440398.

Frey JD, Choi M, Salibian AA, Karp NS. Comparison of outcomes with tissue expander, immediate implant, and autologous breast reconstruction in greater than 1000 nipple-sparing mastectomies. Plast Reconstr Surg. 2017;139(6):1300–10.

mon O'Dey D, Prescher A, Pallua N. Vascular reliability of nipple-areola complex-bearing pedicles: an anatomical microdissection study. Plast Reconstr Surg. 2007;119(4):1167–77.
Acknowledgment
The authors thank the IEO.CCM Foundation for supporting this study.
Ethics declarations
Disclosures
Antonio Toesca, Alessandra Invento, Giulia Massari, Antonia Girardi, Nickolas Peradze, Germana Lissidini, Claudia Sangalli, Patrick Maisonneuve, Andrea Manconi, Alessandra Gottardi, Jennifer L. Baker, Luca Bottiglieri, Paola Naninato, Gabriel Farante, Francesca Magnoni, Alessandra De Scalzi, Giovanni Corso, Marco Colleoni, Francesca De Lorenzi, Virgilio Sacchini, Viviana Galimberti, Mattia Intra, Mario Rietjens, and Paolo Veronesi declare that they have no conflicts of interest.
Ethical Approval
All procedures performed in this study involving human participants were in accordance with the ethical standards of the institutional and national research committee and with the 1964 Helsinki declaration and its later amendments or comparable ethical standards.
Additional information
Publisher's Note
Springer Nature remains neutral with regard to jurisdictional claims in published maps and institutional affiliations.
About this article
Cite this article
Toesca, A., Invento, A., Massari, G. et al. Update on the Feasibility and Progress on Robotic Breast Surgery. Ann Surg Oncol 26, 3046–3051 (2019). https://doi.org/10.1245/s10434-019-07590-7
Received:

Published:

Issue Date:

DOI: https://doi.org/10.1245/s10434-019-07590-7