Abstract
Background
There is limited compensation data for breast surgery benchmarking. In 2018, the American Society of Breast Surgeons conducted its second membership survey to obtain updated compensation data as well as information on practice type and setting.
Methods
In October 2018, a survey was emailed to 2676 active members. Detailed information on compensation was collected, as well as data on gender, training, years in and type of practice, percent devoted to breast surgery, workload, and location. Descriptive statistics and multivariate analyses were performed to analyze the impact of various factors on compensation.
Results
The response rate was 38.2% (n = 1022, of which 73% were female). Among the respondents, 61% practiced breast surgery exclusively and 54% were fellowship trained. The majority of fellowship-trained surgeons within 5 years of completion of training (n = 126) were female (91%). Overall, mean annual compensation was $370,555. On univariate analysis, gender, years of practice, practice type, academic position, ownership, percent breast practice, and clinical productivity were associated with compensation, whereas fellowship training, region, and practice setting were not. On multivariate analysis, higher compensation was significantly associated with male gender, years in practice, number of cancers treated per year, and wRVUs. Compensation was lower among surgeons who practiced 100% breast compared with those who did a combination of breast and other surgery.
Conclusions
Differences in compensation among breast surgeons were identified by practice type, academic position, ownership, years of practice, percent breast practice, workload, and gender. Overall, mean annual compensation increased by $40,000 since 2014.
Access options
Buy single article
Instant access to the full article PDF.
USD 39.95
Price excludes VAT (USA)
Tax calculation will be finalised during checkout.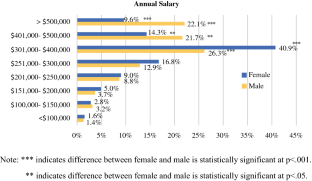 References
Manahan E, Wang L, Chen S, Dickson-Witmer D, Zhu J, Holmes D, et al. What is a breast surgeon worth? A salary survey of the American Society of Breast Surgeons. Ann Surg Oncol. 2015;22(10):3257–63.

Dennis JL. There's a fever in healthcare called physician acquisition. J Healthc Risk Manag. 2012;32(1):3–11.

Winchester DP. The United States' national accreditation program for breast centers: a model for excellence in breast disease evaluation and management. Chin Clin Oncol. 2016;5(3):31.

Wietsma AC. Barriers to success for female physicians in academic medicine. J Community Hosp Intern Med Perspect. 2014;4:24665.

Jagsi R, Griffith KA, Stewart A, Sambuco D, DeCastro R, Ubel PA. Gender differences in the salaries of physician researchers. JAMA. 2012;307(22):2410–7.

Jena AB, Olenski AR, Blumenthal DM. Sex differences in physician salary in US Public Medical Schools. JAMA Intern Med. 2016;176(9):1294–304.

Doximity. Physician Compensation Report https://blog.doximity.com/articles/doximity-2018-physician-compensation-report (2018). Accessed 15 May 2019.
Ethics declarations
Disclosures
The authors declare that they have no conflicts of interest.
Additional information
Publisher's Note
Springer Nature remains neutral with regard to jurisdictional claims in published maps and institutional affiliations.
Appendix
Appendix
See Table 7.
About this article
Cite this article
Killelea, B.K., Modestino, A.S., Gass, J. et al. The 2018 Compensation Survey of the American Society of Breast Surgeons. Ann Surg Oncol 26, 3052–3062 (2019). https://doi.org/10.1245/s10434-019-07546-x
Received:

Published:

Issue Date:

DOI: https://doi.org/10.1245/s10434-019-07546-x