Abstract
Background
Recent advances in endoscopic examinations have resulted in the detection of a larger number of early esophageal cancers; however, there have been many cases with clinically negative but pathologically positive lymph node metastasis (LNM). In this study, we aimed to evaluate the discrepancy between the clinical and pathological diagnoses of LNM in patients with cT1a-MM/cT1b N0M0 esophageal cancer, and assess LNM size in these patients to clarify the presence of LNM that cannot be detected with current modalities.
Methods
This study included 50 patients who underwent surgery for cT1a-MM/cT1b N0M0 thoracic esophageal squamous cell carcinoma between January 2012 and November 2016 at our institution. The maximum size of involved LNs and metastatic nests were measured, and the distribution of LNM was investigated.
Results
Of the 50 patients, 13 (26%) had LNM on pathological examination. Lymphatic invasion was significantly more frequent in the LNM-positive group than in the LNM-negative group (p = 0.005). The median sizes of 28 involved LNs and metastatic nests were 3 and 1.6 mm, respectively. Of these LNs, 20 (71%) were classified as micrometastases (≤ 2 mm). The involved nodes were distributed across three fields.
Conclusions
There was a discrepancy between the clinical and final pathological findings of LNM in patients with cT1a-MM/cT1b N0M0 esophageal cancer. The detection of involved nodes with current modalities in these patients was difficult because of the small size of LNM. Therefore, continued strong consideration for extended LN dissection is necessary in these patients to ensure appropriate diagnosis and treatment.
This is a preview of subscription content, log in to check access.
Access options
Buy single article
Instant access to the full article PDF.
US$ 39.95
Tax calculation will be finalised during checkout.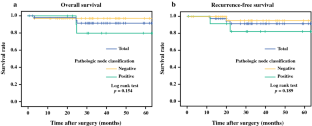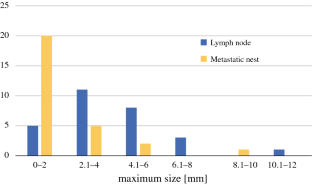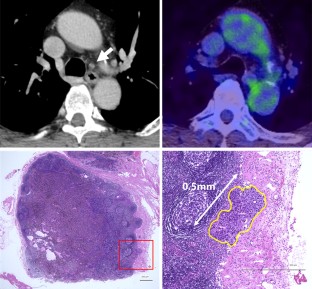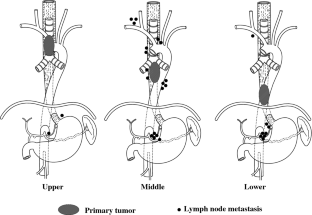 References
1.

Abnet CC, Arnold M, Wei WQ. Epidemiology of esophageal squamous cell carcinoma. Gastroenterology. 2018;154(2):360–73.

2.

Minami H, Isomoto H, Inoue H, et al. Significance of background coloration in endoscopic detection of early esophageal squamous cell carcinoma. Digestion. 2014;89(1):6–11.

3.

Ono S, Fujishiro M, Koike K. Endoscopic submucosal dissection for superficial esophageal neoplasms. World J Gastrointest Endosc. 2012;4(5):162–6.

4.

Kuwano H, Nishimura Y, Oyama T, et al. Guidelines for diagnosis and treatment of carcinoma of the esophagus April 2012 edited by the Japan Esophageal Society. Esophagus. 2015;12:1–30.

5.

Tanaka T, Matono S, Mori N, Shirouzu K, Fujita H. T1 Squamous cell carcinoma of the esophagus: long-term outcomes and prognostic factors after esophagectomy. Ann Surg Oncol. 2014;21(3):932–8.

6.

Mariette C, Piessen G, Briez N, Triboulet JP. The number of metastatic lymph nodes and the ratio between metastatic and examined lymph nodes are independent prognostic factors in esophageal cancer regardless of neoadjuvant chemoradiation or lymphadenectomy extent. Ann Surg. 2008;247(2):365–71.

7.

Wilson M, Rosato EL, Chojnacki KA, et al. Prognostic significance of lymph node metastases and ratio in esophageal cancer. J Surg Res. 2008;146(1):11–5.

8.

Kunisaki C, Makino H, Kimura J, et al. Impact of lymph-node metastasis site in patients with thoracic esophageal cancer. J Surg Oncol. 2010;101(1):36–42.

9.

Kayani B, Zacharakis E, Ahmed K, Hanna GB. Lymph node metastases and prognosis in oesophageal carcinoma: a systematic review. Eur J Surg Oncol. 2011;37(9):747–53.

10.

van Hagen P, Hulshof MC, van Lanschot JJ, et al. Preoperative chemoradiotherapy for esophageal or junctional cancer. N Engl J Med. 2012;366:2074–84.

11.

Ando N, Kato H, Igaki H, et al. A randomized trial comparing postoperative adjuvant chemotherapy with cisplatin and 5-fluorouracil versus preoperative chemotherapy for localized advanced squamous cell carcinoma of the thoracic esophagus (JCOG9907). Ann Surg Oncol. 2011;19(1):68–74.

12.

van Vliet EP, Heijenbrok-Kal MH, Hunink MG, Kuipers EJ, Siersema PD. Staging investigations for oesophageal cancer: a meta-analysis. Br J Cancer. 2008;98(3):547–57.

13.

Okada M, Murakami T, Kumano S, et al. Integrated FDG-PET/CT compared with intravenous contrast-enhanced CT for evaluation of metastatic regional lymph nodes in patients with resectable early stage esophageal cancer. Ann Nucl Med. 2009;23(1):73–80.

14.

Betancourt Cuellar SL, Sabloff B, Carter BW, et al. Early clinical esophageal adenocarcinoma (cT1): utility of CT in regional nodal metastasis detection and can the clinical accuracy be improved? Eur J Radiol. 2017;88:56–60.

15.

Brierley JD, Gospodarowicz MK, Wittekind C (eds). Classification of malignant tumours. 8th ed. Weinheim: Wiley; 2017.

16.

Weaver DL. Pathology evaluation of sentinel lymph nodes in breast cancer: protocol recommendations and rationale. Mod Pathol. 2010;23(Suppl 2):S26–32.

17.

Foley KG, Christian A, Fielding P, Lewis WG, Roberts SA. Accuracy of contemporary oesophageal cancer lymph node staging with radiological-pathological correlation. Clin Radiol. 2017;72(8):693.e691–7.

18.

Kato H, Kuwano H, Nakajima M, et al. Comparison between positron emission tomography and computed tomography in the use of the assessment of esophageal carcinoma. Cancer. 2002;94(4):921–8.

19.

Higuchi I, Yasuda T, Yano M, et al. Lack of fludeoxyglucose F 18 uptake in posttreatment positron emission tomography as a significant predictor of survival after subsequent surgery in multimodality treatment for patients with locally advanced esophageal squamous cell carcinoma. J Thorac Cardiovasc Surg. 2008;136(1):205–12, e201–3.

20.

Yamada H, Hosokawa M, Itoh K, et al. Diagnostic value of 18F-FDG PET/CT for lymph node metastasis of esophageal squamous cell carcinoma. Surg Today. 2013;44(7):1258–65.

21.

Eguchi T, Nakanishi Y, Shimoda T, et al. Histopathological criteria for additional treatment after endoscopic mucosal resection for esophageal cancer: analysis of 464 surgically resected cases. Mod Pathol. 2006;19(3):475–80.

22.

Shimada H, Nabeya Y, Matsubara H, et al. Prediction of lymph node status in patients with superficial esophageal carcinoma: analysis of 160 surgically resected cancers. Am J Surg. 2006;191(2):250–4.

23.

Akutsu Y, Uesato M, Shuto K, et al. The overall prevalence of metastasis in T1 esophageal squamous cell carcinoma. Ann Surg. 2013;257(6):1032–8.

24.

Miyata H, Doki Y, Yasuda T, et al. Evaluation of clinical significance of 18f-fluorodeoxyglucose positron emission tomography in superficial squamous cell carcinomas of the thoracic esophagus. Dis Esophagus. 2008;21(2):144–50.

25.

McGuill MJ, Byrne P, Ravi N, Reynolds J. The prognostic impact of occult lymph node metastasis in cancer of the esophagus or esophago-gastric junction: systematic review and meta-analysis. Dis Esophagus. 2008;21(3):236–40.

26.

Izbicki JR, Hosch SB, Pichlmeier U, et al. Prognostic value of immunohistochemically identifiable tumor cells in lymph nodes of patients with completely resected esophageal cancer. N Engl J Med. 1997;337(17):1188–94.

27.

Glickman JN, Torres C, Wang HH, et al. The prognostic significance of lymph node micrometastasis in patients with esophageal carcinoma. Cancer. 1999;85(4):769–78.

28.

Matsuda S, Takeuchi H, Kawakubo H, et al. Clinical outcome of transthoracic esophagectomy with thoracic duct resection: number of dissected lymph node and distribution of lymph node metastasis around the thoracic duct. Medicine (Baltimore). 2016;95(24):e3839.
Ethics declarations
Disclosures
Junya Aoyama, Hirofumi Kawakubo, Shuhei Mayanagi, Kazumasa Fukuda, Tomoyuki Irino, Rieko Nakamura, Norihito Wada, Tatsuya Suzuki, Kaori Kameyama, and Yuko Kitagawa report no conflict of interest in this work.
Additional information
Publisher's Note
Springer Nature remains neutral with regard to jurisdictional claims in published maps and institutional affiliations.
About this article
Cite this article
Aoyama, J., Kawakubo, H., Mayanagi, S. et al. Discrepancy Between the Clinical and Final Pathological Findings of Lymph Node Metastasis in Superficial Esophageal Cancer. Ann Surg Oncol 26, 2874–2881 (2019). https://doi.org/10.1245/s10434-019-07498-2
Received:

Published:

Issue Date: