Abstract
Background
Complex general surgical oncology (CGSO) fellowships recently obtained Accreditation Council for Graduate Medical Education (ACGME) accreditation and board certification eligibility. We aimed to characterize the applicant pool and identify factors predictive of matching into our program.
Methods
We conducted a retrospective review of CGSO fellowship applications to a major cancer center from 2008 to 2018. Data were analyzed for trends over time, including a comparison of pre- versus post-American Board of Surgery (ABS) certification eligibility.
Results
A total of 846 applications were reviewed. Most applicants (86.2%) trained in a US residency program; 58.4% performed ≥ 1 research year during residency; 29.6% had a dual degree. Fewer applicants (34.5%) were female, a trend which did not change over time. Post-ABS, applicants were more likely to complete ≥ 1 year between residency and fellowship (20.9% versus 13.2%, p = 0.003), to be in practice at the time of application (12.2% versus 6.6%, p = 0.005), and to reapply (5.5% versus 1.0%, p < 0.001). Post-ABS applicants listed more peer-reviewed publications (8 [interquartile range (IQR) 4, 15] versus 5 [IQR 2, 10]; p < 0.001). On multivariable analysis, factors associated with matching into our program included: US allopathic medical school graduation [odds ratio (OR) 4.6, 95% confidence interval (CI) 1.8–11.7], Alpha Omega Alpha (AOA) Honor Medical Society distinction (OR 2.7, 95% CI 1.6–4.7), dual degree (OR 2.0, 95% CI 1.1–3.4), and performance of a clinical/research rotation at our institution (OR 4.9, 95% CI 2.2–10.7).
Conclusions
After establishment of CGSO board certification eligibility, applicants were more likely to apply while in practice and to reapply. A number of factors, including having a dual degree and rotating at our institution, were associated with matriculation.
Access options
Buy single article
Instant access to the full article PDF.
US$ 39.95
Tax calculation will be finalised during checkout.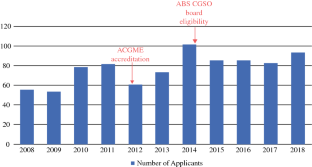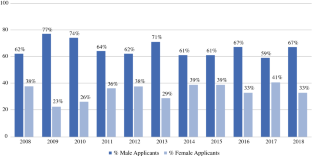 References
1.

Berman RS, Weigel RJ. Training and certification of the surgical oncologist. Chin Clin Oncol. 2014;3(4).

2.

Michelassi F. 2010 SSO presidential address: subspecialty certificate in advanced surgical oncology. Ann Surg Oncol. 2010;17(12):3094–3103.

3.

Lee DY, Flaherty DC, Lau BJ, et al. Attitudes and perceptions of surgical oncology fellows on ACGME accreditation and the complex general surgical oncology certification. Ann Surg Oncol. 2015;22(12):3776–3784.

4.

Borman KR, Vick LR, Biester TW, Mitchell ME. Changing demographics of residents choosing fellowships: longterm data from the American Board of Surgery. J Am Coll Surg. 2008;206(5):782–788; discussion 788–789.

5.

Ellis MC, Dhungel B, Weerasinghe R, Vetto JT, Deveney K. Trends in research time, fellowship training, and practice patterns among general surgery graduates. J Surg Educ. 2011;68(4):309–312.

6.

Klingensmith ME, Cogbill TH, Luchette F, et al. Factors influencing the decision of surgery residency graduates to pursue general surgery practice versus fellowship. Ann Surg. 2015;262(3):449–455; discussion 454–445.

7.

National Residency Match Program (2018). Data and Reports. Available: http://www.nrmp.org/. Accessed 21 Sept 2018.

8.

US Census Bureau (2010). Geographic Terms and Concepts—Census Divisions and Census Regions. Available: https://www.census.gov/geo/reference/gtc/gtc_census_divreg.html. Accessed 23 Mar 2018.

9.

American Medical Association (2018). FREIDA. Available: https://freida.ama-assn.org/. Accessed 21 Sept 2018.

10.

Wach MM, Ruff SM, Ayabe RI, et al. An examination of applicants and factors associated with matriculation to complex general surgical oncology fellowship training programs. Ann Surg Oncol. 2018;25(12):3436–42.

11.

Association of American Medical Colleges (2018). Electronic Residency Application Service (ERAS) Data. Available: https://www.aamc.org/data/facts/eras/. Accessed 21 Sept 2018.

12.

Accreditation Council for Graduate Medical Education (2018). ACGME Data Resource Book. Available: https://www.acgme.org/About-Us/Publications-and-Resources/Graduate-Medical-Education-Data-Resource-Book. Accessed 21 Sept 2018.

13.

Davis EC, Risucci DA, Blair PG, Sachdeva AK. Women in surgery residency programs: evolving trends from a national perspective. J Am Coll Surg. 2011;212(3):320–6.

14.

Long TR, Elliott BA, Warner ME, Brown MJ, Rose SH. Resident and program director gender distribution by specialty. J. Women's Health. 2011;20(12):1867–70.

15.

Greenberg CC. Association for Academic Surgery presidential address: sticky floors and glass ceilings. J Surg Res. 2017;219:ix–xviii.

16.

Joshua Smith J, Patel RK, Chen X, Tarpley MJ, Terhune KP. Does intentional support of degree programs in general surgery residency affect research productivity or pursuit of academic surgery? J Surg Educ. 2014;71(4):486–91.
Acknowledgment
The authors would like to thank Susan K. Hogue (Department of Surgical Oncology, MD Anderson Cancer Center) for administrative assistance with data collection. Funding Sources: Dr. Heather Lillemoe is supported by National Institutes of Health grant T32CA009599 and the MD Anderson Cancer Center support grant (P30 CA016672).
Additional information
Publisher's Note
Springer Nature remains neutral with regard to jurisdictional claims in published maps and institutional affiliations.
About this article
Cite this article
Lillemoe, H.A., Scally, C.P., Adams, C.L. et al. Complex General Surgical Oncology Fellowship Applicants: Trends over Time and the Impact of Board Certification Eligibility. Ann Surg Oncol 26, 2667–2674 (2019). https://doi.org/10.1245/s10434-019-07420-w
Received:

Published:

Issue Date: