Abstract
Purpose
To investigate the relationship between treatment-related lymphopenia and pathologic response to neoadjuvant chemoradiotherapy (CRT) in patients with esophageal squamous cell carcinoma (ESCC).
Methods
Between 2002 and 2016, 220 ESCC patients treated with neoadjuvant CRT followed by surgery were retrospectively analyzed. Absolute lymphocyte count was determined before, during, and 1 month after neoadjuvant CRT. Treatment-related lymphopenia was graded using Common Terminology Criteria for Adverse Events version 4.0. Relationship between lymphopenia with pathologic complete response (pCR) and recurrence were evaluated.
Results
Ninety-five patients (43.2%) achieved a pCR after neoadjuvant CRT and 71 patients (32.3%) developed recurrences. The incidence of grade 0, 1, 2, 3, and 4 lymphopenia during CRT were 1.8%, 6.8%, 31.4%, 38.2% and 21.8%, respectively. Patients with grade 4 lymphopenia had a significantly lower pCR rate than those with grade 0-3 lymphopenia (22.9% vs. 48.8%, P = 0.001). Moreover, grade 4 lymphopenia was significantly associated with a higher risk of recurrences (45.8% vs. 28.5%, P = 0.023). Multivariable analysis identified that primary tumor length, tumor location, and radiation dose were independent predictors for grade 4 lymphopenia.
Conclusions
ESCC patients with grade 4 lymphopenia during neoadjuvant CRT were associated with a significantly lower pCR rate and a higher recurrence risk.
This is a preview of subscription content, log in to check access.
Access options
Buy single article
Instant access to the full article PDF.
US$ 39.95
Price includes VAT for USA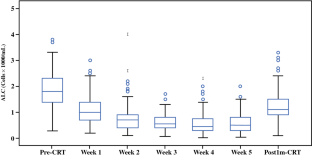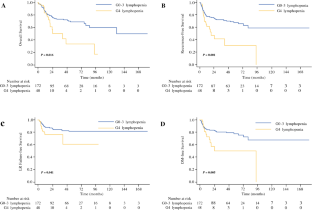 References
1.

van Hagen P, Hulshof MC, van Lanschot JJ, et al. Preoperative chemoradiotherapy for esophageal or junctional cancer. N Engl J Med. 2012;366:2074–84.

2.

Sjoquist KM, Burmeister BH, Smithers BM, et al. Survival after neoadjuvant chemotherapy or chemoradiotherapy for resectable oesophageal carcinoma: an updated meta-analysis. Lancet Oncol. 2011;12:681–92.

3.

Yang H, Liu H, Chen Y, et al. Neoadjuvant chemoradiotherapy followed by surgery versus surgery alone for locally advanced squamous cell carcinoma of the esophagus (NEOCRTEC5010): a phase III multicenter, randomized, open-label clinical trial. J Clin Oncol. 2018;36:2796–803.

4.

Xi M, Hallemeier CL, Merrell KW, et al. Recurrence risk stratification after preoperative chemoradiation of esophageal adenocarcinoma. Ann Surg. 2018;268:289–95.

5.

Scheer RV, Fakiris AJ, Johnstone PA. Quantifying the benefit of a pathologic complete response after neoadjuvant chemoradiotherapy in the treatment of esophageal cancer. Int J Radiat Oncol Biol Phys. 2011;80:996–1001.

6.

Xi M, Yang Y, Zhang L, et al. Multi-institutional analysis of recurrence and survival after neoadjuvant chemoradiotherapy of esophageal cancer: impact of histology on recurrence patterns and outcomes. Ann Surg. 2018. https://doi.org/10.1097/SLA.0000000000002670.

7.

Ajani JA, Correa AM, Hofstetter WL, et al. Clinical parameters model for predicting pathologic complete response following preoperative chemoradiation in patients with esophageal cancer. Ann Oncol. 2012;23:2638–42.

8.

Zhang H, Tan S, Chen W, et al. Modeling pathologic response of esophageal cancer to chemoradiation therapy using spatial-temporal 18F-FDG PET features, clinical parameters, and demographics. Int J Radiat Oncol Biol Phys. 2014;88:195–203.

9.

Toxopeus EL, Nieboer D, Shapiro J, et al. Nomogram for predicting pathologically complete response after neoadjuvant chemoradiotherapy for oesophageal cancer. Radiother Oncol. 2015;115:392–8.

10.

Liu SL, Xi M, Yang H, et al. Is there a correlation between clinical complete response and pathological complete response after neoadjuvant chemoradiotherapy for esophageal squamous cell cancer? Ann Surg Oncol. 2016;23:273–81.

11.

Formenti SC, Demaria S. Combining radiotherapy and cancer immunotherapy: a paradigm shift. J Natl Cancer Inst. 2013;105:256–65.

12.

Yovino S, Grossman SA. Severity, etiology and possible consequences of treatment-related lymphopenia in patients with newly diagnosed high-grade gliomas. CNS Oncol. 2012;1:149–54.

13.

Balmanoukian A, Ye X, Herman J, et al. The association between treatment-related lymphopenia and survival in newly diagnosed patients with resected adenocarcinoma of the pancreas. Cancer Invest. 2012;30:571–6.

14.

Tang C, Liao Z, Gomez D, et al. Lymphopenia association with gross tumor volume and lung V5 and its effects on non-small cell lung cancer patient outcomes. Int J Radiat Oncol Biol Phys. 2014;89:1084–91.

15.

Liu LT, Chen QY, Tang LQ, et al. The prognostic value of treatment-related lymphopenia in nasopharyngeal carcinoma patients. Cancer Res Treat. 2018;50:19–29.

16.

Campian JL, Sarai G, Ye X, et al. Association between severe treatment-related lymphopenia and progression-free survival in patients with newly diagnosed squamous cell head and neck cancer. Head Neck. 2014;36:1747–53.

17.

Heo J, Chun M, Noh OK, et al. Sustaining blood lymphocyte count during preoperative chemoradiotherapy as a predictive marker for pathologic complete response in locally advanced rectal cancer. Cancer Res Treat. 2016;48:232–9.

18.

Davuluri R, Jiang W, Fang P, et al. Lymphocyte nadir and esophageal cancer survival outcomes after chemoradiation therapy. Int J Radiat Oncol Biol Phys. 2017;99:128–35.

19.

Fang P, Jiang W, Davuluri R, et al. High lymphocyte count during neoadjuvant chemoradiotherapy is associated with improved pathologic complete response in esophageal cancer. Radiother Oncol. 2018;128:584–90.

20.

Edge SB, Byrd DR, Compton CC, et al. (eds). AJCC cancer staging manual. 7th ed. New York: Springer; 2010.

21.

Zhou S, Liu S, Zhang L, et al. Recurrence risk based on pathologic stage after neoadjuvant chemoradiotherapy in esophageal squamous cell carcinoma: implications for risk-based postoperative surveillance strategies. Ann Surg Oncol. 2018;25:3639–46.

22.

Wu TT, Chirieac LR, Abraham SC, et al. Excellent interobserver agreement on grading the extent of residual carcinoma after preoperative chemoradiation in esophageal and esophagogastric junction carcinoma: a reliable predictor for patient outcome. Am J Surg Pathol. 2007;31:58–64.

23.

Sun Y, Cheng S, Lu Y, et al. The clinical efficacy of consolidation chemotherapy for resectable esophageal squamous cell cancer after trimodality therapy. J Cancer Res Ther. 2016;12:90–5.

24.

Burt BM, Groth SS, Sada YH, et al. Utility of adjuvant chemotherapy after neoadjuvant chemoradiation and esophagectomy for esophageal cancer. Ann Surg. 2017;266:297–304.

25.

Yovino S, Kleinberg L, Grossman SA, et al. The etiology of treatment-related lymphopenia in patients with malignant gliomas: modeling radiation dose to circulating lymphocytes explains clinical observations and suggests methods of modifying the impact of radiation on immune cells. Cancer Invest. 2013;31:140–4.

26.

Shiraishi Y, Fang P, Xu C, et al. Severe lymphopenia during neoadjuvant chemoradiation for esophageal cancer: a propensity matched analysis of the relative risk of proton versus photon-based radiation therapy. Radiother Oncol. 2018;128:154–60.

27.

Besser MJ, Shapira-Frommer R, Itzhaki O, et al. Adoptive transfer of tumor-infiltrating lymphocytes in patients with metastatic melanoma: intent-to-treat analysis and efficacy after failure to prior immunotherapies. Clin Cancer Res. 2013;19:4792–800.

28.

Li J, Chen QY, He J, et al. Phase I trial of adoptively transferred tumor-infiltrating lymphocyte immunotherapy following concurrent chemoradiotherapy in patients with locoregionally advanced nasopharyngeal carcinoma. Oncoimmunology. 2015;4:e976507.
Funding
This work was supported by Grants from the National Natural Science Foundation of China (No. 81874220) and Guangdong Esophageal Cancer Institute Science and Technology Program (M201715).
Ethics declarations
Disclosure
The authors have no conflict of interest.
Additional information
Publisher's Note
Springer Nature remains neutral with regard to jurisdictional claims in published maps and institutional affiliations.
Electronic supplementary material
Below is the link to the electronic supplementary material.
About this article
Cite this article
Li, Q., Zhou, S., Liu, S. et al. Treatment-Related Lymphopenia Predicts Pathologic Complete Response and Recurrence in Esophageal Squamous Cell Carcinoma Undergoing Neoadjuvant Chemoradiotherapy. Ann Surg Oncol 26, 2882–2889 (2019). https://doi.org/10.1245/s10434-019-07334-7
Received:

Published:

Issue Date: