Abstract
Background
Technology to assess tissue perfusion is exciting with translational potential, although data supporting its clinical applications have been lagging. Patients who have undergone radiation are at particular risk of poor tissue perfusion and would benefit from this expanding technology. We designed a prospective clinical trial using intraoperative indocyanine green angiography to evaluate for wound-healing complications in patients undergoing salvage laryngectomy after radiation failure.
Patients and Methods
This prospective trial included patients undergoing salvage laryngectomy at a National Cancer Institute-designated tertiary cancer center between 2016 and 2018. After tumor extirpation and prior to reconstruction, 10 mg indocyanine green dye was infused and the fluorescence (FHYPO) and ingress rate of the pharyngeal mucosa recorded. The primary outcome measure was formation of a pharyngocutaneous fistula (PCF).
Results
Patients who developed a PCF had significantly lower FHYPO (87 vs 172, p < 0.001) and ingress rates (6.7 vs 15.8, p = 0.043) compared with those who did not develop a fistula. There were no fistulas in patients with FHYPO > 150 (n = 21) or ingress > 15 (n = 15). There was a 50% fistula rate in patients with FHYPO ≤ 103 (n = 10) and ingress rate ≤ 6 (n = 6).
Conclusions
Intraoperative indocyanine green angiography can assess hypoperfusion in patients and predict risk of PCFs after salvage laryngectomy, and can thus intraoperatively risk-stratify patients for postoperative wound-healing complications.
Access options
Buy single article
Instant access to the full article PDF.
US$ 39.95
Tax calculation will be finalised during checkout.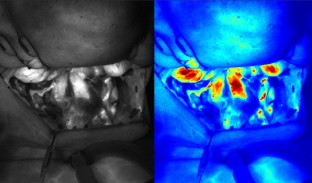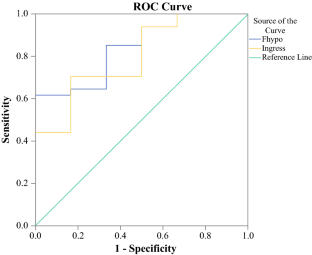 References
1.

The Department of Veterans Affairs Laryngeal Cancer Study Group, et al. Induction chemotherapy plus radiation compared with surgery plus radiation in patients with advanced laryngeal cancer. N Engl J Med. 1991;324(24):1685–90.

2.

Forastiere AA, Goepfert H, Maor M, et al. Concurrent chemotherapy and radiotherapy for organ preservation in advanced laryngeal cancer. N Engl J Med. 2003;349(22):2091–98.

3.

Urba S, Wolf G, Eisbruch A, et al. Single-cycle induction chemotherapy selects patients with advanced laryngeal cancer for combined chemoradiation: a new treatment paradigm. J Clin Oncol. 2006;24(4):593–98.

4.

Clark JR, de Almeida J, Gilbert R, et al. Primary and salvage (hypo)pharyngectomy: analysis and outcome. Head Neck. 2006;28(8):671–77.

5.

Paydarfar JA, Birkmeyer NJ. Complications in head and neck surgery: a meta-analysis of postlaryngectomy pharyngocutaneous fistula. Arch Otolaryngol Head Neck Surg. 2006;132(1):67–72.

6.

Li M, Lorenz RR, Khan MJ, et al. Salvage laryngectomy in patients with recurrent laryngeal cancer in the setting of nonoperative treatment failure. Otolaryngol Head Neck Surg. 2013;149(2):245–51.

7.

Marx RE. Osteoradionecrosis: a new concept of its pathophysiology. J Oral Maxillofac Surg. 1983;41(5):283–88.

8.

Clark JR, Gilbert R, Irish J, Brown D, Neligan P, Gullane PJ. Morbidity after flap reconstruction of hypopharyngeal defects. Laryngoscope. 2006;116(2):173–81.

9.

Yu P, Robb GL. Pharyngoesophageal reconstruction with the anterolateral thigh flap: a clinical and functional outcomes study. Plast Reconstr Surg. 2005;116(7):1845–55.

10.

Rutledge JW, Spencer H, Moreno MA. Predictors for perioperative outcomes following total laryngectomy: a University HealthSystem Consortium Discharge Database study. Otolaryngol Head Neck Surg. 2014;151(1):81–6.

11.

Hier M, Black MJ, Lafond G. Pharyngo-cutaneous fistulas after total laryngectomy: incidence, etiology and outcome analysis. J Otolaryngol. 1993;22(3):164–6.

12.

Sassler AM, Esclamado RM, Wolf GT. Surgery after organ preservation therapy. Analysis of wound complications. Arch Otolaryngol Head Neck Surg. 1995;121(2):162–5.

13.

Weber RS, Berkey BA, Forastiere A, et al. Outcome of salvage total laryngectomy following organ preservation therapy: the Radiation Therapy Oncology Group trial 91-11. Arch Otolaryngol Head Neck Surg. 2003;129(1):44–9.

14.

Andrews BT, Smith RB, Hoffman HT, Funk GF. Orocutaneous and pharyngocutaneous fistula closure using a vacuum-assisted closure system. Ann Otol Rhinol Laryngol. 2008;117(4):298–302.

15.

Graboyes EM, Yang Z, Kallogjeri D, Diaz JA, Nussenbaum B. Patients undergoing total laryngectomy: an at-risk population for 30-day unplanned readmission. JAMA Otolaryngol Head Neck Surg. 2014;140(12):1157–65.

16.

Patel UA, Moore BA, Wax M et al. Impact of pharyngeal closure technique on fistula after salvage laryngectomy. JAMA Otolaryngol Head Neck Surg. 2013;139(11):1156–62.

17.

Ganly I, Patel S, Matsuo J, et al. Postoperative complications of salvage total laryngectomy. Cancer. 2005;103(10):2073–81.

18.

Rosko A, Birkeland A, Bellile E et al. Hypothyroidism and wound healing after salvage laryngectomy. Ann Surg Oncol. 2017;25(5):1288–95. https://doi.org/10.1245/s10434-017-6278-4

19.

Carlson GW, Thourani VH, Codner MA, Grist WJ. Free gastro-omental flap reconstruction of the complex, irradiated pharyngeal wound. Head Neck. 1997;19(1):68–71.

20.

Chahine KA, Chaffanjon P, Bettega G, Lebeau J, Reyt E, Righini CA. Gastro-omental free flap in the reconstruction of the unfavourable hypopharyngeal defects: a functional assessment. J Plast Reconstr Aesthet Surg. 2009;62(11):1367–73.

21.

Chepeha DB, Annich G, Pynnonen MA, et al. Pectoralis major myocutaneous flap vs revascularized free tissue transfer: complications, gastrostomy tube dependence, and hospitalization. Arch Otolaryngol Head Neck Surg. 2004;130(2):181–6.

22.

Fung K, Teknos TN, Vandenberg CD, et al. Prevention of wound complications following salvage laryngectomy using free vascularized tissue. Head Neck. 2007;29(5):425–30.

23.

Genden EM, Rinaldo A, Shaha AR, Bradley PJ, Rhys-Evans PH, Ferlito A. Pharyngocutaneous fistula following laryngectomy. Acta Otolaryngol. 2004;124(2):117–20.

24.

Hanasono MM. Use of reconstructive flaps following total laryngectomy. JAMA Otolaryngol Head Neck Surg. 2013;139(11):1163.

25.

Hanasono MM, Lin D, Wax MK, Rosenthal EL. Closure of laryngectomy defects in the age of chemoradiation therapy. Head Neck. 2012;34(4):580–88.

26.

Paleri V, Drinnan M, van den Brekel MW, et al. Vascularized tissue to reduce fistula following salvage total laryngectomy: a systematic review. Laryngoscope. 2014;124(8):1848–53.

27.

Patel RS, Makitie AA, Goldstein DP, Gullane PJ, Brown D, Irish J, Gilbert RW. Morbidity and functional outcomes following gastro-omental free flap reconstruction of circumferential pharyngeal defects. Head Neck. 2009;31(5):655–63.

28.

Punthakee X, Zaghi S, Nabili V, Knott PD, Blackwell KE. Effects of salivary bypass tubes on fistula and stricture formation. JAMA Facial Plast Surg. 2013;15(3):219–25.

29.

Selber JC, Xue A, Liu J, Hanasono MM, Skoracki RJ, Chang EI, Yu P. Pharyngoesophageal reconstruction outcomes following 349 cases. J Reconstr Microsurg. 2014;30(9):641–54.

30.

Teknos TN, Myers LL, Bradford CR, Chepeha DB. Free tissue reconstruction of the hypopharynx after organ preservation therapy: analysis of wound complications. Laryngoscope. 2001;111(7):1192–96.

31.

Wadsworth JT, Futran N, Eubanks TR. Laparoscopic harvest of the jejunal free flap for reconstruction of hypopharyngeal and cervical esophageal defects. Arch Otolaryngol Head Neck Surg. 2002;128(12):1384–87.

32.

Withrow KP, Rosenthal EL, Gourin CG, Peters GE, Magnuson JS, Terris DJ, Carroll WW. Free tissue transfer to manage salvage laryngectomy defects after organ preservation failure. Laryngoscope. 2007;117(5):781–784.

33.

Birkeland A, Beesley L, Bellile E et al. Predictors of survival after total laryngectomy for recurrent/persistent laryngeal squamous cell carcinoma. Head Neck. 2017;39(12):2512–2518. https://doi.org/10.1002/hed.24918

34.

Theunissen E, Timmermans A, Zuur C et al. Total laryngectomy for a dysfunctional larynx after (chemo)radiotherapy. Arch Otolaryngol Head Neck Surg. 2012;138(6):548. https://doi.org/10.1001/archoto.2012.862.

35.

Son G, Kwon M, Kim Y, Kim J, Kim S, Lee J. Quantitative analysis of colon perfusion pattern using indocyanine green (ICG) angiography in laparoscopic colorectal surgery. Surg Endosc. 2018. https://doi.org/10.1007/s00464-018-6439-y

36.

Scerrati A, Della Pepa G, Conforti G et al. Indocyanine green video-angiography in neurosurgery: a glance beyond vascular applications. Clin Neurol Neurosurg. 2014;124:106–3. https://doi.org/10.1016/j.clineuro.2014.06.032

37.

Chatterjee A, Krishnan N, Van Vliet M, Powell S, Rosen J, Ridgway E. A comparison of free autologous breast reconstruction with and without the use of laser-assisted indocyanine green angiography. Plast Reconstr Surg. 2013;131(5):693e–701e. https://doi.org/10.1097/prs.0b013e31828659f4

38.

Partington E, Moore L, Kahmke R et al. Laser-assisted indocyanine green dye angiography for postoperative fistulas after salvage laryngectomy. JAMA Otolaryngol Head Neck Surg. 2017;143(8):775. https://doi.org/10.1001/jamaoto.2017.0187.
Ethics declarations
Disclosures
The authors have declared there are no conflict of interest.
Additional information
Publisher's Note
Springer Nature remains neutral with regard to jurisdictional claims in published maps and institutional affiliations.
About this article
Cite this article
Hoesli, R., Brennan, J.R., Rosko, A.J. et al. Intraoperative Fluorescent Angiography Predicts Pharyngocutaneous Fistula After Salvage Laryngectomy. Ann Surg Oncol 26, 1320–1325 (2019). https://doi.org/10.1245/s10434-019-07262-6
Received:

Published:

Issue Date: