Abstract
Background
Anti-PD-1 therapy has shown a promising clinical outcome in gastric cancer (GC). We evaluated the clinical significance of systemic immune-related gene expression in GC patients who underwent surgery.
Methods
The correlation between the preoperative PD-1, PD-L1, and CD8 mRNA levels in peripheral blood (PB) and clinicopathological factors, including survival, in 372 GC patients was evaluated using quantitative RT-PCR. PD-1- and PD-L1-expressing cells were identified by flow cytometric analysis.
Results
The PD-1, PD-L1, and CD8 mRNA levels in GC patients were significantly higher than those in normal controls, respectively (all P < 0.0001). The levels of each gene were positively correlated with those of the other two genes (all P < 0.0001). GC patients with low PD-1, high PD-L1, and low CD8 mRNA levels had significantly poorer overall survival (OS) than those with high PD-1, low PD-L1, and high CD8 mRNA levels, respectively (P < 0.01, P < 0.05, and P < 0.05, respectively). Multivariate analysis showed that low PD-1 and high PD-L1 mRNA levels were independent poor prognostic factors for OS (PD-1: HR 2.38, 95% CI 1.27–4.78, P < 0.01; PD-L1: HR 1.81, 95% CI 1.15–2.78, P < 0.05). PD-1 and PD-L1 expression occurred on T cells (> 90%) and T cells or monocytes (> 70%), respectively.
Conclusions
The PD-1, PD-L1, and CD8 mRNA levels in preoperative PB reflected the anti-tumour immune response, and the low PD-1 and high PD-L1 mRNA levels in PB were independent poor prognostic markers in GC patients who underwent surgery.
Access options
Buy single article
Instant access to the full article PDF.
USD 39.95
Price excludes VAT (USA)
Tax calculation will be finalised during checkout.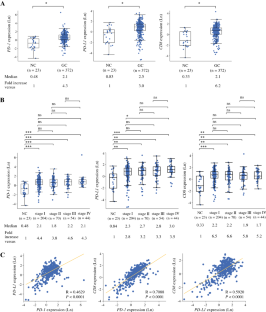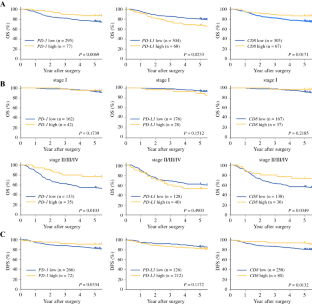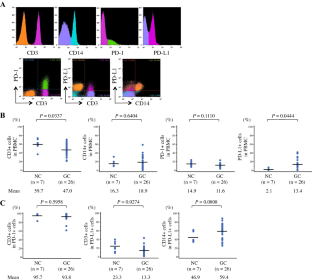 Similar content being viewed by others
References
Postow MA, Callahan MK, Wolchok JD. Immune checkpoint blockade in cancer therapy. J Clin Oncol. 2015;33(17):1974–82.

Pardoll DM. The blockade of immune checkpoints in cancer immunotherapy. Nat Rev Cancer. 2012;12(4):252–64.

Muro K, Chung HC, Shankaran V, et al. Pembrolizumab for patients with PD-L1-positive advanced gastric cancer (KEYNOTE-012): a multicentre, open-label, phase 1b trial. Lancet Oncol. 2016;17(6):717–26.

Kang YK, Boku N, Satoh T, et al. Nivolumab in patients with advanced gastric or gastro-oesophageal junction cancer refractory to, or intolerant of, at least two previous chemotherapy regimens (ONO-4538-12, ATTRACTION-2): a randomised, double-blind, placebo-controlled, phase 3 trial. Lancet. 2017;390(10111):2461–71.

Reck M, Rodriguez-Abreu D, Robinson AG, et al. Pembrolizumab versus chemotherapy for PD-L1-positive non-small-cell lung cancer. N Engl J Med. 2016;375(19):1823–33.

Herbst RS, Baas P, Kim DW, et al. Pembrolizumab versus docetaxel for previously treated, PD-L1-positive, advanced non-small-cell lung cancer (KEYNOTE-010): a randomised controlled trial. Lancet. 2016;387(10027):1540–50.

Patel SP, Kurzrock R. PD-L1 Expression as a predictive biomarker in cancer immunotherapy. Mol Cancer Ther. 2015;14(4):847–56.

Herbst RS, Soria JC, Kowanetz M, et al. Predictive correlates of response to the anti-PD-L1 antibody MPDL3280A in cancer patients. Nature. 2014;515(7528):563–7.

Wu P, Wu D, Li L, Chai Y, Huang J. PD-L1 and survival in solid tumors: a meta-analysis. PLoS One. 2015;10(6):e0131403.

Topalian SL, Taube JM, Anders RA, Pardoll DM. Mechanism-driven biomarkers to guide immune checkpoint blockade in cancer therapy. Nat Rev Cancer. 2016;16(5):275–87.

Chen DS, Mellman I. Oncology meets immunology: the cancer-immunity cycle. Immunity. 2013;39(1):1–10.

Mimori K, Fukagawa T, Kosaka Y, et al. Hematogenous metastasis in gastric cancer requires isolated tumor cells and expression of vascular endothelial growth factor receptor-1. Clin Cancer Res. 2008;14(9):2609–16.

Iwatsuki M, Fukagawa T, Mimori K, et al. Bone marrow and peripheral blood expression of ID1 in human gastric carcinoma patients is a bona fide indicator of lymph node and peritoneal metastasis. Br J Cancer. 2009;100(12):1937–42.

Iwaya T, Fukagawa T, Suzuki Y, et al. Contrasting expression patterns of histone mRNA and microRNA 760 in patients with gastric cancer. Clin Cancer Res. 2013;19(23):6438–49.

Japanese Gastric Cancer A. Japanese classification of gastric carcinoma: 3rd English edition. Gastric Cancer. 2011;14(2):101–12.

Iinuma H, Okinaga K, Egami H, et al. Usefulness and clinical significance of quantitative real-time RT-PCR to detect isolated tumor cells in the peripheral blood and tumor drainage blood of patients with colorectal cancer. Int J Oncol. 2006;28(2):297–306.

Mori M, Mimori K, Inoue H, et al. Detection of cancer micrometastases in lymph nodes by reverse transcriptase-polymerase chain reaction. Cancer Res. 1995;55(15):3417–20.

Mizuno H, Kitada K, Nakai K, Sarai A. PrognoScan: a new database for meta-analysis of the prognostic value of genes. BMC Med Genomics. 2009;2:18.

Hanahan D, Weinberg RA. Hallmarks of cancer: the next generation. Cell. 2011;144(5):646–74.

Ethun CG, Bilen MA, Jani AB, Maithel SK, Ogan K, Master VA. Frailty and cancer: implications for oncology surgery, medical oncology, and radiation oncology. CA Cancer J Clin. 2017;67(5):362–77.

Lin JP, Lin JX, Cao LL, et al. Preoperative lymphocyte-to-monocyte ratio as a strong predictor of survival and recurrence for gastric cancer after radical-intent surgery. Oncotarget. 2017;8(45):79234–47.

Lieto E, Galizia G, Auricchio A, et al. Preoperative neutrophil to lymphocyte ratio and lymphocyte to monocyte ratio are prognostic factors in gastric cancers undergoing surgery. J Gastrointest Surg. 2017;21(11):1764–74.

Ito M, Oshima Y, Yajima S, et al. Is high serum programmed death ligand 1 level a risk factor for poor survival in patients with gastric cancer? Ann Gastroenterol Surg. 2018;2(4):313–8.

Kleffel S, Posch C, Barthel SR, et al. Melanoma cell-intrinsic PD-1 receptor functions promote tumor growth. Cell. 2015;162(6):1242–56.
Acknowledgment
The authors thank all the patients that provided samples for the study. We thank Ms. Kazumi Oda, Ms. Michiko Kasagi, and Ms. Sachiko Sakuma for their technical assistance; Dr. Reiko Takahashi and Dr. Daisuke Oryoji for their advice for flow cytometric analysis; and members of the Department of Surgery, Kyushu University Beppu Hospital for technical assistance and discussion. This work was supported in part by Japan Society for the Promotion of Science Grants-in-Aid for Scientific Research (C) (Grand 17K10593 to S.I.), Daiwa Securities Health Foundation (to S.I.), and Oita Cancer Research Foundation (to S.I.).
Ethics declarations
Disclosure
The authors declare no conflict of interest.
Electronic supplementary material
Below is the link to the electronic supplementary material.
About this article
Cite this article
Ito, S., Fukagawa, T., Noda, M. et al. Prognostic Impact of Immune-Related Gene Expression in Preoperative Peripheral Blood from Gastric Cancer Patients. Ann Surg Oncol 25, 3755–3763 (2018). https://doi.org/10.1245/s10434-018-6739-4
Received:

Published:

Issue Date:

DOI: https://doi.org/10.1245/s10434-018-6739-4
Keywords