Abstract
Background
CD44, a cancer stem cell surface marker, is associated with treatment resistance and prognosis in some cancers. In the present study, we examined the predictive value of CD44 in muscle-invasive bladder cancer (MIBC).
Methods
We retrospectively analyzed the clinical outcomes of 105 MIBC patients and correlated these outcomes with the expression of CD44. Furthermore, the bladder cancer cell lines HT1197 and MB49 were selected for cellular and animal experiments to investigate the correlation between CD44 and tumor aggressiveness.
Results
Analysis of clinical specimens indicated that CD44 staining was significantly associated with a higher clinical stage, higher locoregional failure rate, and lower disease-specific survival rate for MIBC patients. Using cellular experiments and orthotopic tumor models, we showed that CD44+ bladder cancer cells had a higher invasion ability and augmented epithelial-mesenchymal transition (EMT) compared with CD44 cells. There was a significant correlation between interleukin (IL)-6 and CD44 levels noted by in vitro testing, and clinical samples. Blockade of IL-6 attenuated the expression of CD44, cancer stem-cell-like properties, and aggressive tumor behavior in vitro and in vivo. The related changes included the attenuated STAT3 activation and EMT, and decreased programmed death ligand 1-mediated T-cell suppression.
Conclusion
Our findings suggest that CD44 expression is positively associated with tumor aggressiveness in bladder cancer, and activated IL-6 signaling provides a suitable microenvironment for the induction of CD44 expression.
Access options
Buy single article
Instant access to the full article PDF.
USD 39.95
Price excludes VAT (USA)
Tax calculation will be finalised during checkout.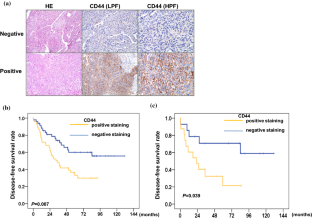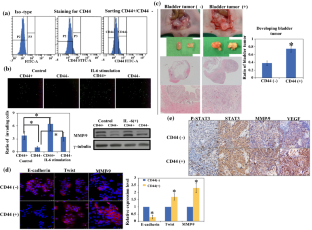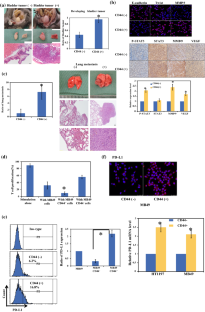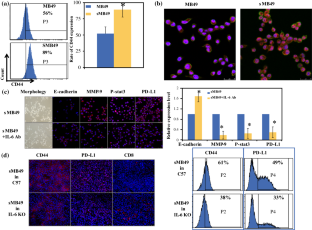 References
Stein JP, Lieskovsky G, Cote R, et al. Radical cystectomy in the treatment of invasive bladder cancer: long-term results in 1,054 patients. J Clin Oncol. 2001;19:666–75.

Rodel C, Weiss C, Sauer R. Trimodality treatment and selective organ preservation for bladder cancer. J Clin Oncol. 2006;24:5536–44.

Chan KS, Volkmer JP, Weissman I. Cancer stem cells in bladder cancer: a revisited and evolving concept. Curr Opin Urol. 2010;20:393–7.

Yu SC, Bian XW. Enrichment of cancer stem cells based on heterogeneity of invasiveness. Stem Cell Rev. 2009;5:66–71.

Frank NY, Schatton T, Frank MH. The therapeutic promise of the cancer stem cell concept. J Clin Invest. 2010;120:41–50.

Hermann PC, Bhaskar S, Cioffi M, Heeschen C. Cancer stem cells in solid tumors. Semin Cancer Biol. 2010;20:77–84.

Krause M, Dubrovska A, Linge A, Baumann M. Cancer stem cells: Radioresistance, prediction of radiotherapy outcome and specific targets for combined treatments. Adv Drug Deliv Rev. 2017;109:63–73.

Marhaba R, Zoller M. CD44 in cancer progression: adhesion, migration and growth regulation. J Mol Histol. 2004;35:211–31.

Du L, Wang H, He L, et al. CD44 is of functional importance for colorectal cancer stem cells. Clin Cancer Res. 2008;14:6751–60.

Wu CT, Lin WY, Chang YH, Chen WC, Chen MF. Impact of CD44 expression on radiation response for bladder cancer. J Cancer. 2017;8:1137–44.

Zhu Z, Shen Z, Xu C. Inflammatory pathways as promising targets to increase chemotherapy response in bladder cancer. Mediators Inflamm. 2012;2012:528690.

Smyth MJ, Cretney E, Kershaw MH, Hayakawa Y. Cytokines in cancer immunity and immunotherapy. Immunol Rev. 2004;202:275–93.

Chen MF, Lin PY, Wu CF, Chen WC, Wu CT. IL-6 expression regulates tumorigenicity and correlates with prognosis in bladder cancer. PLoS ONE. 2013;8:e61901.

Bharti R, Dey G, Mandal M. Cancer development, chemoresistance, epithelial to mesenchymal transition and stem cells: a snapshot of IL-6 mediated involvement. Cancer Lett. 2016;375:51–61.

Shen CH, Shee JJ, Wu JY, Lin YW, Wu JD, Liu YW. Combretastatin A-4 inhibits cell growth and metastasis in bladder cancer cells and retards tumour growth in a murine orthotopic bladder tumour model. Br J Pharmacol. 2010;160:2008–27.

Zhu YT, Lei CY, Luo Y, et al. A modified method for isolation of bladder cancer stem cells from a MB49 murine cell line. BMC Urol. 2013;13:57.

Wu CT, Chen WC, Chang YH, Lin WY, Chen MF. The role of PD-L1 in the radiation response and clinical outcome for bladder cancer. Sci Rep. 2016;6:19740.

Ahmed M, Sottnik JL, Dancik GM, et al. An Osteopontin/CD44 Axis in RhoGDI2-Mediated Metastasis Suppression. Cancer Cell. 2016;30(3):432–43.

Ruggeri BA, Camp F, Miknyoczki S. Animal models of disease: pre-clinical animal models of cancer and their applications and utility in drug discovery. Biochem Pharmacol. 2014;87:150–61.

McConkey DJ, Choi W, Marquis L, et al. Role of epithelial-to-mesenchymal transition (EMT) in drug sensitivity and metastasis in bladder cancer. Cancer Metastasis Rev. 2009;28:335–44.

Marotta LL, Almendro V, Marusyk A, et al. The JAK2/STAT3 signaling pathway is required for growth of CD44(+)CD24(-) stem cell-like breast cancer cells in human tumors. J Clin Invest. 2011;121:2723–35.

Maccalli C, Volonte A, Cimminiello C, Parmiani G. Immunology of cancer stem cells in solid tumours. A review. Eur J Cancer. 2014;50:649–55.

Silver DJ, Sinyuk M, Vogelbaum MA, Ahluwalia MS, Lathia JD. The intersection of cancer, cancer stem cells, and the immune system: therapeutic opportunities. Neuro Oncol. 2016;18:153–9.

Chen DS, Irving BA, Hodi FS. Molecular pathways: next-generation immunotherapy: inhibiting programmed death-ligand 1 and programmed death-1. Clin Cancer Res. 2012;18:6580–7.

Marzec M, Zhang Q, Goradia A, Raghunath PN, Liu X, Paessler M, et al. Oncogenic kinase NPM/ALK induces through STAT3 expression of immunosuppressive protein CD274 (PD-L1, B7-H1). Proc Natl Acad Sci USA. 2008;105:20852–7.

Eramo A, Lotti F, Sette G, et al. Identification and expansion of the tumorigenic lung cancer stem cell population. Cell Death Differ. 2008;15:504–14.

Schafer ZT, Brugge JS. IL-6 involvement in epithelial cancers. J Clin Invest. 2007;117:3660–3.

Aglianoa A, Calvob A, Box C. The challenge of targeting cancer stem cells to halt metastasis. Semin Cancer Biol. 2017;44:25–42.

Judd NP, Winkler AE, Murillo-Sauca O, et al. ERK1/2 Regulation of CD44 Modulates Oral Cancer Aggressiveness. Cancer Res. 2012;72(1):365–74.

Andrews B, Shariat SF, Kim JH, Wheeler TM, Slawin KM, Lerner SP. Preoperative plasma levels of interleukin-6 and its soluble receptor predict disease recurrence and survival of patients with bladder cancer. J Urol. 2002;167(3):1475–81.

Becker C, Fantini MC, Wirtz S, et al. IL-6 signalling promotes tumor growth in colorectal cancer. Cell Cycle. 2005; 4: 217–20.

Gautam KA, Sankhwar PL, Sankhwar SN. Evaluation of interleukin-6 (Il-6) as a tumor marker for urinary bladder cancer. World J Pharm Pharm Sci. 2015;4(4):1509–1519.

Brady JJ, Li M, Suthram S, Jiang H, Wong WH, Blau HM. Early role for IL-6 signalling during generation of induced pluripotent stem cells revealed by heterokaryon RNA-Seq. Nat Cell Biol. 2013;15:1244–52.

Vatner RE, Cooper BT, Vanpouille-Box C, Demaria S, Formenti SC. Combinations of immunotherapy and radiation in cancer therapy. Front Oncol. 2014;4:325.

Iwai Y, Ishida M, Tanaka Y, Okazaki T, Honjo T, Minato N. Involvement of PD-L1 on tumor cells in the escape from host immune system and tumor immunotherapy by PD-L1 blockade. Proc Natl Acad Sci USA. 2002;99:12293–7.
Funding
This work was support by Chang Gung Memorial Hospital, Taiwan (Grant Number OMRPG6C0011 and CMRPG6D0323, to M-F Chen), and the National Science Council, Taiwan (Grant Number NMRPG2E6031, to C-T Wu).
Ethics declarations
Conflicts of interest
Chun-Te Wu, Wei-Yu Lin, Wen-Cheng Chen, and Miao-Fen Chen confirm they have no conflicts of interest.
Electronic supplementary material
Below is the link to the electronic supplementary material.
About this article
Cite this article
Wu, CT., Lin, WY., Chen, WC. et al. Predictive Value of CD44 in Muscle-Invasive Bladder Cancer and Its Relationship with IL-6 Signaling. Ann Surg Oncol 25, 3518–3526 (2018). https://doi.org/10.1245/s10434-018-6706-0
Received:

Published:

Issue Date:

DOI: https://doi.org/10.1245/s10434-018-6706-0
Keywords
Bladder Cancer Cells

MIBC Patients

Orthotopic Tumor Model

Lower Disease-specific Survival Rate

Higher Locoregional Failure Rates