Abstract
Background
Experience with application of a robotic surgery platform in the management of breast cancer is limited. The preliminary results of the robotic nipple-sparing mastectomy (R-NSM) and immediate breast reconstruction (IBR) with Gel implant procedure are reported.
Methods
The medical records of patients from a single institution who underwent an R-NSM and IBR with Gel implant procedure for breast cancer during the period March 2017 to February 2018 were assessed. Data on clinicopathologic characteristics, type of surgery, complications, and recurrence were analyzed to determine the effectiveness and oncologic safety of R-NSM. Patient-reported cosmetic outcome results were obtained.
Results
A total of 22 patients who received 23 R-NSM and IBR with Gel implant procedures were analyzed. The mean operation time for R-NSM was 118.8 ± 50.6 min, and 74.5 ± 26.6 min for Gel implant reconstruction. Docking time quickly dropped from 20 to 6–8 min, and the time needed to complete R-NSM was usually completed within 100 min after accumulation of case experience. Mean blood loss was 37 ± 38.2 mL, and the positive surgical margin rate was 0%. Three (13%) patients had transit nipple ischemia change, and no total nipple-areolar complex necrosis cases were observed. No local recurrence or mortality was found during a mean 6.9 ± 3.5 months of follow-up. All 22 patients were satisfied with the postoperative aesthetic outcome.
Conclusion
From our preliminary experience, R-NSM and IBR with Gel implant is a safe procedure, with good cosmetic results, and could be a promising new technique for breast cancer patients indicated for mastectomy.
Access options
Buy single article
Instant access to the full article PDF.
USD 39.95
Price excludes VAT (USA)
Tax calculation will be finalised during checkout.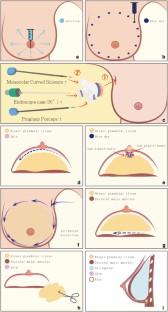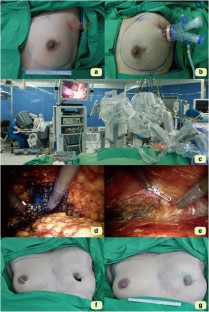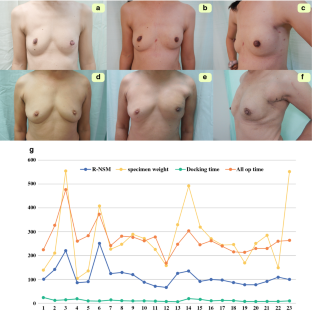 References
Sakamoto N, Fukuma E, Higa K, Ozaki S, Sakamoto M, Abe S, et al. Early results of an endoscopic nipple-sparing mastectomy for breast cancer. Ann Surg Oncol. 2009;16(12):3406–3413.

Tukenmez M, Ozden BC, Agcaoglu O, Kecer M, Ozmen V, Muslumanoglu M, et al. Videoendoscopic single-port nipple-sparing mastectomy and immediate reconstruction. J Laparoendosc Adv Surg Tech A. 2014;24(2):77–82.

Fan LJ, Jiang J, Yang XH, Zhang Y, Li XG, Chen XC, et al. A prospective study comparing endoscopic subcutaneous mastectomy plus immediate reconstruction with implants and breast conserving surgery for breast cancer. Chin Med J (Engl) 2009;122(24):2945-2950.

Ito K, Kanai T, Gomi K, Watanabe T, Ito T, Komatsu A, et al. Endoscopic-assisted skin-sparing mastectomy combined with sentinel node biopsy. ANZ J Surg. 2008;78(10):894–898.

Lai HW, Chen ST, Chen DR, Chen SL, Chang TW, Kuo SJ, et al. Current trends in and indications for endoscopy-assisted breast surgery for breast cancer: results from a six-year study conducted by the Taiwan Endoscopic Breast Surgery Cooperative Group. PLoS ONE. 2016;11(3):e0150310.

Lai HW, Wu HS, Chuang KL, Chen DR, Chang TW, Kuo SJ, et al. Endoscopy-assisted total mastectomy followed by immediate pedicled transverse rectus abdominis musculocutaneous (TRAM) flap reconstruction: preliminary results of 48 patients. Surg Innov. 2015;22(4):382–389.

Hung CS, Chang SW, Liao LM, Huang CC, Tu SH, Chen ST, et al. The learning curve of endoscopic total mastectomy in Taiwan: a multi-center study. PLoS ONE. 2017;12(6):e0178251.

Lai HW, Lin SL, Chen ST, Kuok KM, Chen SL, Lin YL, et al. Single-axillary-incision endoscopic-assisted hybrid technique for nipple-sparing mastectomy: technique, preliminary results, and patient-reported cosmetic outcome from preliminary 50 procedures. Ann Surg Oncol. 2018;25(5):1340–1349.

Toesca A, Peradze N, Manconi A, Galimberti V, Intra M, Colleoni M, et al. Robotic nipple-sparing mastectomy for the treatment of breast cancer: feasibility and safety study. Breast. 2017;31:51–56.

Ingram D. Is it time for breast cancer surgeons to embrace endoscopic-assisted mastectomy? ANZ J Surg. 2008;78(10):837–838.

Leff DR, Vashisht R, Yongue G, Keshtgar M, Yang GZ, Darzi A. Endoscopic breast surgery: Where are we now and what might the future hold for video-assisted breast surgery? Breast Cancer Res Treat. 2011;125(3):607–625.

Abramovici L, Cartier C, Pierre G, Garrel R. Robot-assisted transaxillary thyroidectomy: surgical technique. Eur. Ann. Otorhinol. Head Neck Dis. 2015;132(3):153–156.

Alkatout I, Mettler L, Maass N, Ackermann J. Robotic surgery in gynecology. J Turk Ger Gynecol Assoc. 2016;17(4):224-232.

Selber JC, Baumann DP, Holsinger FC. Robotic latissimus dorsi muscle harvest: a case series. Plast Reconstr Surg. 2012;129(6):1305–1312.

Toesca A, Peradze N, Galimberti V, Manconi A, Intra M, Gentilini O, et al. Robotic nipple-sparing mastectomy and immediate breast reconstruction with implant: first report of surgical technique. Ann Surg. 2017;266(2):e28–e30.

Sarfati B, Honart JF, Leymarie N, Rimareix F, Al Khashnam H, Kolb F. Robotic da Vinci Xi-assisted nipple-sparing mastectomy: first clinical report. Breast J. 2018;24(3):373–376.

Mittal AK, Dubey M, Arora M, Bhagat S, Bhargava AK. Anaesthetic consideration for robotic nipple sparing mastectomy. Indian J Anaesth. 2017;61(6):519–521.

Lai HW, Lin SL, Chen ST, Chen SL, Lin YL, Chen DR, et al. Robotic nipple-sparing mastectomy and immediate breast reconstruction with gel implant. Plast Reconstr Surg Glob Open. 2018;6:e1828.

Lai HW, Lin HY, Chen SL, Chen ST, Chen DR, Kuo SJ. Endoscopy-assisted surgery for the management of benign breast tumors: technique, learning curve, and patient-reported outcome from preliminary 323 procedures. World J Surg Oncol. 2017;15(1):19.

Moran MS, Schnitt SJ, Giuliano AE, Harris JR, Khan SA, Horton J, et al. Society of Surgical Oncology-American Society for Radiation Oncology consensus guideline on margins for breast-conserving surgery with whole-breast irradiation in stages I and II invasive breast cancer. Ann Surg Oncol. 2014;21(3):704–716.

NCCN Clinical Practice Guidelines in Oncology—Breast Cancer. http://www.nccn.org/professionals/physician_gls/PDF/breast.pdf.

Goldhirsch A, Wood WC, Coates AS, Gelber RD, Thurlimann B, Senn HJ. Strategies for subtypes: dealing with the diversity of breast cancer: highlights of the St. Gallen International Expert Consensus on the Primary Therapy of Early Breast Cancer 2011. Ann Oncol. 2011;22(8):1736–1747.

Chan SE, Liao CY, Wang TY, Chen ST, Chen DR, Lin YJ, et al. The diagnostic utility of preoperative breast magnetic resonance imaging (MRI) and/or intraoperative sub-nipple biopsy in nipple-sparing mastectomy. Eur J Surg Oncol. 2017;43(1):76–84.

Carlson GW, Chu CK, Moyer HR, Duggal C, Losken A. Predictors of nipple ischemia after nipple sparing mastectomy. Breast J. 2014;20(1):69–73.

Mastroianni M, Lin AM, Smith BL, Austen WG Jr, Colwell AS. Nipple loss following nipple-sparing mastectomy. Plast Reconstr Surg. 2016;138(1):24e–30e.

Park SW, Lee TJ, Kim EK, Eom JS. Managing necrosis of the nipple-areola complex in breast reconstruction after nipple-sparing mastectomy: immediate nipple-areola complex reconstruction with banked skin. Plast Reconstr Surg. 2014;133(1):73e–74e.

Selber JC, Baumann DP, Holsinger CF. Robotic harvest of the latissimus dorsi muscle: laboratory and clinical experience. J Reconstr Microsurg. 2012;28(7):457–464.

Sigalove S, Maxwell GP, Sigalove NM, Storm-Dickerson TL, Pope N, Rice J, et al. Prepectoral implant-based breast reconstruction: rationale, indications, and preliminary results. Plast Reconstr Surg. 2017;139(2):287–294.

Baker BG, Irri R, MacCallum V, Chattopadhyay R, Murphy J, Harvey JR. A prospective comparison of short-term outcomes of subpectoral and prepectoral strattice-based immediate breast reconstruction. Plast Reconstr Surg. 2018;141(5):1077–1084.
Acknowledgement
The authors would like thank Yun-Ting Chang and Shun-Ing Tsai for their assistance in this study.
Funding
This study was funded by the Ministry of Science and Technology of Taiwan (funding number: MOST 107-2314-B-371-006), and was sponsored by research funding provided by the CCH (104-CCH-ICO-006, 105-CCH-PRJ-003, 105-CCH-IRP-025, and 106-CCH-IRP-015).
Ethics declarations
Discloure
Hung-Wen Lai, Shou-Tung Chen, Shih-Lung Lin, Chih-Jung Chen, Ya-Ling Lin, Shu-Hsin Pai, Dar-Ren Chen, and Shou-Jen Kuo have no conflicts of interest or financial ties to disclose.
Electronic supplementary material
Below is the link to the electronic supplementary material.
Supplementary material 1 (MP4 52647 kb)
About this article
Cite this article
Lai, HW., Chen, ST., Lin, SL. et al. Robotic Nipple-Sparing Mastectomy and Immediate Breast Reconstruction with Gel Implant: Technique, Preliminary Results and Patient-Reported Cosmetic Outcome. Ann Surg Oncol 26, 42–52 (2019). https://doi.org/10.1245/s10434-018-6704-2
Received:

Published:

Issue Date:

DOI: https://doi.org/10.1245/s10434-018-6704-2
Keywords
Immediate Breast Reconstruction (IBR)

Nipple-sparing Mastectomy

Postoperative Aesthetic Results

Breast Cancer

Breast Skin Flaps