Abstract
Background
Chylothorax is one of the complications of esophagectomy for esophageal cancer. The treatment of this condition has been well discussed, but the risk factors for postoperative chylothorax remain unclear.
Methods
A retrospective review of 294 patients who underwent esophagectomy for esophageal cancer was conducted. These were patients with squamous cell carcinoma or adenocarcinoma of the esophagus including Siewert type I tumor of the esophagogastric junction who underwent subtotal esophagectomy with two-field or three-field lymphadenectomy. Of these, 24 patients who were diagnosed with chylothorax as a postoperative complication were allocated to the chylothorax group and the other 270 patients were allocated to the nonchylothorax group.
Results
Univariate analysis showed a significant difference in three factors: resection of thoracic duct, post-chemoradiotherapy, and high intraoperative fluid balance. Multivariate analysis revealed that post-chemoradiotherapy [hazard ratio (HR) = 3.430; 95% confidence interval (CI) 1.364–8.625] and high intraoperative fluid balance (HR = 1.569; 95% CI 1.2.7–2.039) were independent factors predicting chylothorax. In addition, resection of the thoracic duct may be a predictor of chylothorax after esophagectomy (HR = 3.389; 95% CI 0.941–12.201, p = 0.062). Receiver operating characteristic curve analysis of intraoperative fluid revealed that the sensitivity was 62.5%, specificity was 74.1%, and the cutoff value was 6.55 mL/kg/h.
Conclusions
This study revealed that post-chemoradiotherapy and high intraoperative fluid balance are predictors of chylothorax after esophagectomy. The elucidation of clinicopathological factors that can predict the incidence of chylothorax will help to establish more effective perioperative management for esophageal cancer patients.
This is a preview of subscription content, log in to check access.
Access options
Buy single article
Instant access to the full article PDF.
US$ 39.95
Price includes VAT for USA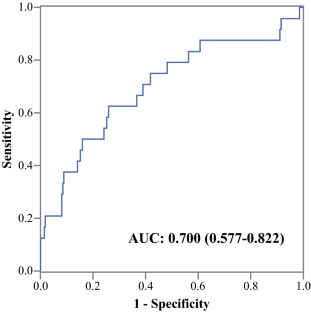 References
1.

Ohkura Y, Ueno M, Iizuka T, et al. New combined medical treatment with etilefrine and octreotide for chylothorax after esophagectomy: a case report and review of the literature. Medicine (Baltimore). 2015;94(49):e2214.

2.

Ohkura Y, Ueno M, Iizuka T, Udagawa H. Effectiveness of etilefrine regimen for chylothorax after esophagectomy with thoracic duct resection. Esophagus. 2018;15(1):33–8.

3.

Tamura T, Kubo N, Yamamoto A, et al. Cervical chylous leakage following esophagectomy that was successfully treated by intranodal lipiodol lymphangiography: a case report. BMC Surg. 2017;17(1):20.

4.

Carcoforo P, Soliani G, Maestroni U, et al. Octreotide in the treatment of lymphorrhea after axillary node dissection: a prospective randomized controlled trial. J Am Coll Surg. 2003;196:365–9.

5.

Lin Y, Li Z, Li G, et al. Selective en masse ligation of the thoracic duct to prevent chyle leak after esophagectomy. Ann Thorac Surg. 2017;103:1802–7.

6.

Tachibana M, Kinugasa S, Yoshimura H, et al. Does fibrin glue reduce lymph leakage (pleural effusion) after extended esophagectomy? Prospective randomized clinical trial. World J Surg. 2003;27:776–81.

7.

Udagawa H, Akiyama H. Surgical treatment of esophageal cancer: Tokyo experience of the three-field technique. Dis Esophagus. 2001;14:110–4.

8.

Sobin LH, Gospodarowicz MK, Wittekind C (eds) International Union Against Cancer. Oesophagus including oesophagogastric junction. TNM classification of malignant tumours. West Sussex, UK: Wiley-Blackwell; 2009:66–72.

9.

Dindo D, Demartines N, Clavien PA. Classification of surgical complications: a new proposal with evaluation in a cohort of 6336 patients and results of a survey. Ann Surg. 2004;240:205–13.

10.

Ajani JA, Winter K, Komaki R, et al. Phase II randomized trial of two nonoperative regimens of induction chemotherapy followed by chemoradiation in patients with localized carcinoma of the esophagus: RTOG 0113. J Clin Oncol. 2008;26:4551–6.

11.

Kiyozumi Y, Yoshida N, Ishimoto T, et al. Prognostic factors of salvage esophagectomy for residual or recurrent esophageal squamous cell carcinoma after definitive chemoradiotherapy. World J Surg. 2018; Feb 8. [Epub ahead of print].

12.

Akiyama H, Miyazono H, Tsurumaru M, et al. Use of the stomach as an esophageal substitute. Ann Surg. 1978;188:606–10.

13.

Udagawa H, Ueno M, Kinoshita Y. Rationale for video-assisted radical esophagectomy. Gen Thorac Cardiovasc Surg. 2009;57:127–31.

14.

Udagawa H, Ueno M, Shinohara H, et al. The importance of grouping of lymph node stations and rationale of three-field lymphoadenectomy for thoracic esophageal cancer. J Surg Oncol. 2012;106(6):742–7.

15.

Udagawa H, Ueno M, Shinohara H, et al. Should lymph nodes along the thoracic duct be dissected routinely in radical esophagectomy? Esophagus, 2014;11:204–10.

16.

Ohkura Y, Ueno M, Iizuka T, et al. Factors predicting effectiveness of neoadjuvant therapy for esophageal squamous cell carcinoma. Medicine (Baltimore). 2016;95(15):e3365.

17.

Staats BA, Ellefson RD, Budahn LL, et al. The lipoprotein profile of chylous and nonchylous pleural effusions. Mayo Clin Proc. 1980;55(11):700–4.

18.

Gupta R, Singh H, Kalia S, et al. Chylothorax after esophagectomy for esophageal cancer: Risk factors and management. Indian J Gastroenterol. 2015;34:240–4.

19.

Congdon CC. The destructive effect of radiation on lymphatic tissue. Cancer Res. 1966;26:1211–20.

20.

Wiig H, Swartz MA. Interstitial fluid and lymph formation and transport: physiological regulation and roles in inflammation and cancer. Physiol Rev. 2012;92:1005–60.

21.

Nisanevich V, Felsenstein I, Almogy G, et al. Effect of intraoperative fluid management on outcome after intra-abdominal surgery. Anesthesiology. 2005;103:25–32.

22.

Tsurumaru M. Complications and treatment after esophagectomy with extended lymph node dissection for esophageal carcinoma. Jpn Soc Gastroenterol Surg. 1996;29:109–13.

23.

Crucitti P, Mangiameli G, Petitti T, et al. Does prophylactic ligation of the thoracic duct reduce chylothorax rates in patients undergoing oesophagectomy? A systemic review and meta-analysis. Eur J Cardiothorac Surg. 2016;50:1019–24.

24.

Davis HK. A statistical study of the thoracic duct in man. Devel Dyn. 1915;17: 211–44.

25.

Adachi B. Der ductus thoracicus Japaner. pp 1–8. In: Kihara T (ed) Das Lymphagefasssystem der Japaner. Kenkyusha, Tokyo. 1953.
Ethics declarations
Conflict of interest
The authors declare that they have no conflict of interest.
About this article
Cite this article
Ohkura, Y., Ueno, M., Shindoh, J. et al. Risk Factors for Postoperative Chylothorax After Radical Subtotal Esophagectomy. Ann Surg Oncol 25, 2739–2746 (2018). https://doi.org/10.1245/s10434-018-6640-1
Received:

Published:

Issue Date:
Keywords
Postoperative Chylothorax

Subtotal Esophagectomy

Intraoperative Fluid Balance

Three-field Lymphadenectomy

Video-assisted Thoracoscopic Surgery (VATS)