Abstract
Background
Oncotype DX (oDX) is used to predict recurrence and indicate response to chemotherapy in patients with early-stage breast cancer (BC). We evaluated the relationship between age (< 50 vs. ≥ 50 years), recurrence score (RS), chemotherapy use, and trends of oDX testing over time.
Methods
Using the National Cancer Database, we identified women with T1/T2, N0, estrogen receptor-positive BC from 2009 to 2014. We stratified patients by age (< 50 and ≥ 50 years) and RS (low: < 18; intermediate: 18–30; and high: > 30), and compared demographics, tumor characteristics, and chemotherapy recommendations. Management trends were also assessed.
Results
From 2009 to 2014, a total of 377,725 cases met the eligibility criteria for oDX testing; 115,052 (30.5%) patients had oDX, and 60,804 (16.1%) were < 50 years of age. The majority had low RS and T1N0 disease. Patients < 50 years of age were more likely to be recommended chemotherapy than those ≥ 50 years of age, regardless of RS (p ≤ 0.001), and were more likely to ultimately undergo chemotherapy (p < 0.001). When stratified by year, oDX utilization increased. There was a decreasing trend in chemotherapy recommendations in both the low- and intermediate-RS groups for both age groups (all p = 0.001), with no change in the high-RS group (< 50 years: p = 0.52; ≥ 50 years: p = 0.67). Univariate and multivariate analyses demonstrated that patients < 50 years of age and those with a higher RS were more likely to be recommended chemotherapy (p < 0.001).
Conclusions
The testing of oDX in BC has significantly increased since first implemented. Results from additional studies such as TAILORx will clarify the current discordant practice patterns between low oDX RSs and adjuvant chemotherapy recommendations.
This is a preview of subscription content, log in to check access.
Access options
Buy single article
Instant access to the full article PDF.
US$ 39.95
Price includes VAT for USA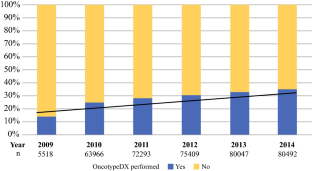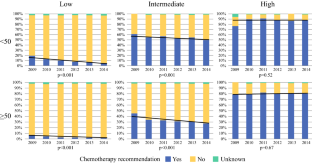 References
1.

Paik S, Shak S, Tang G, et al. A Multigene Assay To Predict Recurrence Of Tamoxifen-Treated, Node-Negative Breast Cancer. N Engl J Med. 2004;351(27):2817–26.

2.

Albain KS, Barlow WE, Shak S, et al. Prognostic and predictive value of the 21-gene recurrence score assay in postmenopausal women with node-positive, oestrogen-receptor-positive breast cancer on chemotherapy: a retrospective analysis of a randomised trial. Lancet Oncol. 2010;11(1):55–65.

3.

Dowsett M, Cuzick J, Wale C, et al. Prediction of risk of distant recurrence using the 21-gene recurrence score in node-negative and node-positive postmenopausal patients with breast cancer treated with anastrozole or tamoxifen: a TransATAC study. J Clin Oncol. 2010;28(11):1829–34.

4.

Paik S, Tang G, Shak S, et al. Gene expression and benefit of chemotherapy in women with node-negative, estrogen receptor-positive breast cancer. J Clin Oncol. 2006;24(23):3726–34.

5.

Habel LA, Shak S, Jacobs MK, et al. A population-based study of tumor gene expression and risk of breast cancer death among lymph node-negative patients. Breast Cancer Res. 2006;8(3):R25.

6.

American Society of Clinical Oncology. Update of recommendations for the use of tumor markers in breast cancer. J Oncol Pract. 2007;3(6):336–9.

7.

NCCN. Evidence-based cancer guidelines, oncology drug compendium, oncology continuing medical education. https://www.nccn.org/. Accessed 14 Apr 2018.

8.

Loncaster J, Armstrong A, Howell S, et al. Impact of Oncotype DX breast Recurrence Score testing on adjuvant chemotherapy use in early breast cancer: real world experience in Greater Manchester, UK. Eur J Surg Oncol.2017;43(5):931.

9.

Augustovski F, Soto N, Caporale J, Gonzalez L, Gibbons L, Ciapponi A. Decision-making impact on adjuvant chemotherapy allocation in early node-negative breast cancer with a 21-gene assay: systematic review and meta-analysis. Breast Cancer Res Treat. 2015;152(3):611.

10.

McVeigh TP, Hughes LM, Miller N, et al. The impact of Oncotype DX testing on breast cancer management and chemotherapy prescribing patterns in a tertiary referral centre. Eur J Cancer. 2014;50(16):2763–70.

11.

American Joint Committee on Cancer (AJCC) Cancer staging manual, 8th ed. https://cancerstaging.org/references-tools/deskreferences/Pages/Breast-Cancer-Staging.aspx. Accessed 3 Apr 2018.

12.

US Breast Cancer Statistics. http://www.breastcancer.org/symptoms/understand_bc/statistics. Accessed 10 Apr 2018.

13.

Swain SM, Nunes R, Yoshizawa C, Rothney M, Sing AP. Quantitative gene expression by recurrence score in ER-positive breast cancer, by age. Adv Ther. 2015;32(12):1222–36.

14.

Carr DN, Vera N, Sun W, et al. Menopausal status does not predict Oncotype DX recurrence score. J Surg Res. 2015;198(1):27–33.

15.

Khajuria S, Adams A, Schreiber AM. Age disparity in Oncotype DX testing in a community oncology setting. J Clin Oncol. 2013;31(26 Suppl):119.

16.

Chen C, Dhanda R, Tseng W-Y, Forsyth M, Patt DA. Evaluating use characteristics for the oncotype dx 21-gene recurrence score and concordance with chemotherapy use in early-stage breast cancer. J Oncol Pract. 2013;9(4):182–7.

17.

Sparano JA, Gray RJ, Makower DF, et al. Prospective validation of a 21-gene expression assay in breast cancer. N Engl J Med. 2015;373(21):2005–14.

18.

Maggard MA, O'Connell JB, Lane KE, Liu JH, Etzioni DA, Ko CY. Do young breast cancer patients have worse outcomes? J Surg Res. 2003;113(1):109–13.

19.

Yildirim E, Dalgiç T, Berberoğlu U. Prognostic significance of young age in breast cancer. J Surg Oncol. 2000;74(4):267–72.

20.

El Saghir NS, Seoud M, Khalil MK, et al. Effects of young age at presentation on survival in breast cancer. BMC Cancer. 2006;6:194.
Funding
This study was partly funded by the National Cancer Institute (NCI) Cancer Center Support Grant [2-P30-CA-016520-35] (JT), Breast Cancer Alliance Research Foundation (JT), and the Breast Cancer Immunotherapy Funds (JT and ADW).
Ethics declarations
Disclosure
Austin D. Williams, Sylvia A. Reyes, Renee L. Arlow, Julia Tchou, and Lucy M. De La Cruz have no financial relationships or conflicts of interest to disclose relevant to this article.
Additional information
Julia Tchou and Lucy M. De La Cruz were co-senior authors of this work.
About this article
Cite this article
Williams, A.D., Reyes, S.A., Arlow, R.L. et al. Is Age Trumping Genetic Profiling in Clinical Practice? Relationship of Chemotherapy Recommendation and Oncotype DX Recurrence Score in Patients Aged < 50 Years versus ≥ 50 Years, and Trends Over Time. Ann Surg Oncol 25, 2875–2883 (2018). https://doi.org/10.1245/s10434-018-6600-9
Received:

Published:

Issue Date:
Keywords
Chemotherapy Recommendations

Recurrence Score (RS)

National Cancer Database (NCDB)

TAILORx

NCDB Analysis