Abstract
Introduction
Nipple-sparing mastectomy (NSM) is increasingly used for breast cancer risk reduction and treatment. Prior small studies with variable control for baseline characteristics suggest superior satisfaction with NSM. The purpose of this study was to compare patient satisfaction following NSM and total mastectomy (TM) utilizing the BREAST-Q patient-reported outcome measure in a well-characterized patient population.
Methods
Patients at a single institution undergoing NSM or TM with immediate tissue expander/implant reconstruction who completed a follow-up BREAST-Q from 2007 to 2017 were identified by retrospective review of a prospective database. Baseline characteristics were compared, and linear mixed models were used to analyze associations with BREAST-Q scores over time.
Results
Of 1866 eligible patients, 219 (12%) underwent NSM, and 1647 (88%) underwent TM. Median time from baseline to BREAST-Q was 658 days. Patients with NSM were younger, more likely to be white, and had lower BMI. They more often had prophylactic surgery, bilateral mastectomies, lower-stage disease, and less often received chemotherapy/radiation than patients with TM. On multivariable analysis, after controlling for relevant clinical variables, there was no difference in satisfaction with breasts or satisfaction with outcome overall between NSM and TM patients. Psychosocial well-being and sexual well-being were significantly higher in the NSM group. After additionally controlling for preoperative BREAST-Q score in a subset of patients (72 NSM; 443 TM), only psychosocial well-being remained significantly higher in NSM patients.
Conclusions
Patient-reported outcomes should be discussed with women weighing the risks and benefits of NSM to provide a better understanding of expected quality of life.
Access options
Buy single article
Instant access to the full article PDF.
USD 39.95
Price excludes VAT (USA)
Tax calculation will be finalised during checkout.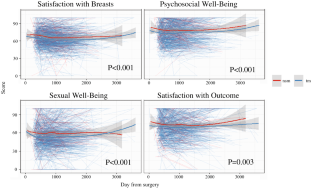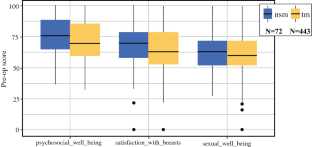 References
Krajewski AC, Boughey JC, Degnim AC, et al. Expanded indications and improved outcomes for nipple-sparing mastectomy over time. Ann Surg Oncol. 2015;22(10):3317–23.

Freeman BS. Complications of subcutaneous mastectomy with prosthetic replacement, immediate or delayed. South Med J. 1967;60(12):1277–80.

Freeman BS. Subcutaneous mastectomy for benign breast lesions with immediate or delayed prosthetic replacement. Plast Reconstr Surg Transplant Bull. 1962;30:676–82.

Freeman BS. Technique of subcutaneous mastectomy with replacement; immediate and delayed. Br J Plast Surg. 1969;22(2):161–6.

National Comprehensive Cancer Network (NCCN). Clinical practice guidelines in oncology: breast cancer. 2018. https://www.nccn.org/. Accessed 25 June 2018.

Matsen CB, Mehrara B, Eaton A, et al. Skin flap necrosis after mastectomy with reconstruction: a prospective study. Ann Surg Oncol. 2016;23(1):257–64.

Rusby JE, Smith BL, Gui GP. Nipple-sparing mastectomy. Br J Surg. 2010;97(3):305–16.

Galimberti V, Vicini E, Corso G, et al. Nipple-sparing and skin-sparing mastectomy: review of aims, oncological safety and contraindications. Breast. 2017;34(Suppl 1):S82–84.

Jakub JW, Peled AW, Gray RJ, et al. Oncologic safety of prophylactic nipple-sparing mastectomy in a population with BRCA mutations: a multi-institutional study. JAMA Surg. 2018;153(2):123–9.

de Alcantara Filho P, Capko D, Barry JM, et al. Nipple-sparing mastectomy for breast cancer and risk-reducing surgery: the Memorial Sloan-Kettering Cancer Center experience. Ann Surg Oncol. 2011;18(11):3117–22.

Petit JY, Veronesi U, Lohsiriwat V, et al. Nipple-sparing mastectomy—is it worth the risk? Nat Rev Clin Oncol. 2011;8(12):742–7.

Wellisch DK, Schain WS, Noone RB, et al. The psychological contribution of nipple addition in breast reconstruction. Plast Reconstr Surg. 1987;80(5):699–704.

Wei CH, Scott AM, Price AN, et al. Psychosocial and sexual well-being following nipple-sparing mastectomy and reconstruction. Breast J. 2016;22(1):10–7.

Jabor MA, Shayani P, Collins DR Jr., et al. Nipple-areola reconstruction: satisfaction and clinical determinants. Plast Reconstr Surg. 2002;110(2):457–63; discussion 464–5.

Howard MA, Sisco M, Yao K, et al. Patient satisfaction with nipple-sparing mastectomy: a prospective study of patient reported outcomes using the BREAST-Q. J Surg Oncol. 2016;114(4):416–22.

Mesdag V, Regis C, Tresch E, et al. Nipple-sparing mastectomy for breast cancer is associated with high patient satisfaction and safe oncological outcomes. J Gynecol Obstet Hum Reprod. 2017;46(8):637–42.

Bailey CR, Ogbuagu O, Baltodano PA, et al. Quality-of-life outcomes improve with nipple-sparing mastectomy and breast reconstruction. Plast Reconstr Surg. 2017;140(2):219–26.

Platt J, Zhong T. Patient-centered breast reconstruction based on health-related quality-of-life evidence. Clin Plast Surg. 2018;45(1):137–43.

Pusic AL, Klassen AF, Scott AM, et al. Development of a new patient-reported outcome measure for breast surgery: the BREAST-Q. Plast Reconstr Surg. 2009;124(2):345–53.

Cano SJ, Klassen AF, Scott AM, et al. A closer look at the BREAST-Q((c)). Clin Plast Surg. 2013;40(2):287–96.

Little JW 3rd. Nipple-areola reconstruction. Clin Plast Surg. 1984;11(2):351–64.

Koslow S, Pharmer LA, Scott AM, et al. Long-term patient-reported satisfaction after contralateral prophylactic mastectomy and implant reconstruction. Ann Surg Oncol. 2013;20(11):3422–9.

Momoh AO, Cohen WA, Kidwell KM, et al. Tradeoffs associated with contralateral prophylactic mastectomy in women choosing breast reconstruction: results of a prospective multicenter cohort. Ann Surg. 2017;266(1):158–64.

Didier F, Radice D, Gandini S, et al. Does nipple preservation in mastectomy improve satisfaction with cosmetic results, psychological adjustment, body image and sexuality? Breast Cancer Res Treat. 2009;118(3):623–33.

Metcalfe KA, Cil TD, Semple JL, et al. Long-term psychosocial functioning in women with bilateral prophylactic mastectomy: does preservation of the nipple-areolar complex make a difference? Ann Surg Oncol. 2015;22(10):3324–30.

Satteson ES, Brown BJ, Nahabedian MY. Nipple-areolar complex reconstruction and patient satisfaction: a systematic review and meta-analysis. Gland Surg. 2017;6(1):4–13.

van Verschuer VM, Mureau MA, Gopie JP, et al. Patient satisfaction and nipple-areola sensitivity after bilateral prophylactic mastectomy and immediate implant breast reconstruction in a high breast cancer risk population: nipple-sparing mastectomy versus skin-sparing mastectomy. Ann Plast Surg. 2016;77(2):145–52.

Peled AW, Duralde E, Foster RD, et al. Patient-reported outcomes and satisfaction after total skin-sparing mastectomy and immediate expander-implant reconstruction. Ann Plast Surg. 2014;72(Suppl 1):S48–52.
Ethics declarations
Disclosures
The preparation of this manuscript was funded in part by NIH/NCI Cancer Center Support Grant No. P30 CA008748 to Memorial Sloan Kettering Cancer Center, and this study was presented in podium format at the 19th Annual Meeting of the American Society of Breast Surgeons, May 2–6, 2018, Orlando, FL. Dr. Monica Morrow is a consultant for Genomic Health. Dr. Pusic is a co-developer of the BREAST-Q and receives royalties when the questionnaire is used in for-profit industry-sponsored clinical trials.
About this article
Cite this article
Romanoff, A., Zabor, E.C., Stempel, M. et al. A Comparison of Patient-Reported Outcomes After Nipple-Sparing Mastectomy and Conventional Mastectomy with Reconstruction. Ann Surg Oncol 25, 2909–2916 (2018). https://doi.org/10.1245/s10434-018-6585-4
Received:

Published:

Issue Date:

DOI: https://doi.org/10.1245/s10434-018-6585-4
Keywords
Nipple-sparing Mastectomy (NSM)

Total Mastectomy

Well-characterized Patient Populations

Compare Patient Satisfaction

Bilateral Mastectomy