Abstract
Background
Endocrine surgery continues to mature as a subspecialty field. We describe the clinical performance of an academic endocrine surgery program (ESP) over its first 10 years.
Methods
We examined all endocrine procedures performed during the 10-year period (2006–2015) following the inception of the ESP. Institutional and state-level data on case volume, patient geographic origin, and hospital-side costs were obtained.
Results
Endocrine case volume increased by approximately ninefold over the study period (from 102 cases in 2006 to 919 cases in 2015). The rate of growth remained approximately linear, and was driven by geographic expansion of referral regions coupled with transitioning low- to moderate-acuity operations to venues outside of the main tertiary care hospital. Market share across the eight-county Southern California region grew by more than twofold over the study period. Increased utilization of outpatient surgery led to cost reductions, averaging 11.1% per case by 2015.
Conclusions
Establishment of an academic ESP can lead to sustained clinical growth and a fundamental shift in regional referral patterns. The nation's continued need for skilled high-volume endocrine surgeons represents opportunities for medical centers to institute their own dedicated endocrine surgery programs.
Access options
Buy single article
Instant access to the full article PDF.
US$ 39.95
Tax calculation will be finalised during checkout.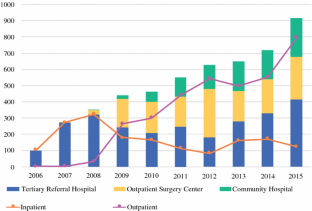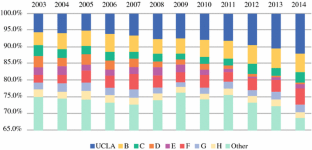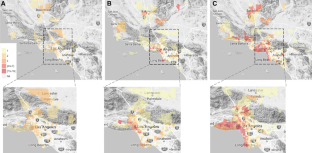 References
1.

Pasieka JL. Kindred spirits of the endocrines: the training of the future endocrine surgeons. J Surg Oncol 2005;89(3):202–5.

2.

Sosa JA, Wang TS, Yeo HL, et al. The maturation of a specialty: workforce projections for endocrine surgery. Surgery 2007;142(6):876–83.

3.

3. Wang TS. Endocrine surgery. Am J Surg 2011;202(3):369-371.

4.

Krishnamurthy VD, Jin J, Siperstein A, Shin JJ. Mapping endocrine surgery: workforce analysis from the last six decades. Surgery 2016;159(1):102–12.

5.

Chen AY, Jemal A, Ward EM. Increasing incidence of differentiated thyroid cancer in the United States, 1988–2005. Cancer 2009;115(16):3801–7.

6.

Stavrakis AI, Ituarte PHG, Ko CY, Yeh MW. Surgeon volume as a predictor of outcomes in inpatient and outpatient endocrine surgery. Surgery 2007;142(6):887–99.

7.

Birkmeyer JD, Stukel TA, Siewers AE, Goodney PP, Wennberg DE, Lucas FL. Surgeon volume and operative mortality in the United States. N Engl J Med 2003;349(22):2117–27.

8.

Reames BN, Ghaferi AA, Birkmeyer JD, Dimick JB. Hospital volume and operative mortality in the modern era. Ann Surg 2014;260(2):244–51.

9.

Finlayson EA, Goodney PP, Birkmeyer JD. Hospital volume and operative mortality in cancer surgery: a national study. Arch Surg 2003;138(7):721–5.

10.

Boudourakis LD, Wang TS, Roman SA, Desai R, Sosa JA. Evolution of the surgeon-volume, patient-outcome relationship. Ann Surg 2009;250(1):159–65.

11.

Kuo JH, Pasieka JL, Parrack KM, Chabot JA, Lee JA. Endocrine surgery in present-day academia. Surgery 2014;156(6):1461–70.

12.

Wiseman JE, Ituarte PHG, Hwang RS, et al. Strategic impact of a new academic endocrine surgery program. Ann Surg Oncol 2011;18(8):2260–4.

13.

Saunders BD, Wainess RM, Dimick JB, Doherty GM, Upchurch GR, Gauger PG. Who performs endocrine operations in the United States? Surgery 2003;134(6):924–31.

14.

Shin JJ, Milas M, Mitchell J, Berber E, Gutnick J, Siperstein A. The endocrine surgery job market: a survey of fellows, department chairs, and surgery recruiters. J Surg Educ 2013;70(3):377–83.

15.

Tsinberg M, Duh Q-Y, Cisco RM, et al. Practice patterns and job satisfaction in fellowship-trained endocrine surgeons. Surgery 2012;152(6):953–56.

16.

Libutti SK. Endocrine surgery specialty training: opportunities for growth. Surgery 2010;148(6):1073–4.

17.

Abdulla AG, Ituarte PHG, Wiggins R, Teisberg EO, Harari A, Yeh MW. Endocrine surgery as a model for value-based health care delivery. Surg Neurol Int 2012;3:163.

18.

Kulkarni RP, Ituarte PHG, Gunderson D, Yeh MW (2011) Clinical pathways improve hospital resource use in endocrine surgery. J Am Coll Surg 212(1):35–41.

19.

Wu JX, Lam R, Levin M, Rao J, Sullivan PS, Yeh MW. Effect of malignancy rates on cost-effectiveness of routine gene expression classifier testing for indeterminate thyroid nodules. Surgery 2016;159(1):118–29.

20.

Wang TS, Sippel RS. Expansion of endocrine surgery fellowships: if we increase the supply is there demand? Surgery 2013;154(6):1470–2.

21.

Krishnamurthy VD, Gutnick J, Slotcavage R, et al. Endocrine surgery fellowship graduates past, present, and future: 8 years of early job market experiences and what program directors and trainees can expect. Surgery 2017;161(1):289–96.
Disclosure
The authors have no conflicts of interest to disclose. No financial support was obtained for the current study.
Electronic supplementary material
Below is the link to the electronic supplementary material.
UCLA endocrine surgery program case volumes by hospital type and inpatient versus outpatient setting for (A) thyroidectomy, (B) parathyroidectomy, (C) adrenalectomy, and (D) cervical lymphadenectomy. (TIFF 10573 kb)
About this article
Cite this article
Sho, S., Singer, E.S., Kwok, E. et al. Sustained Growth of a University-Based Endocrine Surgery Program Over 10 Years. Ann Surg Oncol 24, 3306–3311 (2017). https://doi.org/10.1245/s10434-017-6012-2
Received:

Published:

Issue Date:
Keywords
Endocrine Procedures

Hormones Case

Case Volume

University Of California, Los Angeles (UCLA)

Regional Market Share