Abstract
Background
How diagnosis with a variant of uncertain significance (VUS) in a BRCA gene impacts clinical decision-making is not well known.
Methods
We queried for all patients attending Mayo Clinic Rochester from 2004 to 2016 who tested positive for BRCA1 or BRCA2 VUS and reviewed patient management choices. Groups were compared by using Wilcoxon rank-sum and Chi-square tests.
Results
We identified 97 patients (95 females, 2 males) with BRCA VUS. For patients without cancer history (n = 20), 80% had a mother or sister with breast cancer, and median Tyrer-Cuzick (IBIS) lifetime breast cancer risk score was 27% (range 16–62%). Management included bilateral prophylactic mastectomy (BPM) in 39%, where choice for BPM was significantly associated with IBIS score (median 32 vs. 24%, p = 0.02) and first-degree family history of breast cancer (100 vs. 64%, p = 0.03) but not Gail score or total number of family members with cancer. For patients with breast cancer who had known VUS status prior to surgery (n = 9), the rate of contralateral prophylactic mastectomy (CPM) was 22% compared with 25% without known VUS and 83% with known BRCA pathogenic mutation. In 21 of 97 (22%) patients, the BRCA VUS has been reclassified (95% benign, 5% deleterious).
Conclusions
BRCA VUS carriers with cancer elected surgical choices similar to average-risk breast cancer patients. However, VUS carriers without cancer had high rates of BPM, associated with first-degree family history and IBIS score. Over time, a significant proportion of BRCA VUS were reclassified, illustrating the importance of appropriate counseling regarding VUS.
Access options
Buy single article
Instant access to the full article PDF.
US$ 39.95
Tax calculation will be finalised during checkout.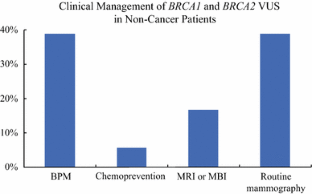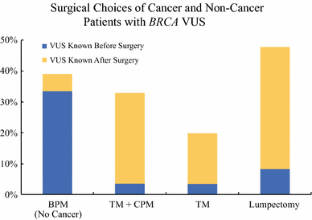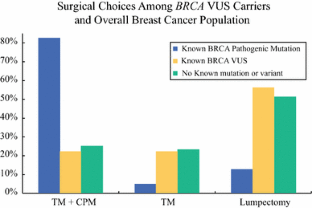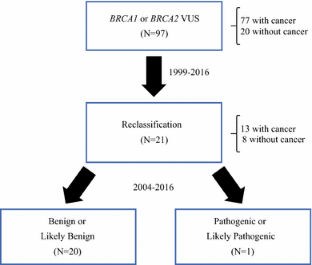 References
1.

Nash R, Goodman M, Lin CC, Freedman RA, Dominici LS, Ward K, Jemal A. State variation in the receipt of a contralateral prophylactic mastectomy among women who received a diagnosis of invasive unilateral early-stage breast cancer in the United States, 2004–2012. JAMA Surg. 2017. doi:10.1001/jamasurg.2017.0115.

2.

NCCN Clinical Practice Guidelines in Oncology. https://www.nccn.org/professionals/physician_gls/pdf/genetics_screening.pdf. Accessed 30 March 2017.

3.

Murray ML, Cerrato F, Bennett RL, Jarvik GP. Follow-up of carriers of BRCA1 and BRCA2 variants of unknown significance: variant reclassification and surgical decisions. Genet Med. 2011;13(12):998-1005.

4.

Chiba A, Hoskin TL, Hallberg EJ, Cogswell JA, Heins CN, Couch FJ, Boughey JC. Impact that timing of genetic mutation diagnosis has on surgical decision making and outcome for BRCA1/BRCA2 mutation carriers with breast cancer. Ann Surg Oncol. 2016;23(10):3232-8.

5.

Hoskin TL, Hieken TJ, Degnim AC, Jakub JW, Jacobson SR, Boughey JC. Use of immediate breast reconstruction and choice for contralateral prophylactic mastectomy. Surgery. 2016;159(4):1199-209.

6.

Eggington JM, Bowles KR, Moyes K, et al. A comprehensive laboratory-based program for classification of variants of uncertain significance in hereditary cancer genes. Clin Genet. 2014;86(3):229-37.

7.

Carter NJ, Hiraki S, Yackowski L, et al. Yield of pathogenic/likely pathogenic variants in breast cancer patients undergoing an inherited cancer panel based upon ethnic background. 2016; https://www.genedx.com/wp-content/uploads/2016/04/ACMG-2016-Ethnicity-and-IC-Panel-Testing-Results.pdf. Accessed 30 March 2017.

8.

Culver JO, Brinkerhoff CD, Clague J, Yang K, Singh KE, Sand SR, Weitzel JN. Variants of uncertain significance in BRCA testing: evaluation of surgical decisions, risk perception, and cancer distress. Clin Genet. 2013;84(5):464-72.

9.

Richter S, Haroun I, Graham TC, Eisen A, Kiss A, Warner E. Variants of unknown significance in BRCA testing: impact on risk perception, worry, prevention and counseling. Ann Oncol. 2013;24 Suppl 8:viii69-viii74. doi:10.1093/annonc/mdt312.

10.

Eccles BK, Copson E, Maishman T, Abraham JE, Eccles DM. Understanding of BRCA VUS genetic results by breast cancer specialists. BMC Cancer. 2015;15:936.
Acknowledgements
This research was supported in part by an NCI breast cancer Specialized Program of Research Excellence (SPORE) award (P50 CA116201) to the Mayo Clinic, NIH Grant CA116167, and the Mayo Clinic Breast Cancer Registry.
Disclosures
No commercial interest, financial, or material support to disclose.
About this article
Cite this article
Welsh, J.L., Hoskin, T.L., Day, C.N. et al. Clinical Decision-Making in Patients with Variant of Uncertain Significance in BRCA1 or BRCA2 Genes. Ann Surg Oncol 24, 3067–3072 (2017). https://doi.org/10.1245/s10434-017-5959-3
Received:

Published:

Issue Date:
Keywords
Contralateral Prophylactic Mastectomy (CPM)

First-degree Family History

Gail Score

Pathogenic BRCA1 Mutations

Bilateral Prophylactic Mastectomy (BPM)