Abstract
Objective
The aim of this study was to determine oncological outcomes and incidence of lymph node (LN) metastases in women who underwent systematic pelvic and paraaortic lymphadenectomy for surgical staging of apparent stage I low-grade epithelial ovarian cancer (LGEOC).
Materials and Methods
A retrospective study was performed at nine institutions across Europe and the US, and patients who underwent surgical staging for presumed stage I LGEOC between 2000 and 2016 were included. To ensure surgical quality, a minimum number of ≥10 pelvic and ≥10 paraaortic LNs was required. Patients with preoperative radiologic or clinical evidence of extraovarian or LN disease, and those with nonepithelial histology, were excluded.
Results
The overall incidence of LN metastases was 4.3% in the 163 evaluated patients, and the incidence of LN involvement in serous, endometrioid, and mucinous subtypes was 10.7, 1.5, and 0%, respectively. However, Upstaging due to LN involvement alone occurred in only 2.4% of the patients. Eighty-nine (54.6%) patients received adjuvant chemotherapy due to International Federation of Gynecology and Obstetrics stage IC or higher disease. The 5-year progression-free survival (PFS) and overall survival (OS) were 93.2% (95% confidence interval [CI] 89.4–97.1%) and 94.5% (95% CI 90.9–98.0%), respectively. There was no significant difference in PFS or OS between LN-negative and LN-positive patients. However, fewer patients received adjuvant chemotherapy in the LN-negative group. Multivariate analysis did not identify any independent prognostic factor of survival.
Conclusion
The risk of LN involvement in nonserous apparent stage I LGEOC appears low, with a rate of <1% in this retrospective analysis, raising questions about the value of lymphadenectomy in those patients. Larger-scale prospective studies are warranted to evaluate the oncologic safety of omitting systematic LN staging in apparent stage I nonserous LGEOC.
Access options
Buy single article
Instant access to the full article PDF.
USD 39.95
Price excludes VAT (USA)
Tax calculation will be finalised during checkout.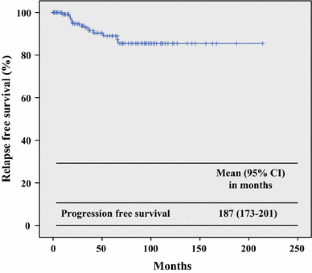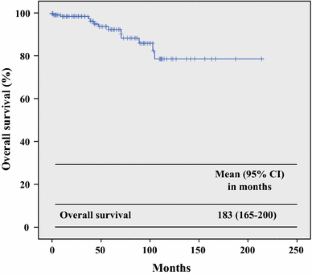 References
Malpica A, Deavers MT, Lu K, et al. Grading ovarian serous carcinoma using a two-tier system. Am J Surg Pathol. 2004; 28:496–504.

Bonome T. Expression profıling of serous low malignant potential, low-grade, and high-grade tumors of the ovary. Cancer Res. 2005;65(22):10602–10612.

Gershenson DM, Sun CC, Lu KH, et al. Clinical behavior of stage II-IV low-grade serous carcinoma of the ovary. Obstet Gynecol. 2006;108:361–368.

Colombo N, Peiretti M, Parma G, et al.; ESMO Guidelines Working Group. Newly diagnosed and relapsed epithelial ovarian carcinoma: ESMO Clinical Practice Guidelines for diagnosis, treatment and follow-up. Ann Oncol. 2010;21 Suppl. 5: v23–30.

Berek J, Crum C, Friedlander M. FIGO Cancer Report. Cancer of the ovary, fallopian tube, and peritoneum. Int J Gynaecol Obstet 2012;119 Suppl 2;S118–S129.

Maggioni A, Benedetti Panici P, Dell'Anna T, et al. Randomised study of systematic lymphadenectomy in patients with epithelial ovarian cancer macroscopically confined to the pelvis. Br J Cancer. 2006;18;95(6):699–704.

Powless CA, Aletti GD, Bakkum-Gamez JN, et al. Risk factors for lymph node metastasis in apparent early-stage epithelial ovarian cancer: implications for surgical staging. Gynecol Oncol. 2011;122(3):536–40.

Petru E, Lahousen M, Tamussino K, et al. Lymphadenectomy in stage I ovarian cancer. Am J Obstet Gynecol. 1994;170(2):656–62.

Suzuki M, Ohwada M, Yamada T, et al. Lymph node metastasis in stage I epithelial ovarian cancer. Gynecol Oncol. 2000;79(2):305–8.

Lago V, Minig L, Fotopoulou C. Incidence of lymph node metastases in apparent early-stage low-grade epithelial ovarian cancer: a comprehensive review. Int J Gynecol Cancer. 2016;26(8):1407–14.

Prat J; FIGO Committee on Gynecologic Oncology. Staging classification for cancer of the ovary, fallopian tube, and peritoneum. Int J Gynaecol Obstet. 2014; 124(1):1–5.

Chan JK, Munro EG, Cheung MK, et al. Association of lymphadenectomy and survival in stage I ovarian cancer patients. Obstet Gynecol. 2007;109(1):12–9.

Ho CM, Chien TY, Shih BY, et al. Evaluation of complete surgical staging with pelvic and para-aortic lymphadenectomy and paclitaxel plus carboplatin chemotherapy for improvement of survival in stage I ovarian clear cell carcinoma. Gynecol Oncol. 2003;88:394–9.

Oshita T, Itamochi H, Nishimura R, et al. Clinical impact of systematic pelvic and para-aortic lymphadenectomy for pT1 and pT2 ovarian cancer: a retrospective survey by the Sankai Gynecology Study Group. Int J Clin Oncol. 2013;18(6):1107–13.

Zhou J, Shan G, Chen Y. The effect of lymphadenectomy on survival and recurrence in patients with ovarian cancer: a systematic review and meta-analysis. Jpn J Clin Oncol. 2016;46(8):718–26.

Nasioudis D, Chapman-Davis E, Witkin SS, et al. Prognostic significance of lymphadenectomy and prevalence of lymph node metastasis in clinically-apparent stage I endometrioid and mucinous ovarian carcinoma. Gynecol Oncol. 2017;144(2):414–419.

Gershenson DM, Sun CC, Bodurka D, et al. Recurrent low-grade serous ovarian carcinoma is relatively chemoresistant. Gynecol Oncol.2009;114(1):48–52.
Disclosure
Lucas Minig, Florian Heitz, David Cibula, Jamie N. Bakkum-Gamez, Anna Germanova, Sean C. Dowdy, Eleftheria Kalogera, Ignacio Zapardiel, Kristina Lindemann, Philip Harter, Giovanni Scambia, Marco Petrillo, Cristina Zorrero, Vanna Zanagnolo, José Miguel Cárdenas Rebollo, Andreas du Bois, and Christina Fotopoulou declare that there are no conflicts of interest.
About this article
Cite this article
Minig, L., Heitz, F., Cibula, D. et al. Patterns of Lymph Node Metastases in Apparent Stage I Low-Grade Epithelial Ovarian Cancer: A Multicenter Study. Ann Surg Oncol 24, 2720–2726 (2017). https://doi.org/10.1245/s10434-017-5919-y
Received:

Published:

Issue Date:

DOI: https://doi.org/10.1245/s10434-017-5919-y
Keywords