Abstract
Background
Recent papers consider surgery as an option for synchronous liver oligometastatic patients [metastatic pancreatic ductal adenocarcinoma (mPDAC)]. In this study, we present our series of resected mPDACs after neoadjuvant chemotherapy (nCT).
Patients and methods
All patients resected after downstaging of mPDAC were included in this study. Downstaging criteria were disappearance of liver metastasis and a decrease in cancer antigen (CA) 19-9. The type and duration of nCT, last nCT surgery interval, histology, morbidity, and mortality were recorded, and overall survival (OS) and disease-free survival (DFS) were analyzed.
Results
Overall, 24 of 535 patients (4.5%) observed with mPDAC were included. These patients received gemcitabine alone (5/24), gemcitabine + nanoparticle albumin-bound (nab)−paclitaxel (3/24), and FOLFIRINOX (16/24). Primary tumor size decreased from 31 to 19 mm (p < 0.001), and serum CA19-9 decreased from 596 to 18 U/mL (p < 0.001). In 14/24 patients, the tumor was located in the head. Median interval nCT surgery was 2 months, there were no mortalities, and the postoperative course was uneventful in 34% of cases. Grade B/C pancreatic fistula, postoperative bleeding, and sepsis occurred in 17/4, 4, and 12% of cases, respectively, and reoperation rate was 4%. R0 resection was achieved in 88% of cases, with 17% complete pathological response. Positive nodes were found in 9/24 patients with a median node ratio of 0.37, and OS and DFS was 56 and 27 months, respectively.
Conclusions
Patients with mPDAC who were fully responsive to nCT may be cautiously considered for surgery, with potential benefit in survival compared with palliative chemotherapy alone. This is supported by results of our retrospective study, which is the largest ever reported.
Access options
Buy single article
Instant access to the full article PDF.
USD 39.95
Price includes VAT (USA)
Tax calculation will be finalised during checkout.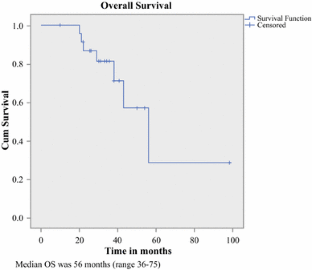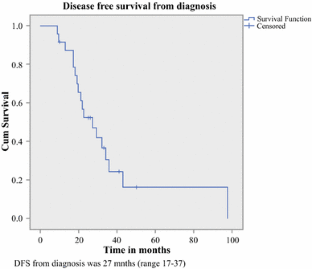 References
1.

Siegel RL, Miller KD, Jemal A. Cancer statistics. CA Cancer J Clin. 2016;66(1):7–30.

2.

Balaban EP, Mangu PB, Khorana AA, et al. Locally advanced, unresectable pancreatic cancer: American Society of Clinical Oncology Clinical Practice Guideline. J Clin Oncol. 2016:34(22):2654–8.

3.

Vaccaro V, Sperduti I, Vari S, et al. Metastatic pancreatic cancer: is there a light at the end of the tunnel? World J Gastroenterol. 2015;21(16):4788–801.

4.

Garrido-Laguna I, Hidalgo M. Pancreatic cancer: from state-of-the-art treatments to promising novel therapies. Nat Rev Clin Oncol. 2015;12(6):319–34.

5.

Conroy T, Desseigne F, Ychou M, et al. FOLFIRINOX versus gemcitabine for metastatic pancreatic cancer. N Engl J Med. 2011;364(19):1817–25.

6.

Lu F, Poruk KE, Weiss MJ. Surgery for oligometastasis of pancreatic cancer. Chin J Cancer Res. 2015;27(4):358–67.

7.

Tachezy M, Gebauer F, Janot M, et al. Synchronous resections of hepatic oligometastatic pancreatic cancer: disputing a principle in a time of safe pancreatic operations in a retrospective multicenter analysis. Surgery. 2016;160(1):136–44.

8.

Crippa S, Bittoni A, Sebastiani E, et al. Is there a role for surgical resection in patients with pancreatic cancer with liver metastases responding to chemotherapy? Eur J Surg Oncol. 2016;42(10):1533–9.

9.

Edge SB, Compton CC. The American Joint Committee on Cancer: the 7th Edition of the AJCC cancer staging manual and the future of TNM. Ann Surg Oncol. 2010;17(6):1471–4.

10.

Tzeng CWD, Balachandran A, Ahmad M, et al. Serum carbohydrate antigen 19-9 represents a marker of response to neoadjuvant therapy in patients with borderline resectable pancreatic cancer. HPB (Oxford). 2014;16(5):430–8.

11.

Bickenbach KA, Gonen M, Tang LH, et al. Downstaging in pancreatic cancer: a matched analysis of patients resected following systemic treatment of initially locally unresectable disease. Ann Surg Oncol. 2012;19(5):1663–9.

12.

Christians KK, Tsai S, Mahmoud A, et al. Neoadjuvant FOLFIRINOX for borderline resectable pancreas cancer: a new treatment paradigm? Oncologist. 2014;19(3):266–74.

13.

Gillen S, Schuster T, Meyer Zum Büschenfelde C, Friess H, Kleeff J. Preoperative/neoadjuvant therapy in pancreatic cancer: a systematic review and meta-analysis of response and resection percentages. PLoS Med. 2010;7(4): e1000267.

14.

Lim K-H, Chung E, Khan A, et al. Neoadjuvant therapy of pancreatic cancer: the emerging paradigm? Oncologist. 2012;17(2):192–200.

15.

Schober M, Javed MA, Beyer G, et al. New advances in the treatment of metastatic pancreatic cancer. Digestion. 2015;92(3):175–84.

16.

Gleisner AL, Assumpcao L, Cameron JL, et al. Is resection of periampullary or pancreatic adenocarcinoma with synchronous hepatic metastasis justified? Cancer. 2007;110(11):2484–92.

17.

Adam R, Chiche L, Aloia T, et al. Hepatic resection for noncolorectal nonendocrine liver metastases: analysis of 1452 patients and development of a prognostic model. Ann Surg. 2006;244:524–35.

18.

Shrikhande SV, Kleeff J, Reiser C, et al. Pancreatic resection for M1 pancreatic ductal adenocarcinoma. Ann Surg Oncol. 2007;14(1):118–27.

19.

De Jong MC, Tsai S, Cameron JL, et al. Safety and efficacy of curative intent surgery for peri-ampullary liver metastasis. J Surg Oncol. 2010;102(3):256–63.

20.

Bailey P, Chang DK, Nones K, et al. Genomic analyses identify molecular subtypes of pancreatic cancer. Nature. 2016;531(7592):47–52.
Acknowledgements
Special thanks goes to Professor Paolo Pederzoli, 'Maestro' of surgery for all of us.
About this article
Cite this article
Frigerio, I., Regi, P., Giardino, A. et al. Downstaging in Stage IV Pancreatic Cancer: A New Population Eligible for Surgery?. Ann Surg Oncol 24, 2397–2403 (2017). https://doi.org/10.1245/s10434-017-5885-4
Received:

Published:

Issue Date:
Keywords
Overall Survival

Liver Metastasis

Gemcitabine

Pancreatic Fistula

Pancreatic Resection